NEW YORK – A Kiehl's executive at the Luxury Interactive 2012 conference said that mobile has opened up big opportunities and the company is continuing to use and test different mediums such as SMS and tablet applications to drive consumer engagement and sales.
During the "Evaluating Consumer Behaviors on Tablet Versus Mobile and How to Utilize Each" panel session, executives discussed how the mobile space is affecting the luxury industry. The panel was moderated by Kevin Tate, chief marketing officer of ShopIgniter, Portland, OR.
"For us, it's about how we can give our customers something valuable," said Tory Diamond, CRM director at Kiehl's, New York. "With mobile, we're giving them information at their fingertips that maybe they didn't think they needed before.
"It's important to test and analyze customer data," she said. "Mobile phones and tablets are still new and we're giving consumers a new channel where they can shop."
Test, test, test
About a year ago, Kiehl's launched a pilot in-store tablet program in its New York Meatpacking district location.
Instead of simply placing iPad devices throughout the store or equipping store associates, Kiehl's decided to take a different route where the tablet device is shared between both the associates and customers.
Through the pilot program, the company is able to collect consumer data to better communicate with them in the future.
The initiative lets Kiehl's find out a consumer's skin concerns and shopping behavior to better assist them in future shopping endeavors.
"We capture their email address and send an email within an hour after they leave the store with information including the products they tried on," Ms. Diamond said. "We're happy with our tablet convergence, especially since we do not have a tablet app.
"For us, it's imperative to have a mobile commerce site, then a mobile app and then a tablet presence," she said.
In addition to its tablet pilot program, Kiehl's launched a geotargeted SMS initiative last year that sends out targeted messages to opted-in consumers when they pass by one of the company's physical locations.
Eighty-six percent of consumers in the program reported that they were happy with it.
Additionally, 73 percent made a purchase after receiving a message.
Kiehl's caps its messages to three per month and tracks to see who opened the messages and when they were received.
From there, the company is able to browse the different types of behavior.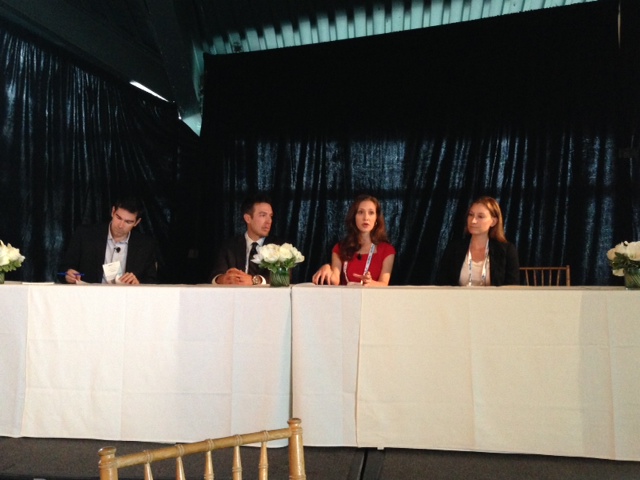 In-store experiences
Many brands and retailers are using tablet experiences as a way to facilitate the in-store experience, as well as arm their salesforce with the latest information.
Smartphones, on the other hand, are smaller and more of a personal device.
Whether a marketer uses tablets or smartphones, measurement is key.
"It's important to measure engagement," said Maya Mikhailov, cofounder/vice president of GPShopper, New York. "It doesn't matter if a consumer uses a mobile phone or tablet, they must feel like they're connecting with the same brand.
"Unfortunately, mobile seems to be an afterthought for many high-end luxury brands," she said.
"Mobile is bringing together different channels."
According to Nick Drabicky, Ft. Worth, TX-based client services manager at iProspect, mobile is a key driver in helping marketers increase foot traffic.
When marketers roll out a mobile initiative, many times they focus more on creative than functionality. However, that is a mistake.
"Functionality always trumps the creative because if it's not functional, then it doesn't matter how great the creative is," Mr. Drabicky said.
Final Take
Rimma Kats is associate editor on Mobile Marketer, New York