French crystal-maker Lalique is infusing its history into its new jewelry collection Soulmates as a way to attract fine jewelry enthusiasts.
The new collection was inspired by brand founder René Lalique's sketches of wings drawn between 1890-1910 during the Art Nouveau movement. The brand is able to position itself for the future by taking a look at its past to spark interest among existing and new consumers through brand mythology.
"Lalique is a lifestyle brand and the pillar of fine jewelry is a significant part because it appeals to a different customer than our traditional crystal customer base," said Maz Zouhairi, President & CEO of Lalique North America, New York.
"The target consumer is both existing brand enthusiasts, collectors as well as a more fashionable, style-conscious consumer with an appreciation for fine jewelry," he said. "We think the jewelry will appeal to a younger consumer and through the jewelry, introduce these new consumers to the Lalique lifestyle and universe.
"Example, the consumer will buy a piece of jewelry and then notice the stemware and vases and eventually the interior design pieces."
Stretching its wings
Lalique's new collection Soulmates is part of a four-part high jewelry series, the brand's first in over a hundred years.
Inspired by sketches of wings, the Soulmates collection features butterfly motifs meant to symbolize the nature element, air
Additional inspirations for the collection range from the arrows of Greek god Eros to nymphs and fairies.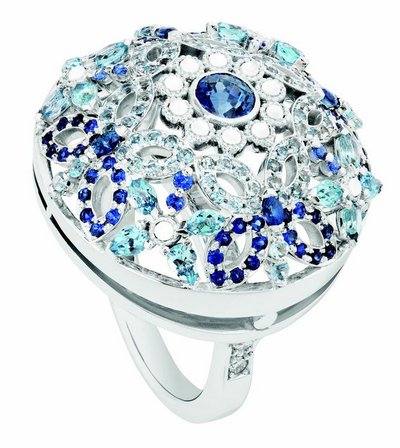 Soulmates ring
The first of the series, "The Sacred Fire Odyssey," released in 2011, symbolizes fire. The remaining two lines will symbolize earth and water.
The Soulmates collection features a varied assortment of rings, earrings, bracelets and necklaces some featuring Lalique's signature crystal.
Eros bracelet
Other pieces include precious metals, pearls, diamonds, sapphires and other gems.
Soulmates features eight subcollections Psyche, Psyche's Wings, Eros's Arrows, Eros, Soulmates, Serpent, Dandelion and Lily of the Valley.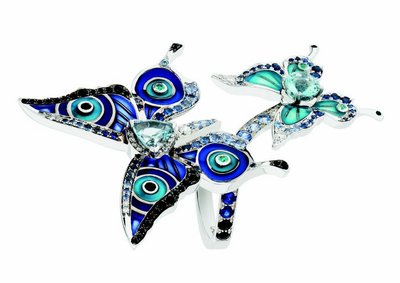 Psyche ring
Lalique's Soulmates collection is available at Lalique boutiques as well as select Neiman Marcus bricks-and-mortar locations. A print ad campaign will be in Robb Report, Departures and local publications in the coming months.
Evolving
As fine jewelry brands evolve to meet the demands of current consumer trends, looking back to brand development can be beneficial in creating a narrative for its consumers.
For example, British jeweler Boodles is letting fans witness the creative process behind its Vintage Lace necklace through a social video meant to boost awareness of the brand's handcrafted jewelry collection.
Boodles's "The Making of a Masterpiece" video takes brand enthusiasts from drawing board to display case as they watch the creation of one of Boodles most detailed pieces. The video highlights the craftsmanship involved in its line of fine jewelry, while displaying the brand's talent and staying power in the industry (see story).
Similarly, French jeweler Boucheron is targeting brand enthusiasts by releasing a high-end jewelry collection featuring eight pieces representative of the brand's longstanding history.
Each piece of Boucheron's Hôtel de la Lumière high jewelry collection is an updated recreation of a historic piece found in Boucheron's archives. Boucheron is likely to reach its brand enthusiasts by basing this campaign on its history (see story).
Expanding a brand portfolio opens up opportunities to attract consumers in a new way.
"Lalique has built up a great reputation for high-quality decorative objects, and I think jewelry will complement the brand's current offer," said Jordan Phillips, New York-based author of "The Lure of Luxe."
"The new jewelry collection will give Lalique a reason to reach out to clients and draw them into the stores, she said.
"It will also serve as great eye candy for Lalique's window displays."