Breguet, Corneliani, Lamborghini and Louis XIII de Rémy Martin are providing readers of Robb Report's March iPad edition with interactive content to increase time spent with their advertisements.
The portrait view of the tablet edition of Robb Report mirrors the print edition, while the landscape view gives additional slideshows, images and videos on some editorial and ad content. While some advertisers link to their Web site from their ad in this issue, others stood out with more content that let readers explore the brand.
"Eight of the advertisers in the magazine enhanced their ads to engage our tablet edition viewers," said John C. Anderson, Los Angeles-based senior vice president of digital at CurtCo Media. "These advertisements include links to the advertiser's Web sites and social media pages, slideshows and videos.
"Crossing auto, fashion, food, wine and spirits and watches, these advertisements dramatically increase viewer engagement," he said. "Our metrics show that viewers are very actively engaging with  the ads, taking advantage of the links, videos and other overlays with almost 100 percent engagement."
CurtCo Media owns Robb Report.
Ingenious interactivity
Advertisers in the landscape iPad edition include Barneys New York, Breguet, BurgerFi, Corneliani, Lamborghini, Land Rover, Louis XIII and Mt. Braves Wines.
Corneliani started off the iPad edition's enhanced ads with links to explore the brand, watch its fashion shows and discover its heritage.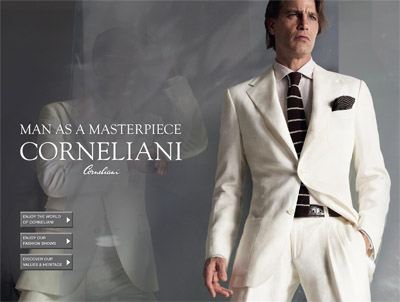 Corneliani ad 
The next interactive ad is from Louis XIII de Rémy Martin. The cognac brand placed the same seven-page ad in previous Robb Report iPad editions.
Much of the ad is dedicated to the history of the spirit. Each page contains interactive components such as images, video and multi-layered articles.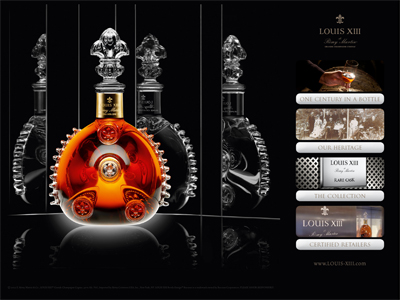 Louis XIII de Rémy Martin ad
Later on, Breguet's one-page ad expands to an eight-page image gallery of its Tourbillon watches.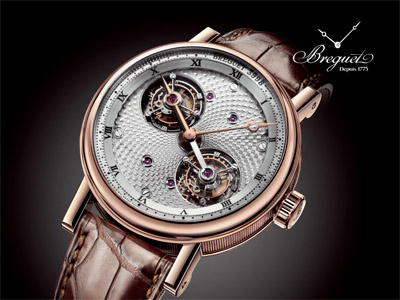 Gallery image 
From the main page, readers can also view a five-minute video on the making of the Breguet Tourbillon.
Breguet Tourbillon video
The last highly interactive ad is from Italian automaker Lamborghini. The one-page ad expands to a nine-page image gallery.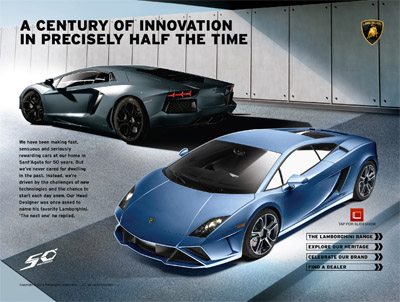 Lamborghini ad 
The main page also contains buttons that let readers browse the Lamborghini Web site, explore its heritage through the automaker's 50th anniversary video, celebrate the brand through a video set in Italy and locate a dealer.
Lamborghini 50th Anniversary video
Core content
For the first time, Robb Report greeted readers of the landscape tablet edition with a video teaser of the Car of the Year decision process that takes place in California's Napa Valley.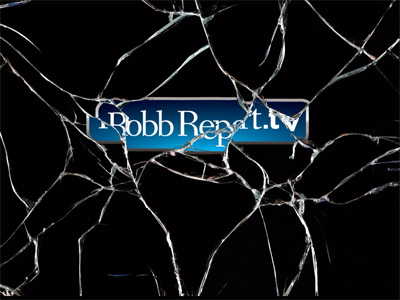 Video end 
Robb Report's March issue is centered on the annual Car of the Year picks. The iPad edition includes original videos of the top-three cars with a drive and commentary by Robert Ross.
This year, the Porsche 911 Carrera S reigned supreme followed by the Bugatti Veyron 16.4 Grand Sport Vitesse, Ferrari FF, Audi S8, Mercedes-Benz SL63 AMG, BMW M5, Maserati Granturismo Convertible Sport, Bentley Continental GT V8, Rolls-Royce Phantom Series II Coupé and Aston Martin DB9.
Meanwhile, users can download Robb Report's new Home & Style magazine for the iPad, but it does not have a complementary interactive edition.
"March is also Robb Report's spring fashion issue," Mr. Anderson said. "The 'Director's Cut' feature includes 10 unique images that can be enlarged and scrolled to explore.
"Similarly, the 'Elements of Style' department, which features auto-related fashion products, includes pull-tabs that let the viewers scroll multiple images of Tod's shoes and a special Parmigiani watch designed with driving in mind," he said.
"Finally, at the close of the Landscape view are links to recent stories on RobbReport.com and videos from previous tablet editions."
Final Take
Tricia Carr, editorial assistant on Luxury Daily, New York