Toyota Corp.'s Lexus positioned the new 2013 GS model in a one-minute scene in the latest episode of broadcast network ABC's prime-time drama, "Revenge."
The GS appeared on the popular ABC television show May 2 during a scene that tied loose ends in a subplot. The automaker used product placement in the show due to its highly-adventurous nature, but the absorbing family and relationship drama seems to mostly appeal to young, female viewers.
"Revenge is highly-rated and appeals to people who have an inclination for adventure, which is also an attribute of GS buyers," said Nancy Hubbell, prestige communications manager for Lexus, Torrance, CA.
"The fans of 'Revenge' like sophisticated plots and engaging characters," she said. "When the GS is incorporated into the plot of the show, we think luxury customers will sit up and take notice."
Revenge airs Wednesdays on ABC at 10 p.m. Eastern Time.
Small screen
Revenge stars actress Emily Van Camp as Emily Thorne. The show takes place in the Hamptons, New York, an area known for its affluent residents.
The show's premise is that Ms. Thorne returns to the town she grew up in to get back at the people who destroyed her family. Each episode centers on her findings with a slew of subplots.
In the May 2 episode, the Lexus GS appears for approximately one minute during the last 15 minutes of the show.
The vehicle is a gift to a character who is hesitating to accept a job offer.
Beginning of the Lexus GS scene 
A business man tosses her the keys to a silver GS and threatens her to either accept the job or drive the vehicle out of town permanently.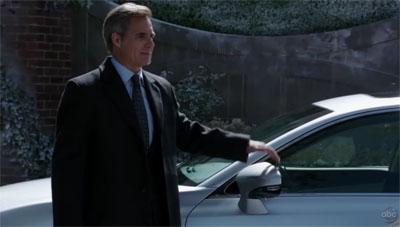 Lexus GS scene
The woman sits in the driver's seat and wraps her hands around the GS steering wheel as she talks with the businessman.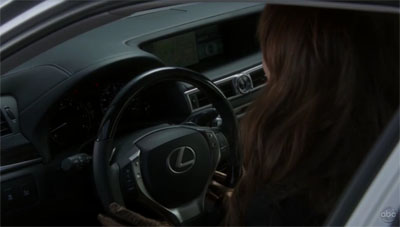 Interior shown during the scene 
Meanwhile, the automaker shared the news that the GS would appear on "Revenge" via its Facebook and Twitter accounts.
"Our new GS represents a new look and feel for Lexus and we want to introduce it to people who may not be familiar with the car," Ms. Hubbell said.
"By integrating it into the show, it increases awareness of Lexus and our new model to the fans of the show," she said.
Commercial free
Rather than showing a Lexus commercial during the show, the car was incorporated into the story. This move was most likely to appeal to consumers who do not like to be sold to via commercial messages.
Many viewers watch the episode online and on their DVRs, which would eliminate a prime-time commercial from the viewing experience.
"By incorporating the GS into the show in a seamless fashion, it conveys the spirit of the car in the context of the show, which is more likely to resonate with our customers," Ms. Hubbell said.
Other luxury marketers are using product placement in youth-oriented TV shows and movies.
For example, Cartier appeared during an episode of CW's "Gossip Girl" in February that featured a large number of the jeweler's boxes as part of a private shopping experience with a brand salesperson.
In fact, other luxury brands such as Chanel and Gilt Groupe have also used product placement in Gossip Girl (see story).
In addition, luxury brands such as Manolo Blahnik, Carolina Herrera and BMW all took to the big screen with product placements in the latest "Twilight" saga series, "Breaking Dawn," which raked in approximately $280 million in its first three days (see story).
All of these product placements seem to focus on young, female consumers, but there is also a large fan base of women of all ages that could be a target audience.
Lexus may not directly benefit in terms of sales from its product placement because not all viewers of "Revenge" are affluent consumers, but it could assist a brand to create a young, modern lifestyle association.
Many youth-oriented TV shows and films have devoted fans that could increase exposure for a luxury brand.
"'Revenge' is one of the hottest and most exciting shows on TV right now and the GS is hot and exciting, as well," Ms. Hubbell said. "Since it debuted in February, the GS has been selling very well and appealing to a younger audience, so it aligns perfectly with Revenge."
Final Take
Tricia Carr, editorial assistant on Luxury Daily, New York