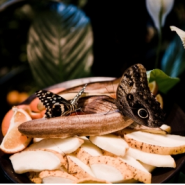 The British capital's newest luxury hotel, London Syon Park, has launched an eco-tourism initiative and welcomed spring with an exhibit where 1,000 butterflies have set their habitat.
The Waldorf Astoria-owned hotel in West London opened and welcomed its first guests, the butterflies, on March 14. The eco-centric exhibit is located in the hotel lobby and is a haven for exotic butterfly species originating from all over the world.
"It's a unique selling point for the hotel, but it is one of many," said Dale MacPhee, general manager of London Syon Park, London. "There are subtle reminders of the butterflies throughout the hotel, including the hotel logo."
"The china for afternoon tea has the butterfly on it," she said. "It's one of the playful offerings of the hotel."
London Syon Park is a stylish new property with 137 guest rooms that brings together a modern luxury hotel experience and the heritage of the Grade I-listed Syon House estate, where it is situated.
The hotel is set on 200 acres of parkland and is seven miles from Heathrow Terminal 5. It offers a tranquil country retreat on the outskirts of London.
Guests aflutter
Inspired by Syon Park's renowned butterfly house that was once there, the hotel's Butterfly House has also inspired its distinctive branding, along with other themes throughout the property.
Lobby of the London Syon House
Exotic butterflies experience their own, personal room service every day. Martin Willis, London Syon Park's dedicated butterfly keeper, serves them fresh bananas, pears, oranges and water.
Although guests cannot step into the large, glass butterfly house, they can admire them from afar and walk completely around the enclosure.
"Butterfly houses are a great way to add zen, inspiration and a reprieve from the hectic life that many of us lead," said Kimmie Smith, designer, style expert, on-air personality and founder/editor in chief of Kitten Lounge, New York.
"It's something that you would normally see at botanical gardens, so it is definitely something new to bring into a hotel environment," she said.
Tank top
Incorporating butterflies into the hotel's amenities creates a serene and gentle environment.
"I think it's interesting because a butterfly is a symbol of a rebirth of people," said Stephanie Tisch, art director at Seraph, Miami. "Particularly in the luxury sector, it is almost as if they are ready to reemerge, like a butterfly.
"It couldn't be a more beautiful metaphor," she said. "It's the new fish tank in a much more sophisticated way."
Seraph is a brand and design consulting firm that developed advertising campaigns for luxury brands such as the St. Regis hotels and apparel and accessories retailer Tory Burch.
Luxury hotels are constantly looking for the next best thing they can provide their guests.
This added addition to the London Syon Park lobby pays homage to the past. It forms part of the whole luxury experience of the hotel.
"Adding this to London Syon Park shows another way to think about adding luxury to a space," Kitten Lounge's Ms. Smith said. "Luxury can now be perceived beyond spas, restaurants and other typical components that have been done.
"The simple pleasure of seeing butterflies in their created environment now taps into a person's psyche, creating calm which had only been achieved previously by a spa, yoga and Pilates," she said.
Final take
Butterfly exhibits or fish tanks for luxury hotels?