French leather goods and apparel maker Louis Vuitton debuted its cruise 2016 collection at the iconic home of comedian Bob Hope over Snapchat.
The 23,000-square-foot home sits on the edge of Palm Springs, CA, looking onto Coachella Valley, a desert location that adds to the backdrop for a cruise collection. The Snapchat story that coincides with the release is available for all Snapchat users to view videos and images of the day, creating a space for interested fans to feel as if they are part of the action.
Snapping away
The story on Snapchat is available for all users, not just those who already follow the brand on the medium. The event seems to have its own tag for Louis Vuitton that appears on many videos and photos.
Celebrities are also seen in the story and videos of the home allow viewers to gain insight to the venue.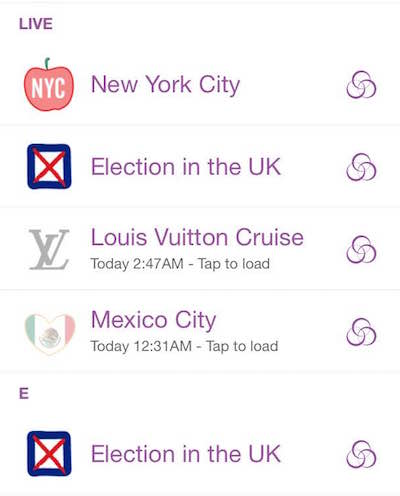 Snapchat Live 
Fashion brands have been embracing Snapchat to give their consumers secret insider content, providing more access to the inner workings of putting on a runway show.
Michael Kors and Valentino were among the brands that took advantage of the application's ability to share fleeting glimpses of personal moments, inviting them into a form of community. Snapchat users tend to skew younger, opening up labels to a new generation of consumers (see story).
The other Live Snapchat stories include New York City, Election in the UK and Mexico City. Snapchat has recently been showcasing cities from around the world on this Live feature, so the addition of Louis Vuitton will likely spark attention from regular users of the app.