New York's Prudential Douglas Elliman Real Estate released the first redesigned issue of its luxury real estate magazine that will now contain lifestyle content in addition to traditional listings and be available via a new iPad application.
The Elliman magazine was reformatted to include interior design, food, style and celebrities, all centering on residential real estate. The brand has also entered into a partnership with posh online marketplace 1stDibs and will offer content that features the Web site's antiques for the home.
"The strategy was to transform a real estate catalog into a compelling and beautifully-designed editorial piece that provides a thought-provoking read in addition to showcasing homes," said Camilla Rustambekova, chief marketing officer of Elliman, New York. "It is unique to our category.
"With Elliman, we seize the opportunity to speak on a much broader platform with our audience, using the magazine as a forum to inspire, inform and educate readers while also sharing our singular brand perspective," she said.
Prudential Douglas Elliman Real Estate is a New York residential brokerage firm with a network of national and international affiliates.
Home sweet home
Elliman magazine re-launched with its spring/summer 2012 issue that was released April 27.
Consumers can now read the free magazine in its print form, from the magazine's new iPad app or online at http://www.elliman.com/elliman-magazine.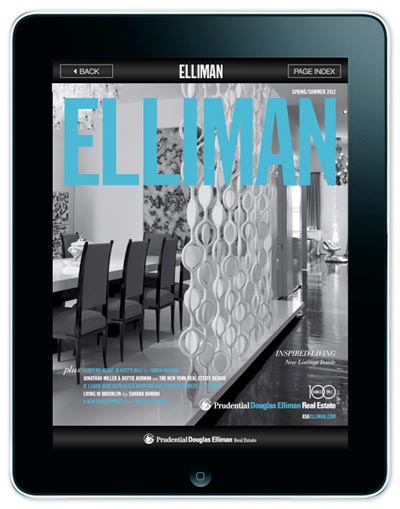 Elliman iPad app 
The magazine will continue to include its traditional real estate listings, but also focus on inspired living, per the brand.
Influencers from the areas of fashion, interior design, architecture, travel and food and wine will be featured in the magazine's content.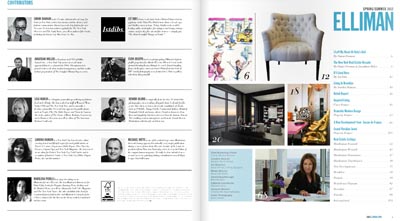 Contributors and Table of Contents pages 
This issue contains interviews with chef Katie Lee, Top Chef contestant Sam Talbot, interior designers Alexa Hampton and Stephen Shadley and Simon Doonan, author and creative ambassador at large for Barneys New York.
For example, Ms. Hampton and Mr. Shadley gave designer tips for Elliman homes that are listed for sale.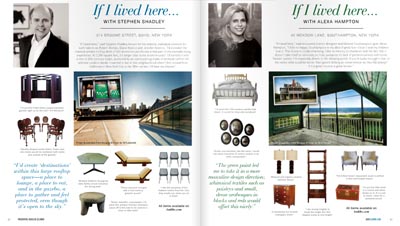 Ms. Hampton and Mr. Shadley's features 
Elliman continues to list properties in New York, Long Island, Westchester, Florida and around the world.
In addition, Ellliman will now feature a column called "If I lived here" in partnership with 1stDibs.com, an increasingly popular marketplace for antiques, design, vintage clothing and jewelry, fine art and fine homes.
The column will be written by a different lifestyle expert who has the opportunity to decorate one of Elliman's listed homes with select pieces from 1stDibs.com.
In the future, the magazine will launch a blog that the brand hopes will engage ongoing discussions with consumers, per Ms. Rustambekova.
Elliman is not open to advertisers at this time, but is experimenting with the idea of partnering with likeminded brands.
"We have completely redesigned the book to incorporate bold layouts, beautiful typography, spectacular photos and illustrations and a fantastic cast of contributors to make it interesting for our readers, both visually and editorially," Ms. Rustambekova said.
"People are able to access information in formats and environments that are best suited to their lifestyles," she said. "We felt it was incredibly important to offer users a multi-platform experience."
Deep-pocked readers
New luxury publications are popping up this year, which proves that not only do brands have faith in the affluent consumer, but so do publishers.
For example, former Niche Media CEO Jason Binn will publish a new magazine this fall in collaboration with Gilt Groupe that will target 3 million of Gilt's ultra-affluent consumers, an audience responsible for spending more than $600 million annually.
The magazine will be distributed via its online edition and 250,000 mailed print copies, as well as 15,000 copies displayed on newsstands (see story).
In addition, Modern Luxury Media is adding to its bridal arsenal with the debut of its Modern Luxury Brides South Florida & The Caribbean publication, set to launch June 8.
The niche luxury publication will publish two times per year in June and December (see story).
Elliman may be re-launching at the perfect time to fill a void in the luxury real estate publication segment.
"Like never before, lifestyle and real estate are inseparable, especially in New York where real estate is all people talk about," Ms. Rustambekova said.
"There are so many topics that can be explored in conjunction with the spectacular homes that we represent in one of the most exciting places in the world, we feel we are filling a niche by creating this luxury magazine," she said.
Final Take
Tricia Carr, editorial assistant on Luxury Daily, New York