Mandarin Oriental, London is partnering with London department store Harrods for the second year to bring holiday cheer to families during the winter through exclusive experiences.
Guests vacationing with children during the holiday season are encouraged to book the Mandarin Oriental's Candlelit Christmas with Harrods offer. The holiday season initiative will likely appeal to travelers with smaller children who are on the lookout for Christmas activities.
"The Christmas season is all about family," said Sarah Cairns, director of communications for the Mandarin Oriental, London.
"Mandarin Oriental partnered with Harrods for the first Candlelit Christmas after Harrods renovated its Toy Kingdom in spring 2012," she said. "Before that, Mandarin Oriental did not have any retail partnerships and felt that partnering with Harrods would be perfect since they're neighbors in the most fashionable district of London.
"After the success of last year's program and the positive social media feedback we received from guests we wanted to continue the partnership."
Seasons greetings
The Candlelit Christmas with Harrods offers traveling parents the opportunity to bond with their children during the holiday season.
The Candlelit Christmas with Harrods offer lasts Nov. 2-Dec.24. The package includes a one-night stay with a roll-away bed at the Mandarin Oriental, London.
Guests are invited to a full English breakfast for two adults and one child served in either in dining room with views of Hyde Park or in the guest's room.
As a welcome gift, guests will receive a Harrods 2013 Teddy Bear, personalized letter from Santa and a selection of bespoke treats from Harrods.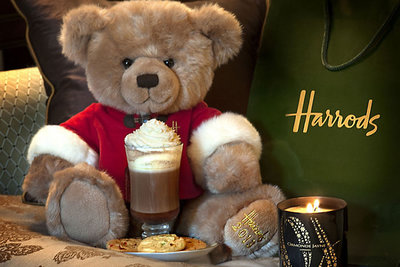 Candlelit Christmas with Harrods, 2013
Included in the package are VIP tickets to meet Santa at the Harrods Christmas Grotto. Guests will receive two adult tickets and one children's ticket.
Two additional children's tickets, for a maximum of three children, are available for $78. Guests will also receive a Christmas candle made by London perfumery Ormonde Jayne.
Harrods Christmas Grotto
For travelers booked to stay during the Harrods Parade Weekend Nov. 2, the package includes VIP access to the Harrods Christmas Parade.
Including access to the Harrods Christmas Parade will also benefit Harrods since this event is the kick-off to holiday shopping in London. In addition, Harrods will be responsible for decorating the hotel for the holidays.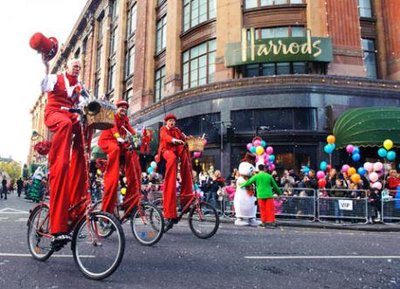 Rates for Mandarin Oriental's Candlelit Christmas with Harrods begin at $830 per night.
Kid's corner
Hotel properties that offer packages designed for children are likely to foster memorable family experiences.
For example, The James Hotel is making family vacations more conducive to bonding with its lil' james hotel amenity program that aims to engage children with creative projects.
The packages can be tailored to fit children's interests and talents and incorporates local organizations and attractions into the mix. By crafting activities that overcome the one-size-fits-all mantra, families of most dynamics may find ample time to connect (see story).
In addition, Fairmont Mayakoba, Riviera Maya, Mexico, is courting families with a new Teens Room by Playstation that aims to give teens a fun escape and parents a little freedom.
The new room continues the property's quest to create environments geared toward the interests of children and teenagers. Due to the abundance of family accommodations, the property may see a spike in the amount of visiting families (see story).
Offering exclusive packages around the holidays may increase a brand's exposure.
"This package gives another reason for travelers to stay with the Mandarin Oriental in the Christmas and New Year's period," said Karen Weiner Escalera, president and chief strategist at KWE Partners, Miami.
"For Harrod's the benefit is to reach a new market as well, a receptive market, since the number one activity on holiday is shopping," she said. "And both benefit from the opportunity to share databases.
"Hotels are increasingly reaching out to retail partners to stretch marketing dollars in every way from teaming up on events and package offerings to even loaning guests jewelry for their wedding."
Final Take
Jen King, editorial assistant on Luxury Daily, New York