Marc Jacobs Intl. is encouraging mobile users to shop its newly-enhanced optimized site through a free shipping offer timed with the holiday shopping season.
Visitors to the Marc Jacobs mobile site are immediately shown the free shipping offer on the home screen. Marc Jacobs recently enhanced its mobile platform and has seen a 66 percent increase in mobile visits as well as increased conversions.
"Free shipping, particularly during the holidays, is a great incentive as it helps in overcoming one of the difficulties of ecommerce," said Daniel Plenge, director of digital for Marc Jacobs Intl., New York. "Namely, that without trying something on or seeing an item in the store, a customer may be reluctant to place an order.
"Free shipping, along with our easy return and exchange program, ensures our clients can avoid what can otherwise be a hassle," he said.
"We do run other promotions throughout the year, but overall, the concept of seeing an item online, buying it and having it arrive at your home without the added cost of getting it there brings the mobile shopping experience one step closer to going to the store."
Shipping them off
Users who visit http://marcjacobs.com via their mobile device are automatically transferred to the optimized site at http://m.marcjacobs.com.

The home screen contains a top menu with three buttons: Shop, Stores and Search.
Below is the free shipping offer. It states, "Free shipping on mobile."
Mobile site 
Next to the offer is an image of a hand holding an iPhone that is encased in a Marc by Marc Jacobs Katie Bunny 4G Case that retails for $48. On the screen of the iPhone is a pink heart with "MJ" underneath it.
Users can collapse the free shipping offer if desired.
Three images on the site rotate to show off the latest ad campaigns and runway looks from Marc Jacobs and Marc by Marc Jacobs.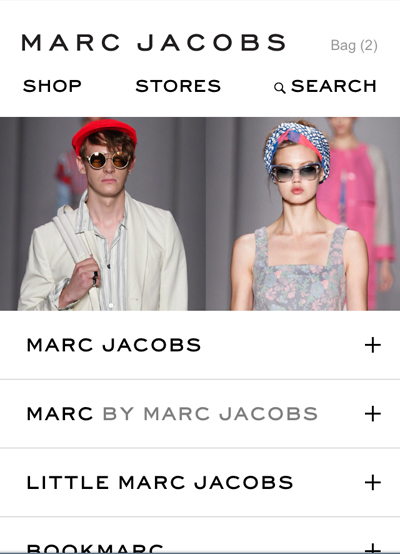 Mobile site 
Users can navigate from the homepage to shop Marc Jacobs, Marc by Marc Jacobs, Marc Jacobs, Bookmarc or Special Items & Gifts.
Product pages feature multiple images of the product, a zoom function, color options, size options, email and social media share buttons, a product description and suggested products.
Below the color and size options, users can add the product to their mobile shopping bag or favorites list.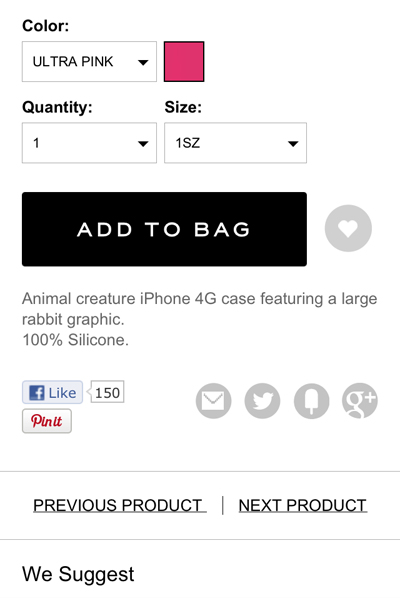 Product page functions 
Users can check out once they have added items to their shopping bag on the mobile site.
The free shipping offer seems to apply to purchases of more than $50, according to the shipping rates guide on the mobile site. Users can select complimentary standard ground shipping.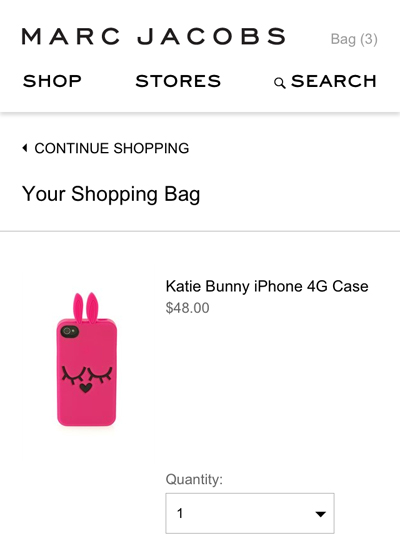 Shopping bag 
Marc Jacobs also offered free overnight shipping on all orders placed prior to Dec. 20 through its Internet site.
"Many brands are giving consumers an extra incentive to complete a purchase via mobile," said Shuli Lowy, marketing director at Ping Mobile, Beverly Hills, CA. "Brands are recognizing the central role which mobile commerce will play in the coming year and are therefore giving users an extra push to formally meet and become comfortable with their mobile site.
"Additionally, since many folks are traveling to see family and friends during the holiday season, brands recognize that it is crucial that their mobile experience is smooth and inviting for people who are shopping last minute on the go," she said. "One thing which luxury brands should keep in mind is that they should only drive consumers to make purchases via mobile if their mobile experience is excellent.
"If parts of their mobile site are not yet developed or if the checkout process has not been nailed down, then they should avoid doing so. It is better to have no mobile experience than a negative one."
Marc's makeover
Marc Jacobs Intl. recently revamped its Web site and mobile site just in time for Black Friday and is likely pushing consumers to browse both sites through offering free shipping.

The makeover of its digital properties was meant to increase online traffic and captivate consumers.
The Web site now offers a high-impact visual experience including larger product images, social integration, mobile optimization and PayPal integration.
For instance, social integration includes multiple platforms such as Facebook, Twitter, Google+ and Pinterest on both the Internet and mobile sites. Facebook users can login to comment, "like" and share through the Marc Jacobs Web site.
Additionally, the brand is the first in the fashion industry to introduce the Tweetbox Widget to its page.
Marc Jacobs also added the MyMJ account to give consumers a more personalized online experience.
The MyMJ section features a user profile that can sync with Facebook. MyMJ account page includes order history, customized collection picks, news and events from Marc Jacobs and an integrated Marc Jacobs Twitter feed (see story).
"We launched our mobile optimized site Nov. 17 in time for holiday shopping on-the-go," Mr. Plenge said. "This year we saw a significant increase in mobile traffic, so we wanted to provide an easy and fun way to shop or find Marc Jacobs stores.
"Since the launch we have seen a 66 percent increase in mobile visits, as well as increased conversions," he said. "We have also seen a big jump in the number of page visits and time spend on the site.
"Overall, we are thrilled with the results and how our clients are using it, whether they are shopping or whether they are engaging in the World of Marc Jacobs brand content."
Final Take
Tricia Carr, editorial assistant on Luxury Daily, New York