High-end home entertainment brand McIntosh Laboratory Inc. is enhancing the consumer experience through updates to its mobile application that include compatibility with certain products and more content.
The brand released version 1.1 of the AP1 Audio Player to refresh the app, show off its history and let consumers find their nearest McIntosh retailer. Many luxury marketers create mobile apps, but only those that provide updated functions or content will remain relevant to affluent smartphone users.
"Our original McIntosh AP1 mobile app has been widely popular as a standalone iOS audio player," said Ellis Reid, global marketing director at McIntosh, New York. "Based on user feedback and our desire to expand the app's capabilities, we have provided more functionality and information about the brand to enrich the quality of the user experience beyond a standard iOS audio player.
"We have had hundreds of thousands of downloads by McIntosh fans worldwide since the launch of the original McIntosh AP1 Audio Player in 2011, so we want to enable our users to engage with the brand on an even deeper level and simplify the process for them along the way," he said.
Second time around
The original AP1 Audio Player was the first digital product by McIntosh. The app is available for free in the App Store for the iPhone, iPad and iPod touch with iOS6 or higher.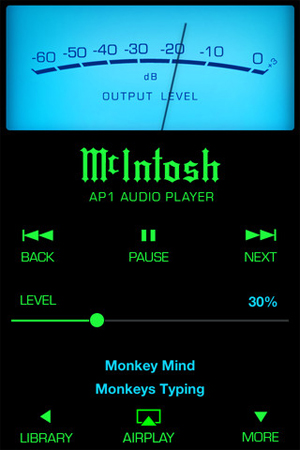 Music player on the iPhone app
The primary function of the app was initially to let consumers access the audio library on their iOS device through a classic McIntosh interface, which includes the brand's signature blue meters, rather than through the standard music player.
Now, McIntosh has integrated AirPlay technology so that its customers can wirelessly stream music from their iTunes library to an AirPlay-compatible speaker system such as the McIntosh McAire that retails for $3,000.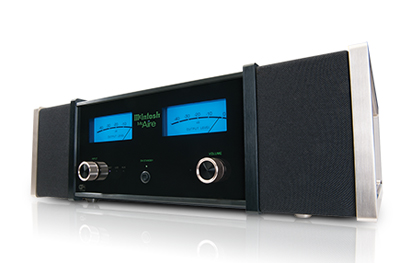 McIntosh McAire
In addition, the app contains new sections that offer brand history, a mini product catalog and a dealer locator.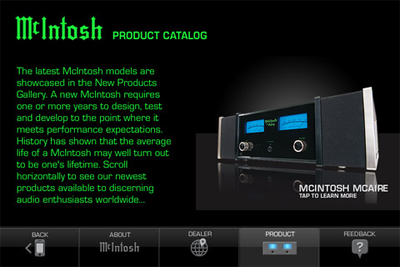 Catalog on the iPhone app 
The catalog includes the brand's new and most popular products while the About section shares with app users McIntosh's influence on music history and pop culture.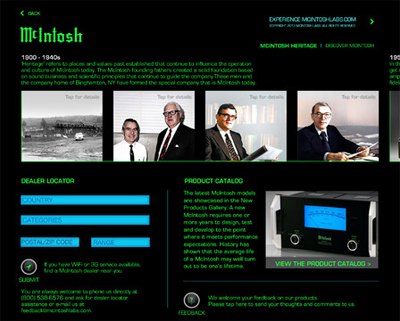 Brand history on the iPad app 
The dealer locator lets consumers find a nearby McIntosh showroom manually or using a device's GPS.
McIntosh's other updates in version 1.1 of the app include improved needle performance on the signature McIntosh meters, functionality improvements and bug fixes.
Constant updates
There is no questioning the importance of mobile to the luxury brand experience since 53 percent of U.S. affluent consumers own two or more devices, according to a new study by the American Affluence Research Center (see story).
Marketers that keep their mobile strategy fresh are likely to achieve the most engagement on the platform.
Many luxury marketers are providing consumers with new mobile content by optimizing brand magazines or news feeds.
Recently, German automaker Mercedes-Benz created a new mobile-optimized Web site to provide on-the-go consumers with branded content and media.
After overhauling its Web strategy in 2012 to offer a magazine-style site, Mercedes is optimizing the platform for smartphone users (see story).
But luxury marketers can also renew the brand experience by adding valuable functions to their mobile sites and apps.
McIntosh updated the music interface and added sections to its iOS app to give current users a better experience and attract young consumers to the brand.
"The mobile platform has grown exponentially in the past few years, and this gives us the opportunity to have a presence in this space," Mr. Reid said. "We not only want to provide benefits to our existing users, but to attract newer, younger consumers as well.
"As technology evolves, McIntosh always adapts while staying true to its core," he said. "Our McAire and MX121 Home Theater Process are enabled with Apple Airplay, so we know that we have consumers who stream audio, and no matter which medium they listen to their music on, we want to provide them the best possible experience they can find.
"Knowing that, we are creating an extension of that experience all the way to their mobile devices."
Final Take
Tricia Carr, associate reporter on Luxury Daily, New York