Michael Kors is the U.S. label with the most digital appeal worldwide and is being praised for its ability to stay top of mind among consumers in the BRIC markets in a new report from Digital Luxury Group.
Michael Kors took the No. 1 spot on The World Luxury Index: American Fashion, followed by marketers such as Marc Jacobs, Ralph Lauren, Diane von Furstenberg and Tom Ford that rounded out the top 10. The report also uncovered that handbags continue to be a driver in Internet searches for luxury brands.
"One of the most interesting findings our team uncovered was the strength of the Michael Kors brand globally," said Tamar Koifman, head of marketing at the Digital Luxury Group, Geneva, Switzerland.
"While, of course, we knew that the brand has been growing dramatically in the last few years, it was interesting to see that its total global search volume surpasses that of American fashion staples Ralph Lauren, Calvin Klein and Marc Jacobs," she said.
The World Luxury Index: American Fashion examined 35 U.S. fashion brands across 10 global markets. The report is based on more than 31 million searches on the top search engines. Digital Luxury released the report in partnership with Fashion's Collective and Luxury Society.
Searching for fashion
The top 10 most-searched for U.S. brands worldwide are Michael Kors, Marc Jacobs, Ralph Lauren, Calvin Klein, Vera Wang, Tory Burch, Kate Spade, Diane von Furstenberg, Betsey Johnson and Tom Ford.

In fact, 19.6 percent of total U.S. luxury brand searches are for Michael Kors.
The top five brands in the report likely fared well since each one offers a more accessible line. Michael by Michael Kors and Marc by Marc Jacobs are two examples.
Mr. Kors' participation in fashion competition television show Project Runway and the brand's abundance of retail locations worldwide likely propelled it in this study, per Digital Luxury Group. Its focus on China and Brazil likely affected its rank as well.
Michael Kors has certainly been strengthening its digital presence in recent efforts.
For instance, Michael Kors was one of the first brands that pioneered the new Twitter design, allowing for further engagement with consumers and acting as an authority on new technology (see story).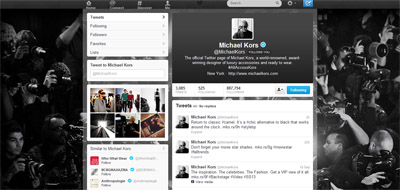 Michael Kors Twitter page 
In addition, Michael Kors is pushing the wearability of its collections in its Living the Kors Life blog and video campaign depicting the daily lives of company employees.
The Living the Kors Life is hosted on the label's Destination Kors lifestyle Web site as well as Facebook, Twitter and YouTube. Each season, Michael Kors will follow three different insiders or employees, and cover their fashion, culinary and entertainment choices while showing the women in the brand's apparel and accessories (see story).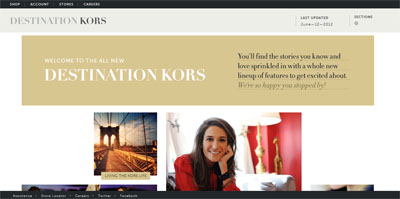 Destination Kors 
In the top 20 are Alexander Wang, The Row, Hervé Léger, St. John, Carolina Herrera, Marchesa, Monique Lhuillier, Jenny Packham, Anna Sui and 3.1 Phillip Lim.
These are followed by Oscar de la Renta, Rick Owens, Donna Karan, Jason Wu, Proenza Schouler, Helmut Lang, John Varvatos, Zac Posen, Catherine Malandrino and Rodarte in the top 30.
In the bag
Digital Luxury Group also found that 36.1 percent of global searches for U.S. fashion brands fall into the handbag category. This portion is greater in China where 50 percent of U.S. brand searches are for handbags.

Also, 34.9 percent of global searches are for ready-to-wear and 14.1 percent are for wallets.
Handbags are the most-searched for category for the No. 1 and No. 2 brands in the report with 59.6 percent of Michael Kors searches and 59.1 percent of Marc Jacobs searches falling into the handbag category.
In another Digital Luxury Group report, Louis Vuitton, Chanel, Gucci, Prada and Hermès were among the top 10 most-searched for handbag brands globally, proving that European tradition rules in the eyes of luxury consumers (see story).
Meanwhile, the report also found that U.S. brands are most-searched for in their country of origin, but they are not faring well in BRIC countries. Ten percent of global searches for U.S. fashion brands is coming from BRIC markets.
"The strength of handbags within the overall global luxury fashion industry was surprising," Ms. Koifman said. "While this was not a surprise given that we had specifically studied the handbag industry in a previous report, it was still notable to see that 36 percent of searches for U.S. luxury fashion brands were specifically for handbags."
Final Take
Tricia Carr, editorial assistant on Luxury Daily, New York