Luxury marketers such as Michael Kors, Nordstrom and Tumi are taking the release of the iPhone 5 as an opportunity to scout out aspirational consumers as well as trigger instantaneous small-ticket purchases from existing customers.
Brands are pushing iPhone 5 accessories via email and social media likely to tap the buzz surrounding the smartphone's release. Though these small-ticket items are not huge revenue-drivers, it seems to be worthwhile for luxury marketers to cash in on the buzz that Apple creates for its product releases and reel in consumers during the pre-holiday shopping period.
"Many would argue that Apple is one of the hottest luxury brands themselves so it makes sense for other luxury brands and retailers try to associate with Apple products like the iPhone 5," said Scott Delea, managing partner at Inflexion Interactive, Hoboken, NJ. "Luxury retailers that sell Apple products benefit by increased sales and bask in the glow of the Apple halo effect."
Digital approach
 Not surprisingly, luxury marketers are sticking to digital channels to promote their iPhone 5 accessories.
Email and social media are the primary media outlets for these brand messages. For instance, Michael Kors, Nordstrom and Tumi used email - a medium often accessed on smartphones.
U.S. label Michael Kors sent an email last week with the subject line, "Ring, ring…"
The email contained an image of three wristlets made to fit the iPhone 5 and linked to the iPhone and iPad accessories section of the label's site.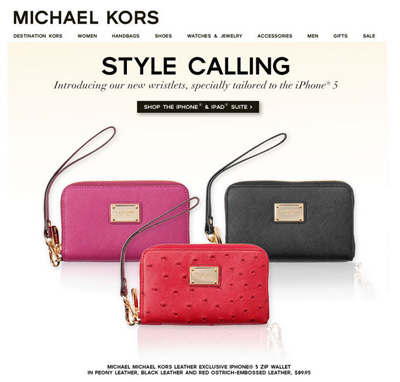 Michael Kors email 
Retailer Nordstrom sent its iPhone 5-themed email campaign Sept. 12 – the day that the smartphone's release date was announced – and luggage manufacturer Tumi sent its email on the release date Sept. 21.
"For luxury brands that have a fairly constant, timeless and limited product offering, it is an opportunity to create something exciting and fresh, and provide a reason for longtime clients to revisit and purchase," said Jordan Phillips, founder and director of Lure of Luxe LLC, New York.
"Offering iPhone and other Apple accessories helps luxury brands show their clients that they can provide a total lifestyle package," she said.
In addition, Nordstrom and Tumi disseminated their iPhone 5 messages via social media.
Nordstrom posted a link to its smartphone cases shop on Facebook.
Also, Tumi posted the image from its iPhone 5 email campaign to Facebook.
Tumi email and Facebook image 
Meanwhile, other luxury marketers are looking to tap the iPhone 5 craze by pushing their current stock of iPhone 4 and 4S accessories.
For instance, Marc Jacobs is advertising within in the header of The New York Times Web site to show off its iPhone 4 cases. The ads link to the iPhone accessories section of its ecommerce site.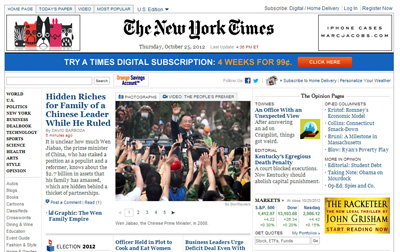 Marc Jacobs ads 
"I think that luxury brands have a large following of not only actual customers, but aspiring customers as well," said Brittany Mills, director of client services for B Culture Media, Atlanta.
"They might not be able to purchase the latest tote bag, but are able to show their love for the brand by purchasing a lower-ticket item like the iPhone cases," she said. "Traditionally, those customers grow into larger-ticket purchasers."
Perfect timing
Apple's product releases have become significant topics of online conversation, per Ms. Mills.
Consumers of all demographics pre-ordered the iPhone 5 or waited on line to get the phone on the morning of its release.
Luxury marketers that take part in the initial buzz will gain the most exposure and profit.
"The messaging needs to align with the 'Apple buzz,'" Ms. Mills said. "The online and offline conversations around the latest iPhone releases are powerful and if you want to sell a complementary product, you need to join that conversation."
In addition, email is an effective channel on which to offer iPhone 5 products since it is an opt-in channel. A brand's customers might seek variety in the brand message.
However, a social push is a good start, but should be backed with a syndication strategy.
"I think email marketing, if consistent and valuable to readers, is a great way to introduce these accessories to current buyers," Ms. Mills said.
"I also think that social posting is a must, but needs to be backed with a smart syndication strategy," she said. "For example, posting about the latest iPhone accessories to your current fan base is great, but syndicating that message to other Facebook pages that garner conversations about the iPhone 5 will increase awareness instantly."
Indeed, just as Apple is on top of its game in offering new products, brands should also be tapping iPhone buyers at just the right time, per Lure of Luxe's Ms. Philips.
Luxury marketers that do so will be rewarded with the most social media buzz.
"Apple consumers are often very passionate about their devices, especially just after purchase, and it is a natural next step to immediately search for a stylish cover," Ms. Phillips said.
Branching out
While online seems to be the most effective channel in pushing iPhone accessories, in-store also provides a unique selling opportunity.
"For example, Lanvin's Madison Avenue store created cases for Apple products for Fashion's Night Out last month featuring fun illustrations by Alber Elbaz, and they were merchandised in a beautiful glass case on the ground floor of the store," Ms. Phillips said.
Furthermore, brands can see much success by marketing iPhone accessories, but they should beware of the fact that Apple is a mainstream brand, per Inflexion Interactive's Mr. Delea.
Luxury marketers should be sure that their smartphone products align with the brand image. They should also advertise the products in exclusive ways.
"Although Apple has all of the markings of a luxury brand, it is still widely available to the masses, so it risks losing some of its aura of exclusivity," Mr. Delea said.
"For example, limit the number of items you have to sell and only offer to an exclusive list of current customers," he said. "Sending the offer to your own in-house email list is a great way to maintaining a sense of exclusivity."
Final Take
Tricia Carr, editorial assistant on Luxury Daily, New York