Coffee company Nespresso released its first television commercial in the United States yesterday under the slogan, "The best café. Yours."
The commercial is meant to match the brand to values and aspirations of the U.S. coffee connoisseur, according to the brand. To complement the TV spot, Nespresso is using in-store and other digital efforts including a newly-relaunched Web site.
"The launch of the first U.S. television advertising campaign signals the growth and popularity that Nespresso has experienced among American consumers and the increased demand for high-quality, portioned coffee at home," said Frederic Levy, president of Nespresso North America.
"Nespresso is pursuing a U.S.-focused TV advertising campaign to drive awareness that it delivers a refined café experience at home through high quality Grands Crus, stylish machines that are simple to use, along with unmatched customer service," he said.
Caffeine fix
The launch of the first TV commercial indicates Nespresso's global growth and popularity, according to the brand.
Nespresso ad
The 30-second spot begins with the illusion that the viewer is inside a European café.
Consumers will see the Nespresso Lattissima+ machine where a woman inserts a capsule. As she is doing so, she is telling the audience how she has found the perfect cup of coffee.
The viewer then sees that the woman is not in a café, but in her own kitchen. The spot closes with the slogan, "The best café. Yours."
The commercial is made to symbolize how innovative and easy the technology is for anyone to use, per the brand.
Nespresso's spot will be supported by the relaunch of the U.S. site and on its social media pages.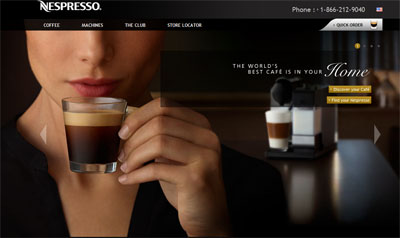 Nespresso Web site
The brand will also be pushing the collection through in-store materials. Nespresso is sold at Bloomingdale's, Sur La Table, Macy's, Williams-Sonoma and Crate and Barrel.
Nespresso also has four flagship boutiques in New York, Miami and Boston.
"With an impending land grab in the single-serve coffee market, moving to TV is a strategic offensive move," said Elizabeth DeMaso, managing partner at Brenes Co., New York. "Nespresso came into the U.S. market rather organically, building its brand through its Web site, retailers like Williams-Sonoma and a handful of targeted print vehicles.
"Bringing the brand to television is clearly an attempt to capture a broader audience and to gain dominance in the increasingly crowded space," she said.
Express marketing
Save for automakers and some fragrance lines, TV is essentially ignored by most luxury marketers.
"Through TV advertising, we can tell our story to a broader U.S. audience and educate American consumers about the Nespresso system and how people can create their own personal coffee experience right at home," Nespresso's Mr. Levy said.
TV is a mass-reach medium, so luxury marketers may feel as if it is not targeting consumers enough.
However, brands can use updated techniques to ensure that their advertisements are better received by the target audience.
Web and mobile calls-to-action are the most useful ways that brands can ensure that their messages are being received.
In addition, targeted advertisements on online hubs that play TV shows are also ways to reach consumers based on location, age, gender and income.
However, since Nespresso is relatively unknown in the U.S. market, a mass-reach medium may be its best move right now.
"Nespresso's ad is very well-balanced, featuring the luxury product's key attributes with mature sex-appeal, elegant home decor and pop-culture score," said Paul Farkas, founder of Social.TV, New York. "Prominent TV advertising placements still equate to making the big leagues today.
"It remains as our dominant, premium advertising medium," he said. "Luxury marketers should explore transmedia design when developing TV ad campaigns.
"Multichannel is not about just tacking online display ads anymore, it's about engaging brandtextual narratives that weave value and calls-to-actions together."
Final Take
Rachel Lamb, associate reporter on Luxury Daily, New York