Luxury Daily, January 11, 2017 – Should luxury retail move away from discounting?
Report available: Luxury Daily's State of Luxury 2017: The Insider View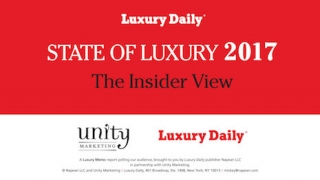 Preparing for a year of tumult, Luxury Daily surveyed experienced luxury insiders to gain insights into what marketers can expect in 2017 with geopolitical issues, customer acquisition and retention challenges, media and marketing shifts, and, most important, evolving consumer consumption patterns affecting products and experiential offerings.
Omega, Nordstrom, Chanel and Hearst – Live news
Luxury Daily's live news from Jan. 10 - Omega leverages Instagram for limited-edition purchase path; Nordstrom strengthens omnichannel objectives via new innovation executive; Chanel taps former CFO for beauty position; Hearst will implement new strategies to keep momentum going in 2017.
Martin Margiela, Audi, Tamara Mellon and Kering – News briefs
Today in luxury marketing - Palais Galliera to host Margiela retrospective in 2018; Audi makes Q5 a tougher rival for Mercedes GLC, Porsche Macan; Tamara Mellon goes stiletto-first into the digital future; Balenciaga ex-boss departs Kering as luxury groups continue reshuffles.
3 ways retailers can merge digital and physical store strategies
Is your ecommerce team excited to send customers to your retail locations if the customer is close by? Are your sales associates equally happy to recommend a product that is only available online? If you cannot answer an emphatic "yes" to both of these questions, your organization is not thinking customer-first.
Scroll below to see newsletter