Many ultra-luxury automakers rely on consumer-attended events and displays to raise awareness for new model lines. However, out-of-home ad placements can also reach an affluent audience without diluting a brand image and for a longer period of time.
Ultra-affluent auto brands such as Rolls-Royce, Bentley and Aston Martin likely know where the ultra-high-net-worth individuals are and create dealerships and exclusive model displays to reach them. However, an out-of-home display could create lust among an affluent population as well as add to a brand's targeted efforts when executed correctly for a longer period of time.
"As in real estate, location really is everything and even more so when it comes to ultra-luxury automakers," said Michael Silvia, partner at Evins Ltd., New York. "It is imperative that the location and occasion matches the overall brand identity.
"An out-of-home experience for Bentley would be appropriate at a polo match or private yacht club, but less so, for example, near the overpass or on the daily commute along the freeway," he said. "Out-of-home ads for very high-end products typically attract responses from qualified buyers who have already moved fairly far along the sales funnel.
"This consumer has narrowed his or her choices, made the mental decision to genuinely consider a purchase and is now looking to enter into the final stages of the sales cycle."
Race for the consumer
Event marketing is seen often during the summer months from luxury automakers that want to reach consumers while they are enjoying themselves.
For example, Italian automaker Maserati is inviting a select number of consumers to a new experience in Europe that lets attendees sail on the Maserati VOR 70 monohull and drive models in its current range including the new Maserati GranTurismo Sport.
Four Maserati models are displayed at the port while guests sail with skipper and two-time winner of the Around Alone global solo race Giovanni Soldini (see story).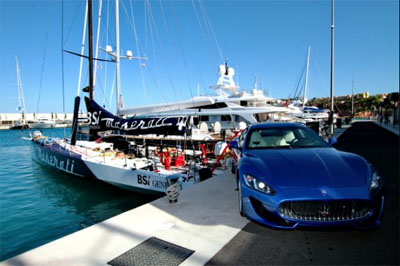 Maserati Drive&Sail event 
Sporting events such as golf, racing, sailing and polo draw an affluent audience and create good opportunities for luxury advertising.
British automaker Bentley Motors pushed the 2013 Continental GT Speed, what it calls its fastest model to date, at the 2012 Goodwood Festival of Speed in Britain with an extra social media push on the side.
Showcasing vehicle speed will help the brand appeal to the festival attendees who are in the frame of mind to explore fast cars, as well as younger affluent consumers (see story).
Bentley Speed GT
However, these displays are temporary. If luxury automakers want to bolster their out of home efforts, it is beneficial for the brand message to be static.
"By placing ads at highly-viewed activities, self-consciously consumers will feel the brand and be drawn to what they have seen most recently," said Brad Porter, CEO of B.E. Porter, Beverly Hills, CA.
"Return on investment for out-of-home advertising is the largest in the world," he said. "You get more people looking at something for less money and the cost-per-impression is low compared to digital."
Give it a try
Luxury automakers that seem less-obtainable to the general public may want to use out-of-home advertising to their advantage.
For example, ads on inroads to affluent communities in large cities are an appropriate start.
In the United States, this could be Park and Fifth Avenues in New York or Rodeo Drive in Beverly Hills.
"Place ads where people may be commuting in who have that discretionary income," Mr. Porter said. "Do not place them directly in the community, but on the road to and from where they will see it."
Luxury automakers that want to draw eyes should try dramatic campaigns.
"This is the highest-end market in the world, so there are no limits to how it can advertise," Mr. Porter said.
"When you see things lifelike, life-size, or larger than life, it makes them seem tangible or reachable," he said. "When I see a luxury automotive ad outdoors, it makes it look like it is within my grasp.
"Out-of-home ads let people see a brand with their own eyes and create a massive amount of lust, and whether people can afford it or not, they may dream about it throughout the day."
Outdoor advertising works for luxury automakers in particular because it captures consumers at their point of need, said Pam Danziger, president of Unity Marketing, Stephens, PA.
Furthermore, an out-of-home ad needs to be tailored whether the results are drawing consumers to a brand or drawing them to a specific dealer.
"Brands need to emphasize brand-specific features, while the dealers need to focus on the service component in their outdoor ads," Ms. Danziger said.
"Consumers decide on their brand and then their dealership from two different perspectives," she said. "For the dealer, especially serving the affluent consumer segment and service quality are key."
Also, dealer traffic can certainly be enhanced with out-of-home ads. In fact, this is the level at which most of home ads should be used most, per Evins' Mr. Silvia.
"Most ultra-luxury brands eschew out-of-home advertising as a general rule," Mr. Silvia said. "Out-of-home ads you may find are almost exclusively driven at the dealership level, as part of a pre-arranged co-op advertising agreement with the brand.
"These ads serve primarily as a vehicle to drive awareness about where, exactly, to finalize a purchase for the luxury vehicle of choice," he said. "There is not much competition, so the real purpose is to help the target consumer complete the sales cycle."
Indeed, there is also the view that there is no replacement for one-on-one brand interactions.
"The majority of true luxury brands seek to leverage out of home in an experiential manner," Mr. Silvia said. "Dynamic on-site displays of new offerings, which allow the ability to see and feel the craftsmanship, speak with a knowledgeable brand craftsman and truly experience the brand essence, are far more powerful than any advertisement.
"The key differentiator between a high-five figure car and a vehicle well into the six figures lies in the details," he said. "You will not make that point without engaging the consumer on a more tactile level."
Final Take
Tricia Carr, editorial assistant on Luxury Daily, New York