The Peninsula Hotels is attracting affluent travelers to its properties in Asia-Pacific for the Chinese New Year holiday with hotel décor, culinary events and packages.
The brand's properties in Hong Kong, Shanghai, Tokyo, Beijing, Bangkok and Manila are each providing guests with a unique display and activities to help them celebrate the holiday Feb. 10. Peninsula Hotels is nodding to quite a few Chinese customs in its celebrations such as its presentation of the traditional morning lion dance at some properties to ward off evil spirits as well as the use the color red for luck.
"With this program, [Peninsula] effectively plays into two major luxury travel trends – a desire for memorable experiences and to celebrate special occasions with family and friends," said Karen Weiner Escalera, president and chief strategist at KWE Partners, Miami.
"This also reinforces their Chinese heritage as a brand, reaching out to the local population in China as well as to Chinese travelers in their destinations around the world," she said.
"Ethnic and national celebrations, from Mexico's Cinco de Mayo and France's Bastille Day to Chinese New Year, grow in popularity worldwide every year, presenting a ripe opportunity for hotels and resorts for increased food and beverage revenue as well as to reach out to special interests in the community."
Ms. Weiner Escalera is not affiliated with Peninsula Hotels, but agreed to comment as an industry expert.
Peninsula Hotels was not available to comment on this matter before press deadline.
Year of the Snake
Peninsula Hotels is looking to leverage its status as China's first luxury hospitality brand through its Chinese New Year celebrations, per the brand, which was established in 1866.

Guests at The Peninsula Hong Kong can celebrate with a few culinary packages for tablets of 10. These include the Fortune menu for $1,403, the Wealth menu for $1,790 and the Longevity menu for $2,048.
Traditional menu items such as Lunar New Year Puddings will be available. These include New Year Pudding, Turnip Pudding, Water Chestnut Pudding and Taro Pudding.
Also, each of the hotels' on-site restaurants will offer the Fireworks menu Feb. 11. The meal will be served on the Sun Terrace so that guests can view the city's New Year fireworks display.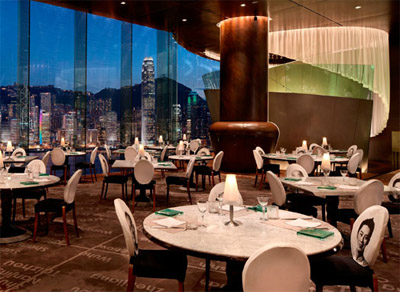 The Peninsula Hong Kong's Felix restaurant 
At The Peninsula Shanghai, each guest will receive a red package with a chocolate coin that is meant to bring them luck in the New Year.
The property is decorated with peach and kumquat trees with hanging red packets. In addition, the lion statues at the entrance of the hotel wear red bows.
Special menus will be served at on-site restaurant Yi Long Court and Chinese New Year hampers are available at The Peninsula Boutique.
Yi Long Court
On New Year's Day, the Shanghai property is hosting an award-winning lion dance troupe to perform the traditional dance. The performance is open to guests and the public.
The Peninsula Tokyo is marking Chinese New Year with lobby flower displays and red-illuminated entrance lion statues. Celebratory in-room amenities are also provided as well as a lion dance performance.
The hotel is also offering a six-course "Wishes" lunch menu for $98 and a six-course Lucky dinner menu for $252 at its Hei Fung Terrace.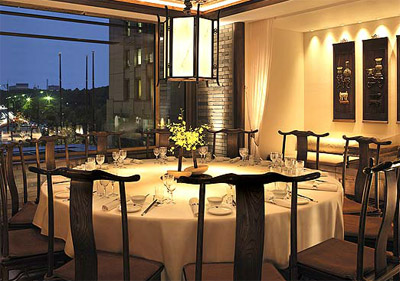 Hei Fung Terrace
At The Peninsula Beijing, guests can visit with a calligrapher in the lobby who will write lucky couplets and their names in Chinese characters.
The property is also hosting a Chinese-themed Afternoon Tea in the lobby and presenting hotel-wide décor.
At The Peninsula Bangkok, guests can book one of two Chinese New Year packages. The hotel is also offering special dinner and brunch menus, Chinese-themed Afternoon Tea in the lobby and a lion dance performance.
The Joyful Holiday Package comprises a Deluxe Room for $296 – or THB 8,888 – per night for a minimum of two nights, daily buffet breakfast at River Cafe and Terrace for two, one buffet dinner at River Cafe and Terrace for two and a spa voucher.
In addition, the Prosperous Holiday Package includes a Deluxe Suite for $630 – or THB 18,888 – per night for a minimum of two nights, daily buffet breakfast for two, one round-trip airport transfer, one Afternoon Tea for two, one dinner for two at Mei Jiang Chinese restaurant and a one-hour-and-20-minute Thai massage for two.
Both packages are available Feb. 1-28.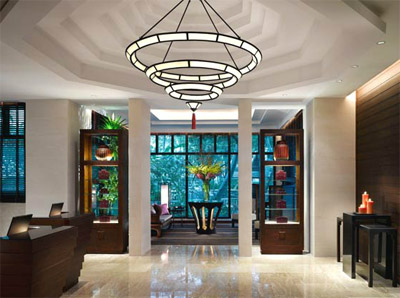 The Peninsula Bangkok spa
Lastly, The Peninsula Manila, Philippines, is offering a Chinese-themed lunch and buffet at its on-site restaurant Escolta as well as a holiday floral display and a dragon and lion dance performance.
Escolta
Across the pond
Peninsula Hotels is taking the same approach to cater to Chinese travelers destined for its U.S. properties.

The brand is targeting Chinese guests with hotel packages and Van Cleef & Arpels shopping experiences at its hotels in New York, Chicago and Los Angeles.
Each property is offering a tailored package and a special room rate of $888 per might since the No. 8 implies good fortune in the Chinese culture.
The Chinese New Year packages at Peninsula's three U.S. locations vary slightly, but all center on a shopping experience at Van Cleef & Arpels. Guests receive a $1,000 gift certificate to the jeweler to spend during their trip (see story).
"Chinese New Year is such a huge celebration that is rich in culture, history and honor," said D.M. Banks, director at DMB Public Relations, New York. "With celebration and cuisine being at the center if this holiday, it makes sense that Peninsula Hotels created packages and created the atmosphere that will be attractive to both the Chinese locals and those traveling.
"Fortunately, in recent years we have seen more consumers celebrating Chinese New Year around the world, and with the major Chinese influence worldwide, it is believed that we will only see more of these packages offered at luxury properties," he said.
Final Take
Tricia Carr, editorial assistant on Luxury Daily, New York