Peninsula Hotels is adding to the Enrich Your Life guest experience program with its Trees of Hope campaign in which guests can buy holiday ornaments with profits going toward the Make-A-Wish Foundation.
Guests in the hotel chain's New York, Shanghai, Hong Kong, Beijing, Tokyo, Chicago, Beverly Hills, Bangkok and Manila locations are able to buy the fundraising ornaments. In addition, the brand has special in-house events that also benefit the charity.
"This program will allow Peninsula Hotels to add a level of authenticity and allow travelers to participate in local initiatives that brings out a genuine connection to the destination and its people," said Melanie Brandman, founder/CEO of The Travel Curator, New York. 
Peninsula Hotels did not respond before press deadline.
The Make-A-Wish Foundation is an organization that grants wishes for children with life-threatening illnesses.
Ornamental details
Guests staying at Peninsula properties can buy ornaments to hang on Christmas trees in the hotel's nine locations.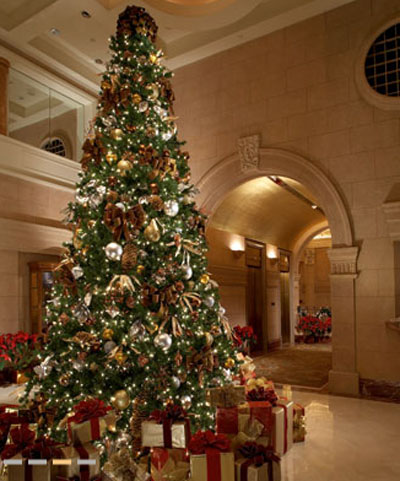 Christmas tree in the Peninsula hotel
The ornaments are available for $15 and the proceeds go to the hotel's local Make-A-Wish branch.
In addition to the Trees of Hope campaign, Peninsula is offering the Trees of Hope Cocktails and Teas of Hope initiatives.
The hotels will offer a festive version of its traditional afternoon tea and will donate proceeds to Make-A-Wish for each cocktail and afternoon tea sold.
This is the ninth year that Peninsula has been partnering with Make-A-Wish. Last year, Trees of Hope raised more than $385,000 for the Make-A-Wish Foundation, according to Peninsula.
Peninsula Hotel Web site
Holiday cheers
Quite a few luxury brands are intertwining corporate social responsibility in their holiday initiatives.
For example, luggage manufacturer Tumi is offering consumers a chance to donate to St. Jude Children's Hospital when they buy from the brand this holiday season (see story).
Also, department store chain Barneys New York paired with musician Lady Gaga for its Christmas-themed Gaga's Workshop department of its flagship location in New York (see story).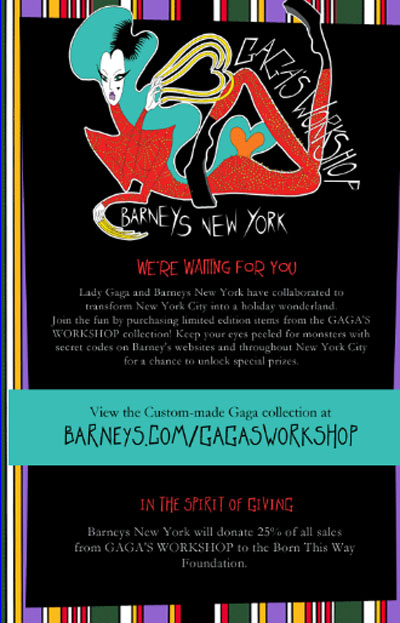 Gaga's Workshop donates to the Born This Way Foundation
Twenty-five percent of the proceeds will be donated to the Born This Way Foundation, a recently-launched anti-bullying program by Lady Gaga.
However, all types of luxury marketers are stepping up their corporate social responsibility no matter the time of year.
This could be because customers are more inclined to buy from a brand that is actively socially-responsible (see story).
"Involvement in a CSR initiative isn't a necessity for a hotel brand per se, but anecdotal and industry research has shown that luxury-minded consumers will make buying decisions based on brands that align with their own personal values," Ms. Brandman said.
Final Take
Rachel Lamb, associate reporter on Luxury Daily, New York