Porsche is virtually putting consumers in the front seat of its new Cayman vehicle via a mobile application that is designed to promote safe driving and build brand awareness, while also letting consumers compete in a variety of challenges.
The app fosters camaraderie among current and prospective Porsche drivers by structuring and mapping driving challenges that affluent consumers may face while on the road. The app adroitly captures the movements of the car so that drivers can catalog their skills and communicate with their friends, family or other drivers.
"The Porsche Cayman app aims to be both educational and entertaining," said Simon Buckingham, CEO of Appitalism, New York. "It contains information about the car but also enables car owners to participate in driving exercises such as the Slalom and Autocross and Reaction Challenges as well as the ability to show your ability to record turns taken in the car.
"The primary purpose of the app is the challenges," he said. "There is also some information on a show on the Speed Network featuring the car and the challenges.
"The Porsche Cayman app is a niche app that will appeal to some drivers that want to test and showcase their driving skills."
Mr. Buckingham is not affiliated with Porsche, but agreed to comment as an industry expert.
Porsche was unable to comment by press deadline.
Travelling in packs
The Porsche Code of the Curve mobile app aims to promote unity between its drivers primarily through an interactive scoreboard.
A brief look at the exterior, interior and specs of the car immediately greet the user.
Different parts of the car are studded with nodules that a consumer can touch for a description of that particular feature.
Additionally, statistics expound upon the car's technical abilities, which can be found under the specs section.
Through the various challenges, users can can pick from a variety of pre-meditated routes.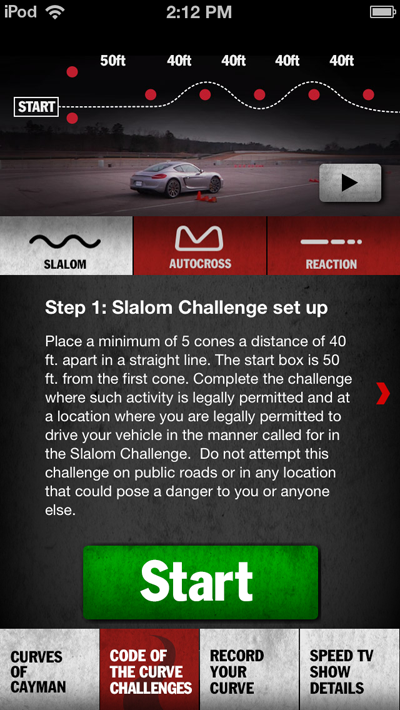 Code of the Curve Challenges
Each route features an instructional video and three easy-to-follow steps for proper execution.
The first step concerns preparation, the second step initiates the drive and the final step encourages drivers to improve upon their score.
Consumers can also craft their own routes while the app monitors and records every curve.
Porsche emphasizes the importance of prudent driving at every curve to ensure that the challenges do not get carried away.
Easy insights
Mobile apps serve a number of purposes ranging from educating consumers to driving interaction between the user and the brand.
This particular app helps users create stronger ties with their vehicles and offers entertaining challenges and pithy information that may entice new consumers to purchase a Cayman vehicle.
Alternatively, the app's abundant images can be used for idle fantasies.
Many companies decide to approach mobile apps from a more functional perspective.
For example, German automaker Mercedes-Benz is propelling environmental efforts through a new mobile application that shows off the energy-saving technology used in its vehicles (see story).
Taking a slightly more daring approach, Swiss jeweler Chopard is celebrating the anniversary of its Happy Sport watch through a mobile application that lets consumers personalize their own timepiece and explore other custom creations (see story).
On the other side of the mobile spectrum, some companies elect to design prize-oriented contests.
Four Seasons Hotel Hong Kong is interacting with a diverse group of young consumers by inviting Instagram users to capture views of the cosmopolitan city (see story).
"The app has to be location enabled so that challenges are only undertaken in areas where they are legally permitted," Mr. Buckingham said.
"For challenge results to be measured accurately the phone needs to be placed in a certain position with the screen facing the back windshield," he said. "You don't have to be driving a Porsche to participate in the challenges – any car will work."
Final Take
Joe  McCarthy, editorial assistant on Luxury Daily, New York