Hublot, Bell & Ross, Franck Muller and other watchmakers use QR codes to drive consumers from print to mobile, but this effort could be ineffective since often products cannot be purchased online.
QR codes can effectively take magazine readers from a print ad to a mobile site where products can be explored and purchased. However, luxury marketers need to up their strategy to engage consumers with QR codes, experts say.
"QR codes are fast becoming an essential addition to today's marketing toolbox," said Doug Stovall, executive vice president of sales and services at Hipcricket, Seattle. "However, the QR code is in its infancy.
"The real challenge for brands is to understand how this innovative, exciting technique can be integrated alongside other marketing activity," he said.
Spending confidently
A QR code can be a useful tool to help bridge the gap between print and online shopping.
Making a commerce option available through a QR code would likely result in sales since affluent consumers are becoming more comfortable with purchasing through mobile devices.
"We already know that security concerns surrounding e- and m-commerce are dwindling," said Melody Adhami, president and chief operating officer of Plastic Mobile, Toronto.
"According to research done early last year, more than 70 percent of affluent consumers suggested there is no monetary limit to what they would spend [while using] a mobile device," she said.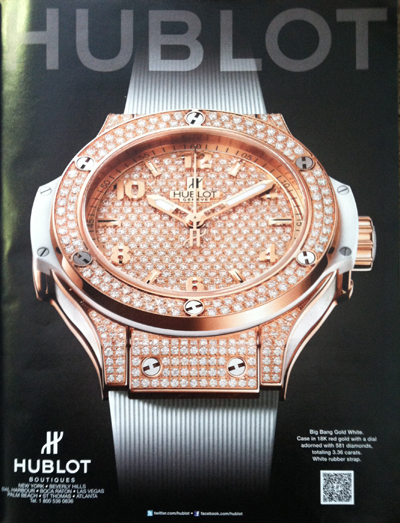 Hublot ad with QR code
Since consumers are becoming more comfortable with QR codes, marketers are likely to add more purchase options in the future.
"Market research data from eMarketer show that the two most desired content options consumers want when scanning a QR code is discount or coupons and product information," Hipcricket's Mr. Stovall said.
"Offering a purchase option should be the natural evolution for these watchmakers, but not considered a must-have right now," he said.
Teasing a product
Marketers that do not offer mobile commerce sites are linking to other online destinations where consumers can learn more about the rand or product.
For instance, Franck Muller directed print readers to its Facebook page through a QR code placed on its ad in the spring issue of DuJour magazine.
Scanning the QR code with a mobile device leads consumers to the brand's mobile Facebook page (see story).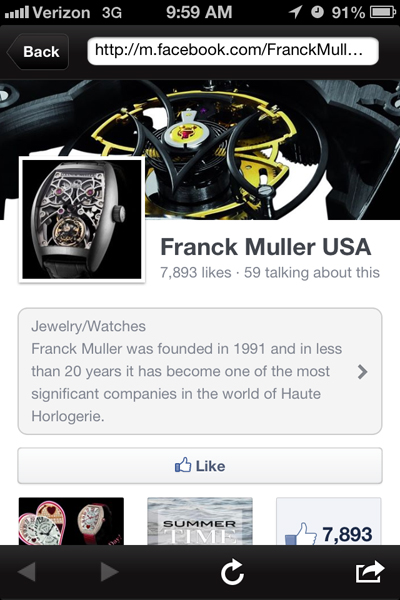 Franck Muller mobile Facebook page
Also, Bell & Ross enhanced its simple spring ad campaign through a QR code that brings consumers to a dedicated mobile-optimized site.
The watchmaker's ad in the April issue of WSJ. Magazine shows a QR code on the bottom-left corner. When scanned, smartphone users can find more information on the two variations of the WW1 Chronographe Monopoussoir (see story).
However, not having a commerce option available could be seen as a loss for these watch brands that are using QR codes.
"Showing your customer a fantastic product, then asking them to take the time to use their mobile device to go to your site, only to tell them that they must go to the store or to the desktop site to buy it is akin to taking your wares to someone's home, showing them the goods and then telling them they need to go to the store to purchase them," Plastic Mobile's Ms. Adhami said.
"It could be that they simply want to send consumers to the Web site for further product details, which is a good first step, but to not have an m-commerce enabled site where the user can then seamlessly make a purchase seems like a missed opportunity," she said.
"It just seems illogical."
Final take
Erin Shea, editorial assistant on Luxury Daily, New York