Footwear designer Stuart Weitzman is looking to build social media followers through a new video called "Walking After Midnight" that gives access to limited-time offers.
The video stars Petra Němcová and is directed by actor/director James Franco. The video, which is being released in four installments until the full launch at the end of the month, is supported by a hefty social media campaign involving Facebook and Twitter.
"The value added to Stuart Weitzman stems from the excitement built through the continuous release of the four vignettes," said Natalie Ney, client services manager at iProspect, Fort Worth, TX.
"By hosting the debut at midnight and offering limited-time products, it will entice anticipation and keep consumers coming back to watch and engage on the Facebook page each week," she said. "Ultimately, this fosters continual conversation throughout the course of the series and aids potential further engagement on the site and Facebook page.
"In addition, the video series exhibits the fun, lifestyle, innovation and luxury of the Stuart Weitzman brand in a way that yields strong emotion and influence to all that watch."
Ms. Ney is not affiliated with Stuart Weitzman, but agreed to comment as an industry expert.
Stuart Weitzman could not respond before press deadline.
Social shoes
Stuart Weitzman is releasing four vignettes leading up to the full short film launch Oct. 26. The first installment was released yesterday.
As each film is released, consumers can receive special rewards for a limited time. The first 12 consumers who bought the shoes in the video last night received $150 with the offer code BACKFLIP12.
Consumers were given the opportunity to share the film on Facebook and Twitter.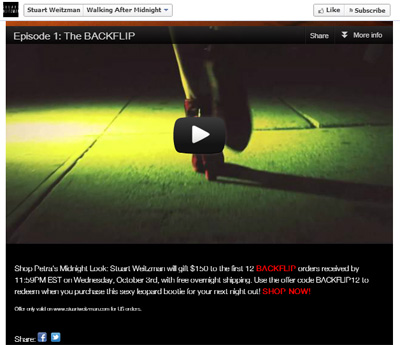 Stuart Weitzman Facebook page
"This is a great way to generate buzz and offer exclusivity, which new and existing luxury consumers will positively respond to," Ms. Ney said. "Building this anticipation through selective offerings is key as it creates an emotional desire with each viewer, ultimately enticing consumers to want to purchase the limited-time products."
The full film is inspired by the 1980s movie "Mondo New York" and is set to a modern remake of the Patsy Cline song "Walking After Midnight."
Ms. Němcová stars in the film as a young woman in the underground scene of New York. She is wearing Stuart Weitzman stilettos and boots as she walks around Le Baron nightclub, Peels restaurant, the Hold gallery and Freeman's Alley.
Stuart Weitzman hopes that the vignettes will create buzz on social network feeds. In addition to the exclusive films on Facebook, the brand is promoting them with the hashtag #walkon.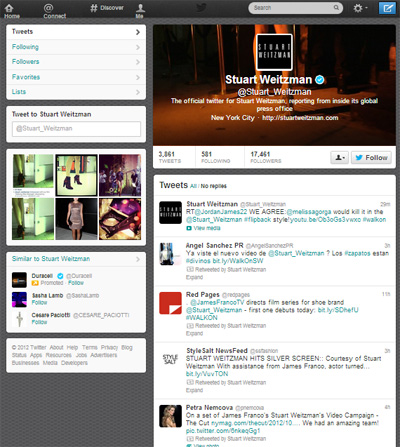 Twitter feed
Video kills the radio star
Many luxury footwear brands are using social videos to promote collections or the brand image.
For example, footwear designer Tod's partnered with LVMH Moët Hennessy Louis Vuitton's Nowness blog to publish its Electric Signature video that depicts the image behind the Signature Collection.
The collection includes shoulder bags, totes and clutches in different colors. The video was first published on Nowness, but is also available on Tod's Facebook page, YouTube account and Web site (see story).
Also, Jimmy Choo is pushing men's footwear in its second social video collaboration with British men's retailer Mr Porter that depicts the daily lives of London-based characters.
The label's short film called "Stepping Out" was shot at ground level so that viewers cannot see the faces of the characters, but only the clothing and shoes. Jimmy Choo seems to be pushing its men's items in an entertaining way to reach consumers outside of the affluent female demographic it attracts with its shoes, apparel and accessories (see story).
"Marketers can learn that by leveraging exclusive video content within a social environment, they can achieve a combination of engagement and loyalty goals," Ms. Ney said. "Also, by adding a 'shop now' call to action within the video, you can link your ecommerce goals as well.
"Video is unique in that it can produce that emotional connection with viewers, unlike other media," he said. "Combining the strong elements of video with an exclusivity piece, as Stuart Weitzman has done here, is a great tactic for luxury brands."
Final Take
Rachel Lamb, associate reporter on Luxury Daily, New York