Precision-cut crystal maker Swarovski is looking to make the brand more accessible to its female consumers through a how-to book published by French publishing house La Martiniere.
"Multiface(t)s: Style Yourself with Jewelry" will release Oct. 25 in English and French. Swarovski is targeting its global audience of women who are looking for advice on wearing jewelry while pushing the brand as a go-to source for style tips.
"The brand appeals to a broad range of women across the globe, coming from various backgrounds, lifestyles, ages and races, and it is with this eclectic spirit that I designed that book," said Nathalie Colin, creative director at Swarovski, Paris. "I cast women of all different races, ages, sizes and weight like in real life.
"The book will appeal to all women who love to wear jewelry," she said. "There is no age limit or specific demographic, just an affinity and passion for the pleasure and enhancement that jewelry can bring into a woman's life."
Gems of knowledge
Multiface(t)s will show readers how to style jewelry according to Ms. Colin and various contributors such as Nina Garcia, Glenda Bailey, Anna Dello Russo and Eric Daman.
The 240-page book includes images of fashion editorials in addition to exclusive images styled by June Ambrose, Sascha Lilic and Han Huo Huo.
Swarovski employees are featured as models.
The cover shows the Serena necklace from Swarovski's fall/winter 2012 collection on a mirrored surface so that consumers can see themselves wearing it when they look at the book.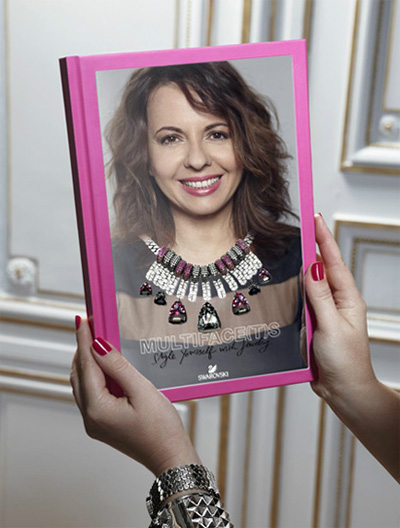 Mirrored book cover 
Multiface(t)s will be distributed via brand boutiques, Swarovski.com, Lamartinière in France and international Abraham locations. Countries where it will be available include the United States, Canada, Britain, Germany, China's Hong Kong, Japan, Australia and France.
Swarovski will host book launch events Oct. 25 at its Michigan Avenue boutique in Chicago and Nov. 29 at its Lincoln Road boutique in Miami.
There will also be a dedicated mobile app released later this month.
"When we researched the market we found that although there are many books about jewelry and jewelry brands, there is nothing about how to actually select and wear jewelry for different moods and on different occasions," Ms. Colin said.
"This is a first attempt to fill the gap, and since Swarovski has such a variety of styles of jewelry, it is a perfect match to demonstrate some of the styling ideas," she said.
Book it
Luxury marketers usually publish books to show their history via a traditional medium.
High-end fashion labels do this often.
French fashion label Chanel is marketing its new book through exhibits in major global markets.
The Little Black Jacket exhibit is based on the book, "The Little Black Jacket: Chanel's classic revisited by Karl Lagerfeld and Carine Roitfeld," and includes images of the Chanel jacket throughout the years (see story).
French fashion label Christian Dior is also showing off the history of its jewelry, fashion and perfume collections in a three-book slipcase set published by Assouline
The slipcase features one book for each of the fashion house's most famed lines (see story).
Additionally, automakers are publishing books to show their history.
German automaker Mercedes-Benz pushed a new coffee table book published by teNeues as a Father's Day gift. The Mercedes-Benz 300 SL Book contains a photographic history of the model's 60 years on the market (see story).
Also, German automaker BMW Group celebrated its 40 years of global cultural engagement efforts with the launch of a limited-edition branded book called "Culture."
The book was a joint project between the automaker and graphic designer Stefan Sagmeister that uses photos to present the history of BMW's corporate cultural and sponsorship efforts from the last four decades (see story).
Though Swarovski has published books with a focus on the brand in the past, its latest publishing venture is an accessible book about jewelry styling rather than a history of the brand, per Ms. Colin.
"A book is a fantastic communication tool for a brand, and for me as creative director, it is a great way to show the scope of my creative vision, and all the richness of ideas that I infuse in the collections season after season since 2006," Ms. Colin said.
"The democratization of jewelry is at the origins of the brand's DNA, a heritage perpetuated with each new season," she said.
Final Take
Tricia Carr, editorial assistant on Luxury Daily, New York