Precision-cut crystal maker Swarovski is looking to target a younger demographic through a Web series starring "Gossip Girl" stylist Eric Daman that will be broadcast exclusively on entertainment site Cambio.
"The Daman Chronicles" Web series will follow Mr. Daman as he goes about his duties in New York, likely trying to showcase an affluent and sophisticated urban lifestyle affiliated with Swarovski. To add to the experience, Swarovski will host a Gossip Girl-themed competition with social media components.
"Our strategy is to entertain and engage young fashionable people by giving them a real-life glimpse of the glamorous and sparkling world of Swarovski," said Livia Marotta, director of communications for Swarovski CGB NA, New York. "Our aim is to provide our fans with authentic content in a Web series featuring one of the most important costume designers for this decade.
"Eric Daman is truly passionate about Swarovski jewelry and is a big friend of the brand," she said. "Our fans will have the chance to experience with this program what it means to be a costume designer and work with a brand like Swarovski."
Gossip-worthy
The Daman Chronicles will be exclusively distributed on Cambio at http://www.cambio.com/daman-chronicles.
Debuting June 19, the series will show Mr. Daman as he preps for shoots, researches for upcoming television seasons and meets with friends.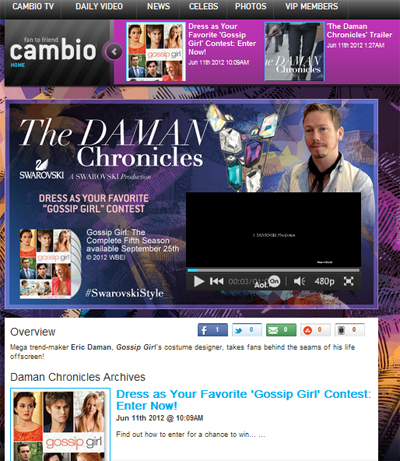 Cambio screen
The first episode will kick off with a live-streaming event at Swarovski's Lincoln Road boutique in Miami.
Before the series launches, Swarovski and Cambio are hosting a contest that allows consumers to tap into their own costume design abilities through the "Dress as your favorite Gossip Girl" contest.
The contest involves users uploading pictures of themselves to Twitter or Instagram in outfits inspired by Gossip Girl characters. The pictures must have the hashtag #SwarovskiStyle.
User-submitted #SwarovskiStyle Instagram image
Mr. Daman will judge the look, and the best interpretation will win a Rocket Necklace from the Swarovski summer collection and Seasons 1-4 of Gossip Girl on DVD.
"This is a really interesting strategy for Swarovski," said Shenan Reed, chief media officer at Morpheus Media, New York. "They are obviously looking to attract the aspirational consumer with this show and owned content is a huge trend for luxury brands.
"They power of partnering with Gossip Girl will not only accomplish the reach to an aspirational consumer but also their more established parents," she said. "Where Cambio and Gossip Girl both have a strong teen following the halo effect of the more established consumer is very strong."
The Daman Chronicles Cambio site is already bursting with Swarovski content.
In addition to a trailer of the contest, Swarovski has already embedded a few of its most recent campaign videos that will appeal to the target audience including one for its Erika+Eliot Around the World Facebook tab (see story).
Daman Chronicles trailer
Swarovski is also actively tweeting about the contest and Web series using the #SwarovskiStyle hashtag.
"It will be interesting to see how they use this content beyond Cambio, in their social channels and display ad units," Ms. Reed said.
"More and more luxury brands are developing owned content and the smart strategy of working with a content development partner like Cambio takes much of the heavy lifting off the brand and leverages the relationship with the media partner," she said.
Young love
Millennial consumers are the next generation of luxury shoppers. Therefore, it is easy to see why high-end brands want to form relationships with them early on.
By connecting with younger consumers and gaining visibility through popular culture, consumers will remember a brand when they have the means to buy products later in life.
Furthermore, offering up a Swarovski product will give a consumer an entryway into the brand lifestyle.
Another move is connecting with consumers through Gossip Girl and, more specifically, New York.
Many luxury brands choose to use cities as muses in campaign efforts since urban environments symbolize an affluent, trendy and grown-up lifestyle (see story).
Having a specific link to a metropolis could also help a luxury brand appeal to a younger demographic, since both the brand and the city have something to which aspirational consumers can aim.
Finally, connecting with younger consumers through a fashion-centered TV show can help Swarovski put a lifestyle label on itself.
Indeed, consumers who look to Gossip Girl for style inspiration may look to accessorize with Swarovski products if the brand makes itself visible.
"Cambio is the leading entertainment platform for teens and young adults and therefore a good fit for our program," Swarovski's Ms. Marotta said. "Their data shows their audience voraciously consumes and shares video content which made it an ideal platform to distribute Swarovski's The Daman Chronicles.
"We are excited to explore new territories by engaging in innovative creative tactics, outside the traditional parameters of luxury brands like ours, while staying true to the Swarovski DNA and the innovative spirit that has distinguished the company since its founding," she said.
Final Take
Rachel Lamb, associate reporter on Luxury Daily, New York