Luxury marketers of all backgrounds and establishment dates are present on Facebook, Twitter, YouTube and foursquare, but given each label's unique history and brand image, social media should not be a one-size-fits-all medium.
Younger luxury brands have more freedom on social media channels since they are building their brands in ways that are more accepted today. Meanwhile, venerable and storied luxury marketers may need to be more cautious about how they use the channel, since older consumers who have grown up with traditional media are either not on social channels or see the mass-marketing hubs as brand dilution.
"There is always a question about 'Is this good for the brand?'" said Ron Schott, senior strategist at Spring Creek Group, Seattle. "This is especially true with brands that have been around for quite some time, but that does not mean that shaking things up will necessarily dilute that tradition.
"Yes, younger brands have the opportunity to take more chances, but they are doing so in hopes of cementing themselves in the minds of consumers and one day they want to be those brands that have been around for 100 years," he said. "I think more established brands can try new things without giving up who they are, which is part of the allure of digital and social marketing."
Young blood
Brands such as Louis Vuitton, Burberry or Hermès that have been around for years already have an audience that they have cultivated through print, out of home and direct mail marketing.
Meanwhile, brands that are relatively young in age are using social media to connect on a hub that is populated by all kinds of consumers. This will help them cultivate relationships with consumers who cannot buy luxury items right now but will in the future, in addition to already-affluent shoppers.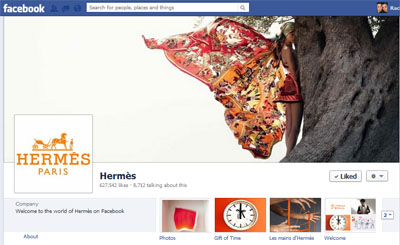 Hermes' Facebook
Younger luxury brands have more freedom on social media channels since they are trying to build an audience and, more often than not, that audience already inhabits social media.
In addition, luxury brands that have not been around as long could be trying to attract a more youthful audience of digital natives.
"Shoppers between 18-29-years-old are the fastest-growing market of luxury items, so it is extremely important to engage with them where they are spending most of their time," said Dalia Strum, president of Dalia Inc., New York.
Some of these brands are launching all-encompassing social media campaigns.
For example, Rebecca Minkoff, which was founded in 2005, relies on social media for much of its marketing.
Morning After contest on Pinterest
Rebecca Minkoff enlisted 14 well-known bloggers to introduce the new spring/summer 2013 collection through a contest that spanned Facebook, Twitter, Instagram, Pinterest, Stylecaster, SocialCam and the Minkette blog (see story).
The cofounder and designer Ms. Minkoff also personally uses Twitter and cultivates a two-way dialogue with consumers.
Also, Prabal Gurung, founded in 2009, pushes the majority of its collections through social video and links to media articles to build awareness and credibility in a crowded social media landscape.
Younger luxury brands are also more likely to use social media as an engagement forum.
For example, younger brands including Jason Wu, Stella McCartney, Mulberry, Michael Kors and Marc Jacobs often use social media to directly interact with consumers, welcoming questions, comments and even conducting polls to see what they want to see from the brand.
Michael Kors' blog, Destination Kors
"Younger luxury brands have less at stake, that is, less potential dilution as they are lesser known, have a less established image and have more need to build a following among their target market segment," said Ron Kurtz, president of American Affluence Research Center, Atlanta, GA.
Old dog, new tricks
Meanwhile, there is an ever-present struggle between older luxury marketers that run the risk of diluting their exclusive, high-end image through marketing to mass media.
"Older luxury brands have a larger pool of past clients as a following and need to be careful about not turning them off," Mr. Kurtz said.
"The older brands have a more established image that needs to be protected," he said.
However, there are some measures that brands can take to preserve their image.
For example, 1856-established Burberry regularly pushes campaign videos, collections and even Facebook-exclusive commerce offers through its social media feeds, but it still maintains its pristine image through not allowing consumers to post on its wall.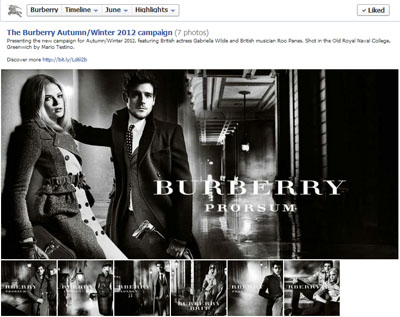 Burberry's campaign images that it puts on Facebook
In fact, Burberry treats its wall more as a news source than as an engagement medium.
Meanwhile, Louis Vuitton, established in 1854, uses social media as a place to display its history and heritage.
Using the Timeline, consumers can learn about the brand's first location in France, the evolution of its products and its place in the history of fashion.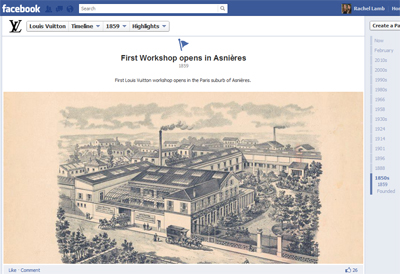 First shop opening on Louis Vuitton's Timeline
Other storied luxury brands including Christian Dior, Chanel, Lanvin, Gucci and Prada offer marketing and campaign materials, but the majority of their social media activity is for flaunting brand values, heritage and history.
"Burberry's and Cartier's microsites align with the level of sophistication and detail that the brands are known for and therefore serve as appropriate extensions of the brands," said Christina French Houghton, associate strategist at Siegel+Gale, New York.
Room to review
No matter how old the brand, social media can dilute a label's status if it does not properly reflect a marketer's image.
Depending on what a brand is trying to accomplish determines why and how often it should be on social media. However, most experts agree that it would be foolish to completely ignore the channel.
"There definitely is something to be said about marketing to a different crowd, but the fact of the matter is that the consumers themselves are changing and if brands are not changing with their consumers, they are going to be stuck trying to sell to an ever-shrinking audience," Spring Creek Group's Mr. Schott said.
"Younger brands are already taking advantage of new ways to reach and interact with consumers and that means talking to them in a way they expect, even if the luxury market does not exactly fit all the time," he said.
Indeed, some older brands may think that it is useless to talk to a mainstream audience that cannot even afford its products.
However, it is even more likely that an absent brand's competitors are talking to young consumers and will have a relationship with them when they get to high-end buying age.
Old brands can learn from their younger counterparts, and vice versa.
Younger brands may want to talk about their heritage and craftsmanship that constitutes them a luxury brand.
For example, Marc Jacobs is one of the most active labels on all types of social media, but it maintains its core image through displaying its brand values right on its social media pages and making sure that it keeps its heritage intact.
On the other hand, Louis Vuitton dipped into the mobile arena with an application that showed the history of its trunks, but retailed it at $18.99 to ensure that only loyalists would opt to see the information (see story).
"Both young and old brands have the same risks and benefits to using social media," Siegel+Gale's Ms. Houghton said. "The power of social media means that brands can quickly and inexpensively create significant exposure.
"The bad news, for some, is that the authority is shifting away from brands and towards consumers who can create peer-to-peer content," she said. "Given the shifting dynamics between brands and consumers, brands should consider empowering and enabling the social communities that support them.
"If approached in the right way, communities can be leveraged to help launch new products or to provide invaluable insights into consumer preference."
Final Take
Rachel Lamb, associate reporter on Luxury Daily, New York