Since affluent consumers are looking for luxury brand products and store locations on their smartphones and tablets, implementing a search strategy on mobile Web browsers is of the utmost importance.
Marketers need to keep in mind that mobile paid search is just as important as Web browser paid search, as is the addition of organic search options. This is important for all marketers including fashion, hotel and automotive brands.
"Unquestionably, mobile search is something that all marketers should implement into their mobile strategy," said Scott Forshay, mobile and emerging technologies strategist for Acquity Group, Austin, TX. "The mobile search inquirer is very often in motion and searching for relevant information without much time to dedicate to searching.
"Positioning itself top of page with contextually relevant results and mobile-specific calls to action allows the brand to differentiate at the inflection point of immediate need and create a significant competitive advantage in the minds of moving targets," he said.
Pay up
Buying mobile ads is the best way to get a brand to the top of a search engine. The paid search results come up at the top of a mobile Web browser.
Marketers including Mandarin Oriental, St. Regis, Chanel and Mercedes-Benz all use paid search.
However, there are varying degrees of paid search ads for mobile devices.
For example, Mercedes uses ads both for the official Mercedes site and for its United States site.
Mandarin Oriental paid search
Therefore, consumers can look at the corporate site or look at the U.S. buying options and content for that specific location.
Meanwhile, Mandarin Oriental has a booking option right in its mobile Web ads. This way, consumers can make reservations without wasting time.
Another way to implement paid search ads is for marketers to connect to similar types of luxury brands.
For example, when consumers type in Mandarin Oriental, Lexus has a paid search ad at the bottom of the page. This is because consumers who stay at Mandarin Oriental are also the same type of people likely to buy a Lexus.
"Although luxury brand Web sites, whether mobile or big browser, are most often destination sites in and of themselves specifically sought out by the affluent consumer, SEO has taken on a more essential role in digital marketing in a post-recessionary world," Mr. Forshay said.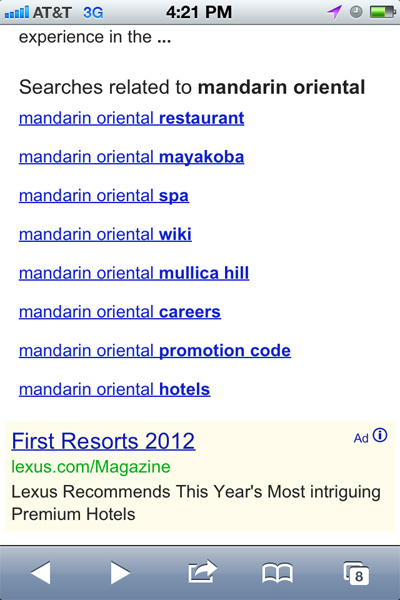 Lexus paid ads
Au naturale
Another mobile search option is SEO, which is organic, or unpaid, mobile search.
Marketers can increase their nonpaid search options through using keywords that correspond not only to the brand, but to the affluent, luxury lifestyle.
For example, Hublot does not use paid search on mobile Web browsers, but its site does come up first under the ads. This means that it is using some sort of organic optimization to get itself to the top of the search options.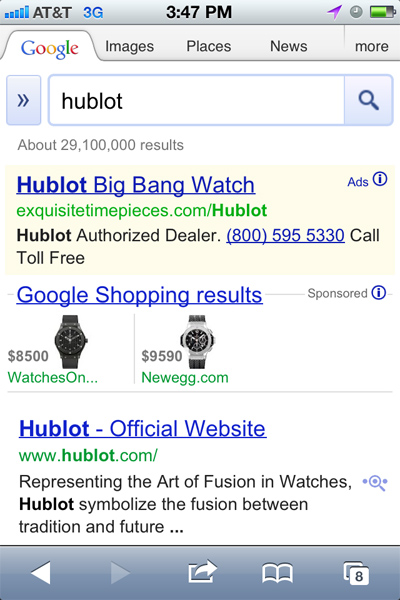 Hublot's organic search results
An alternate way is to optimize a site for mobile. Marketers that have an optimized site will automatically increase their organic search options for mobile Web browsers.
That said, it is of the utmost importance for luxury marketers to have an optimized site.
Therefore, if marketers are readily-accessible in search, consumers can continue the luxury experience with a mobile site.
"The luxury consumer, especially the highly-sought-after millennial segment, are shopping from a widely portfolio of luxury and premier brands than they have historically," Mr. Forshay said. "Brand loyalty has diminished due to many factors beyond the control of the brand as the new digital native, with their instantaneous and relatively unfettered access to coveted brands, has increasingly influential power to engage with brands on their own terms.
"Strategizing for favorable positioning execution in natural search results displays an understanding of this shifting dynamic on the part of the brand and illustrates a desire to engage with this new breed of luxury consumer in ways more modern, although slightly unfamiliar, than traditional methods," he said.
"Final Take
Rachel Lamb, associate reporter on Luxury Daily, New York