High-end advertisers including NetJets, Ralph Lauren, Hublot, Four Seasons and Hermès are targeting affluent Robb Report readers through the Private Aviation Sourcebook that is offered with the September issue.
Along with private aviation marketers, advertisers that are marketing within the regular September issue and the accompanying Exceptional Properties supplement will also benefit from this sourcebook. Since September magazines are arguably the most-read issues of the year, they are popular editions for marketers to advertise.
"September is an important issue for Robb Report with its major focus on fashion and style," said John C. Anderson, Los Angeles-based vice president of digital at CurtCo Media, publisher of Robb Report. "The fall fashion story, 'Man About Town,' is an 18-page presentation on men's fashion, featuring the products of over 30 designers.
"This issue provides unique coverage of the best of the best in men's fashion for this fall and is supported by stories in elements of style on Tom Ford, Bergdorf Goodman's shoe library and Vacheron Constantin's open-worked watch as well news and notes on watches and jewelry," he said.
Taking flight
There are 87 ads with 104 ad pages in this issue. This is a jump up from September 2011, where there were 85 ads with 96 ad pages, according to Mr. Anderson.
New advertisers in this issue include Armaggan, Porsche Design, Borgata Hotel Casino And Spa, Angelo Galasso, Strut Launchport, Boccia, Anel Satoria Napoli, American Eurocopter, ACP Jets, ClearJet.
The Private Aviation Sourcebook is a guide to buying aircraft, fractional shares and flight services. There is also a feature on finding the best values in the current secondary market.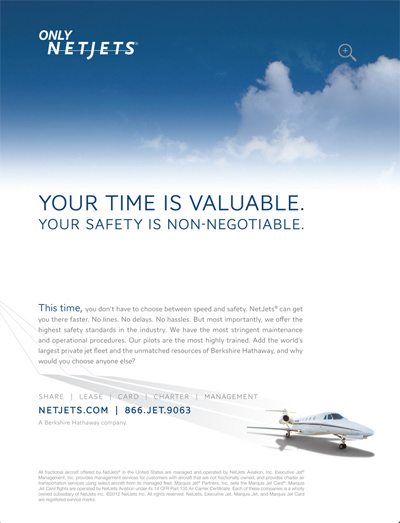 NetJets ad
The sourcebook features content and ads from marketers including NetJets, Embraer Executive Jets, Cessna, American EuroCopter, Jet Aviation and Clear Jet.
"The private aviation market is one of the most affluent of Robb Report's readers and viewers," Mr. Anderson said. "This makes the private aviation sourcebook a unique and important point of access for advertisers and marketers to reach this target group."
Also, the Robb Report September issue is the fashion edition, keeping in-tune with other luxury-focused publications during this month.
Ralph Lauren Purple Label
Fashion, watch and jewelry, automotive and spirits brands all advertise in this issue, including Ralph Lauren Purple Label, Hermès, Hublot, Tom Ford, Barneys New York, Deleón, Chanel, Gucci and Ulysse Nardin.
Tom Ford ad
Jet-set ads
The aviation supplement is important because the topic is a highly-sought-after topic for Robb Report readers.
This makes sense since the annual household income of Robb Report print readers is $554,000, which is the target audience for private aviation flyers.
Other luxury publications have included supplements that focus on areas in which their readers have an interest.
For example, W included a 46-page supplement to its June issue called "Trends" that was the same size as the traditionally larger magazine and contained ads by brands such as Dolce & Gabbana, Gucci, Yves Saint Laurent, Prada, Christian Dior, Bergdorf Goodman, Ulysse Nardin and Valentino (see story).
In addition, the Robb Report supplement Exceptional Properties boasts similar advertisers, but targets consumers who want to have a permanent residence when they go on vacation.
For example, Montage Residences Deer Valley, Trump Hotel & Tower, Old Palm Golf Club and The Avendale all have ads for consumers looking for a permanent or seasonal residence.
"Private aviation is one of the most highly sought out topics, not only in the magazine, but on robbreport.com as well," Mr. Anderson said.
"The majority of the private aviation manufacturers, suppliers and jet management companies are advertisers," he said. "Robb Report is very lucky to have a very experienced, knowledgeable and respected board of advisors who provide current information, evaluation and insights into this important market."
Final Take
Rachel Lamb, associate reporter on Luxury Daily, New York