New York's The Mark Hotel is targeting affluent shoppers with a new initiative that gives guests 24/7 access to a personal shopper at department store Bergdorf Goodman.
The partnership allows both the hotel and the retailer to continue to serve customers around the clock. Luxury hotels should strive for exclusive offerings to keep affluent travelers interested.
"Our guests love to shop when they are in New York, either in the stores on Madison Avenue or in department stores such as Bergdorf Goodman," said Isabelle Hogan, chef concierge at The Mark Hotel, New York.
"Our staff always try to make the impossible possible and this service allows us to continue to do that," she said. "We are the only hotel that provides a service like this.
"Bergdorf is the only store offering to serve guests at any hour, day or night."
Fashion on call
The new personal-shopping initiative allows guests to call for items at any time they need.
The hotel's concierge team has a private phone line to Todd Okerstrom, director of personal shopping at Bergdorf Goodman. Mr. Okerstrom has served numerous high-profile customers during his years at Bergdorf.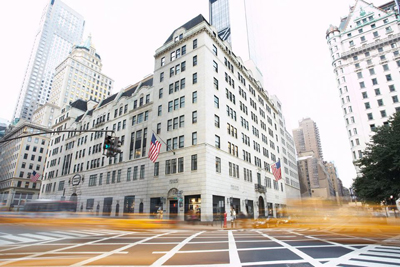 Bergdorf Goodman
In addition, messenger service from Bergdorf to the hotel is free of charge for guests. Bergdorf's personal shopping service is always complimentary.
This is especially attractive for guests who forgot items at home or need something in a pinch.
"Guests ask us for a recommendation for personal shoppers who can help them find something for a specific event," Ms. Hogan said.
"I think this offer is great for guests who need something last minute," she said. "Especially because Mr. Okerstrom is used to working under unique circumstances."
The Mark is likely to attract guests with this service since affluent consumers are looking for the most exclusive offers while traveling.
Staying in style
Other luxury hotels have partnered with retailers and fashion brands to provide exclusive experiences for guests.
For instance, The Landmark Mandarin Oriental, Hong Kong, collaborated with Jimmy Choo to offer a hotel package and afternoon tea that was inspired by the footwear label's spring/summer 2013 collection.
The on-property MO Bar hosted the Jimmy Choo afternoon tea April 2-May 5 that included edible miniature high heels. In addition, the hotel offered the Jimmy Choo L900 package April 2-7 that included the tea and a pair of shoes from the footwear brand's 24:7 collection (see story).
In addition, The Langham hotel and Asprey used their British heritage to celebrate the Queen's Diamond Jubilee with a special high tea with pastries inspired by the jeweler's collections (see story).
Also, The Dorchester, London, previously hosted a tea party during London Fashion Week at which British fashion label Teatum Jones gave an exclusive preview of its autumn/winter 2012 collection (see story).
However, The Mark takes the shopping experience to the next level since guests can call on a personal shopper whenever they need.
This above-and-beyond service is likely to attract affluent travelers.
"This is a great opportunity for The Mark to further enhance the experience for affluent guests by offering personalized services beyond its four walls," said Tiffany Dowd, founder and president of Luxe Social Media, Boston.
"Bergdorf Goodman is an iconic luxury New York retailer and luxury hotels are keen to associate themselves with like-minded brands," she said.
Final take
Erin Shea, editorial assistant on Luxury Daily, New York