Jeweler Tiffany & Co. is directing traffic to a digital storybook, "The Winter Carousel," which inspired its 2011 holiday windows.
The story revolves around a magical carousel that comes to life in Central Park in New York and how its animals visit the Tiffany flagship store on Fifth Avenue. Tiffany uses its windows and the storybook to highlight the holiday season and branded products.
"Success is driven by creating a showroom full of stories," said Chris Ramey, president of Affluent Insights, Miami. "The site and story contribute to creating that environment.
"The uniqueness is the direct connection between an almost bedtime-like story and a luxury brand's windows," he said.
Mr. Ramey is not affiliated with Tiffany, but agreed to comment as an industry expert.
The Winter Carousel is written by David Melling with illustrations by Christopher Young.
Horse of a different color
The Winter Carousel if found by following the links on Tiffany's social media pages or by going to http://www.tiffanywintercarousel.com.
Consumers are read the story by clicking on the to-right-hand of the page or by clicking and dragging the page, mocking a page-turning motion.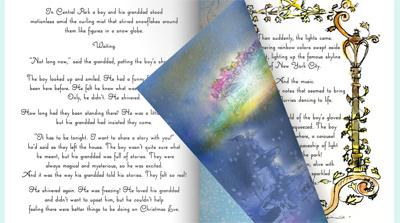 Turning the pages of the Tiffany story
The story details a little boy and his grandfather in Central Park on Christmas Eve when a carousel comes down from the sky and the animals come to life.
The two humans ride a lion through the streets of New York, closely followed by a menagerie of animals.
The parade stops at the Tiffany flagship on Fifth Avenue where the little boy sees this year's windows, which are carousel-themed.
The story ends with the animals dropping the boy and his grandfather back in Central Park.
The Tiffany windows show holiday products hidden in the streets of New York and intertwined with animals from the carousel.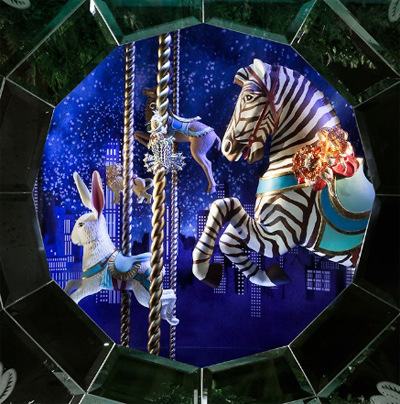 Tiffany's 2011 holiday windows
Décor that resembles a carousel protrudes out of the windows, giving the entire display a three-dimensional effect.
Storied marketing
Quit a few luxury brands are using storybooks as a way to encourage parents to purchase products.
For example, Ralph Lauren featured its spring 2011 children's collection with a storybook that showcases the brand's digital, print and cause-related sides (see story).
Furthermore, German automaker Mercedes-Benz teamed up with author Joey Goebel to create the "Sensuality & Sense" story that advertises the 2012 CLS through an iPad application (see story).
Although arguably a creative marketing strategy, Mr. Ramey questions the target audience of storybooks and whether or not they are actually effective in driving sales.
"The connection between the internet and the showroom is not automatic," Mr. Ramey said. "[Also], the story is for children. 
"Yes, they're influencers – but perhaps less so for jewelry," he said.
Final Take
Rachel Lamb, associate reporter on Luxury Daily, New York