Swiss watch manufacturer Ulysse Nardin is celebrating the yachting and competitive sailing industry with the creation of a limited-edition timepiece commemorating the sailing competition that launched America's Cup.
The timepieces reflect the unique design of the schooner sailing vessel, "America", the namesake of the America's Cup sailing competition. Ulysse Nardin is able to tout its own innovations in watchmaking by paralleling its timepieces to advancements in sailing technology.
"Ulysse Nardin's nautical history adds credibility to the story that goes with this timepiece and gives it authenticity that will generate increased interest among potential buyers and the media, said Ron Kurtz, president of the American Affluence Research Center, Atlanta.
Mr. Kurtz is not affiliated with Ulysse Nardin, but agreed to comment as an industry expert.
Ulysse Nardin was unable to comment before press deadline.
Smooth sailing
Released during the annual America's Cup Sept.1-4, Ulysse Nardin has created 50 Schooner chronograph timepieces.
In 1851, "America," a sailing vessel with an innovative new design, defeated its competition, which resulted in the annual America's Cup sailing race.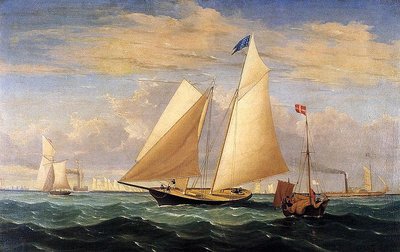 Painting of the schooner sailing vessel, America
The timepiece retails for $15,500 and will only be available in the United States at the watchmaker's boutiques in Miami and Boca Raton, Florida as well as the soon-to-open New York boutique located within the Park Avenue Ritz-Carlton.
The schooner highlights Ulysse Nardin's innovation in watchmaking through its precision and durability.
The exclusive limited edition timepiece is able to dive to depths of 656 feet.
Its 45.8 millimeter case is made from stainless steel coated in navy blue rubber with a sapphire crystal case back for added durability when out in the elements.
Schooner timepiece
On the dial, the first three minute markers are orange while the strap is engraved with a small schooner.
Issuing a timepiece that commemorates a historic sporting event may increase Ulysse Nardin's appeal among sailing professionals and fans of the sport.
The exclusiveness of the timepiece and its historic connections to sailing is sure to draw attention from timepiece and sailing enthusiasts alike.
A moment in time
Many luxury watchmakers have used exclusive products combined with rich history to invoke consumer emotion.
For example, Montblanc, maker of writing instruments and watches, channeled Italian art and history through a video highlighting the craftsmanship and inspiration behind the limited-edition Patron of Art 2013 writing instrument.
For more than 20 years, Montblanc has celebrated patrons of the arts throughout history by creating limited edition writing instruments. The brand was likely to appeal to a wide scope of consumers by focusing on the craftsmanship while using history to elevate the context (see story).
Additionally, French jeweler Boucheron targeted brand enthusiasts by releasing a high-end jewelry collection featuring eight pieces representative of the brand's longstanding history.
Each piece of Boucheron's Hôtel de la Lumière high jewelry collection is an updated recreation of a historic piece found in Boucheron's archives (see story).
Sporting events allow brands to appeal to a large audience with common ideals.
"The America's Cup is supported by and followed by very affluent people, Mr. Kurtz said.
"The connection between this timepiece and this important event will attract the attention and interest of the target market," he said.
Final Take
Jen King, editorial assistant on Luxury Daily, New York