Condé Nast's W magazine is encouraging social sharing of its 40th-anniversary covers through the Thunderclap platform that allows users to schedule a post on their personal social media pages to go live at the same moment.
The publication is enticing readers to participate in the campaign by revealing its four November covers to its "supporters." W seems to be enacting this campaign to broaden its audience through peer-to-peer recommendations that often have more influence than a branded message.
"W readers, at their core, have a tremendous power of influence," said Edward Romaine, executive director of creative services and marketing at W, New York. "We wanted to tap into them at the point of engagement to support four decades of illustrious content in celebration of our November anniversary issue.
"Revealing our covers via social media is a very relevant way to communicate with our audience," he said. "Our social media footprint in aggregate continues to get closer to the 1 million mark.
"We think that showcasing a new kind of reach will be important for the brand, and our partners, as we move into 2013."
One for all
Facebook and Twitter users can sign up to schedule a post at noon Oct. 15 to mark the end of a year-long push for W's 40th anniversary.
The post reads, "Join me in wishing W Magazine a Happy 40th Anniversary and be the first to see the November covers!" It includes the hashtag #W40 and a link to the content.
W is pushing the campaign via its Facebook and Twitter pages so that users can click to the sign-up page on Thunderclap. They can choose to link a Facebook or Twitter account.
W Facebook post 
The post will go live if W reaches its goal of 250 sign-ups.
This is the first time that a magazine is revealing covers via Thunderclap, per W.
W's page on Thunderclap also displays the social reach of the campaign – which was 640,719 people at press deadline – as well as the time remaining to sign up and recent supporters.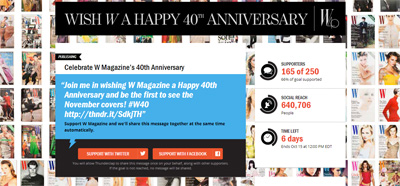 W's Thunderclap page 
When the posts go live Oct. 15, campaign supporters will be able to view all four anniversary covers of the November issue. Each one features an actress in a look that represents one of the past four decades.
W is also pushing its November issue content and coffee table book "W: The First 40 Years" via its Thunderclap page.
"Thunderclap helps amplify positive messages to be heard better by bringing together a community of people that care enough about that message to share it together," said Hashem Bajwa, chief executive officer at De-De, New York. "This creates a far more personal and intimate connection and affinity with people.
"The power of a group of people sharing a message automatically at the same time is a rarely seen dynamic in social media," he said. "For luxury brands this is a great fit too as Thunderclap can help them break through the disposable ephemeral nature of social media."
De-De product development studio created Thunderclap.
Control freak
A few luxury marketers are pushing peer-to-peer recommendations on social media outlets.
For instance, Italian fashion house Gucci is honing in on social inspiration site Pinterest to leverage its digital banner placements by letting consumers "pin" fall/winter 2012 apparel and accessories directly from the ads (see story).
In addition, Oscar de la Renta revamped its Facebook commerce strategy through the introduction of a new platform that allows consumers to share products with their friends, but the U.S. label controls exactly what they say.
Using the new Graphite platform, consumers can share products from the Oscar de la Renta Web site by choosing words such as "need," "want" and "wore" (see story).
Luxury marketers likely enact social campaigns of this kind to gain control over shareable content.
The luxury brand social experience should reflect the overall brand image, so it makes sense that they are seeking more control over the social discussion.
However, it may take some convincing to let brands post on consumers' behalf.  W's offer to reveal its November covers first to its supporters is a good start.
"Thunderclap is relatively new, so I think it is a 'wait and see' effort for W at this point," said John Casey, founder of Freshfluff, New York. "The Thunderclap campaign has so far gained over half the number of supporters needed a week from the Thunderclap, so that is probably a good, early indication that some folks out there are paying attention and want to help spread the word.
"The real measurement will be to see if it has a direct and favorable impact on sales of the special edition of the magazine," he said.
"At the very least, using a platform like Thunderclap to help leverage W's presence in the social media world would certainly seem a productive way to at least test, and spread some brand awareness for the magazine."
Final Take
Tricia Carr, editorial assistant on Luxury Daily, New York