NEW YORK – To differentiate themselves from competitors, wealth management companies must make crucial changes that will only work if the alterations are part of the company's core DNA, according to a speaker from the 2012 Forrester Customer Experience Forum.
It is no longer enough to just return calls and give a great customer experience, since clients at wealth management companies are not even thinking about those that do not require this. Instead, Morgan Stanley Smith Barney was forced to bolster its customer service in terms of technology, getting to know the customer and its consultants.
"We were never going to have the cheapest prices and prettiest babies in our television advertisements," said David Lessing, chief operating officer of U.S. wealth management at Morgan Stanley Smith Barney, New York. "But what we are, and what our DNA is, is that we have really talented advisors that understand clients.
"They have access to distinctive investment advice and connections to a network of their peers," he said. "This is what we have to deliver on every day in our service."
Management tactics
Traditional management firms typically use practice management, proficiency, frequency of contact and comprehensive planning, among other components.
However, clients no longer just want good service and engagement from their advisors.
Instead, they really want a firm that gives them great advice on how they can invest, Mr. Lessing said.
Therefore, Morgan Stanley Smith Barney stepped back and built a strategic vision around its clients, rather than going with a traditional wealth-management practice.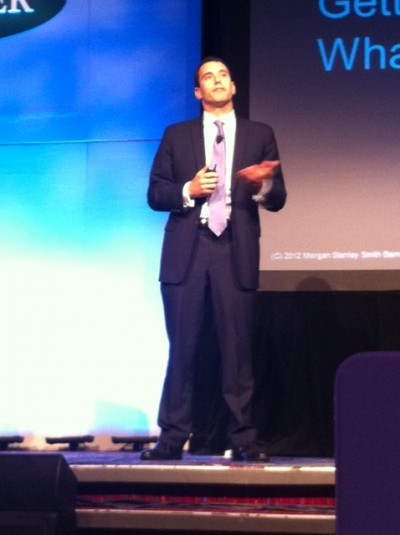 Mr. Lessing at the Forrester forum
To do so, the brand created its own distinctive personality that aligned with its brand DNA. This involved copious amounts of technology and client and personnel attention.
"We have created a culture of investment excellence," Mr. Lessing said.
"As a firm, we are 100 percent committed to do everything we can to deliver investment performance in line with our goals," he said. "We are trying to build into every corner of our organization."
Five-step program
The first component was to become more capable. Morgan Stanley Barney Smith created a metric of performance for its clients.
"We cannot improve if we do not measure," Mr. Lessing said.
The second is that it become more attentive. The advisors started to understand their clients really well.
In addition, the company implemented client-specific service models with an appropriate level of client contact.
Morgan Stanley Smith Barney also started using the most innovative and leading tools to get the job done. One example is a tool that it uses to give holistic opportunities to client data not only at the firm, but money found in 401ks, other bank accounts and other parts of their portfolio.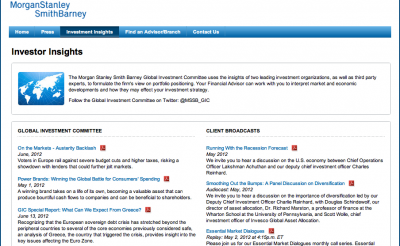 Investment insights on the Morgan Stanley Smith Barney site
"This showed the whole picture for clients and improves the results we are delivering for our clients," Mr. Lessing said.
The firm became more insightful, too. Morgan Stanley Smith Barney started using a tool called WealthBench that helped to determine future factors, such as if the 2008 crises reoccurred, if inflation up or if the price of gold escalated.
The firm also started connecting better, both with its clients and with its advisors. It created a Web site for advisors that showed the strengths of each of its consultants that helped the firm hone in on consultants to better match up their clients.
All of this enabled Morgan Stanley Smith Barney to have the leading managed money program in the industry, according to Mr. Lessing.
The firm had the opportunity to invest in tools and started using them to do what it thought was a valuable proposition for clients.
"The strategy we were pursuing is different to competitors, but the main point was that it is core to our DNA," Mr. Lessing said.
"Our view helps us get in the heart of what matters to our customers," he said.
Final Take
Rachel Lamb, associate reporter on Luxury Daily, New York