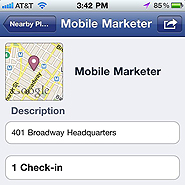 There are some exciting opportunities for brands and marketers that want to target mobile consumers on Facebook, the company revealed in an exclusive interview with Mobile Marketer.
Facebook has mobile applications for all of the top smartphone operating systems and has a mobile Web site as well. The company claims that approximately 200 million consumers access Facebook from their mobile device daily.
This is an obvious and huge opportunity for marketers. But it has been unclear as to what Facebook offers marketers on its mobile destinations, until now.
Mobile Marketer Deputy Managing Editor Giselle Tsirulnik interviewed
Facebook
regarding some of the opportunities for marketers on the social network's mobile destinations.