Cartier, Giorgio Armani, Bulgari, Longines and Breguet are some of the luxury advertisers that took out key placements in the February issue of WSJ. Magazine.
The publication saw a 34 percent ad page increase in comparison to the February 2012 issue, including a 50 percent increase in travel ads alone. Travel advertisers include Emirates, JetSuite, Trump Hotel Collection, Turnberry Isle Miami and St. Regis Bal Harbour.
"This is the issue that kicks off 2013 in terms of our glossy," said Anthony Cenname, publisher of WSJ. Magazine, New York.
"Our February issue is themed indulgences and escapes," he said. "We feel that this is the right theme for after-holiday, and right before bonus time for Wall Street.
"The focus becomes very much with the travel and luxury goods sectors."
Melting pot
The cover model of the February issue of WSJ. Magazine is British actress Rebecca Hall. She is featured in a six-page article and image spread starting on page 62 of the book.

Cartier, Armani, Bulgari, Longines, The Carlton House, Devi Kroell and Rolex have ads that lead into the table of contents.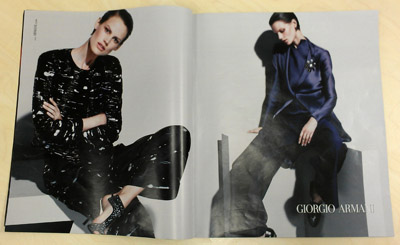 Armani ad 
Personalities featured in this issue are Enrique Olvera, Mexico City-based chef and restaurant owner; French celebrity chef Paul Bocuse; Elizabeth Meriwether, creator of Fox sitcom "New Girl"; hotel design duo Stephan Alesch and Robin Standefer; Cape Town-based sommelier Luvo Ntezo; furniture makers Nikolai and Simon Haas; London-based sculptors Peter Hone, Hitomi Hosono and Bouke de Vries; Belgian architect and interior designer Gert Voorjans; and Hermès creative director Christophe Lemaire.
There is also an in-depth look at the economic and cultural changes within Myanmar, formerly Burma and an Asian economy slowly opening its markets to the West.
Throughout the first features are ads from Chanel, Bottega Veneta, Emirates, JetSuite and Trump Hotel Collection.
Later on are ads from Viceroy Anguilla Hotels and Resorts and Bell & Ross.
Breguet takes up the back cover with an ad that states, "Breguet, the innovator."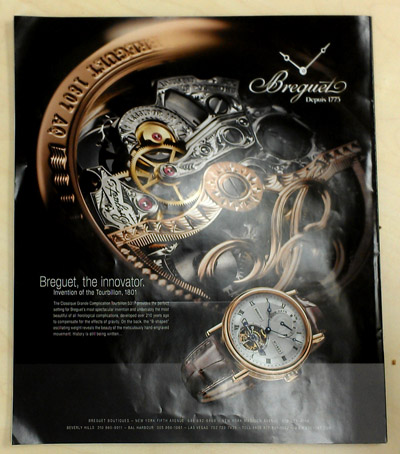 Breguet ad 
"Fashion is our largest category, followed by luxury, and travel is right after," Mr. Cenname said. "Automotive has seen a very big growth in the magazine and you will see more auto companies in the future.
"Warm-weather destinations, high-end properties and ways of transportation coexist with fashion advertisers beautifully," he said. "Our readers take 21.8 million round trip flights per year, which is MMR research.
"That is 7 percent more than Travel & Leisure – marketers are recognizing that."
Growing travel
After a spread on runway-inspired spring beauty that appears mid-magazine is group of travel ads from Turnberry Isle Miami and St. Regis Bal Harbour that are are intertwined with WSJ. Magazine's special Travel Lux promotion section.

The promotion is a reoccurring section in the magazine that features a listing of hotel, tour, cruise and aircraft brands, some of which are advertisers in the magazine.
A mail card is attached to the Travel Lux section. Readers can mail the card to request more information about one or more brands listed or do so at http://wsjtravellux.com.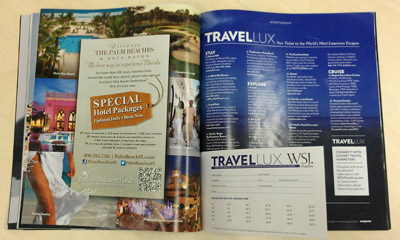 Travel Lux 
The two-page Travel Lux spread in the July/August issue was the second printing of the section and featured 40 travel providers.
The third Travel Lux section was in the November issue of WSJ. Magazine (see story).
"The magazine is healthy and in growth mode," Mr. Cenname said. "We are bullish about future issues expanding."
Final Take
Tricia Carr, editorial assistant on Luxury Daily, New York