Giorgio Armani is looking to bolster its social media affinity through its second Tweet Talks, a discussion surrounding sports and fashion that will be hosted through Twitter.
Tweet Talks is a discussion led by questions tweeted to the panelists, which is then transferred onto Twitter. The discussion taking place in London today is surrounding the Olympics, specifically how sports and fashion are related.
"The strategy is simple and brilliant, a great execution of confining your influencers, brand advocates and consumers of Armani products into a social portal," said Ty Downing, CEO of Say it Social, Wilmington, NC.
"Anytime you can crowd-source people talking about your brand on your own properties and create a vacuum of conversations about your brand, you are leveraging Twitter in its most powerful output," he said. "Armani Tweet Talks, in my mind, is great execution of building brand advocates.
"Advocacy is today's ROI, so it has created something unique to its brand with the potential for a huge return on ROI, but also consumer feedback if it uses it as a relationship building tool."
Mr. Downing is not affiliated with Armani, but agreed to comment as an industry expert.
Armani could not comment before press deadline.
Chit chat
Armani Tweet Talks is hosted by Peter Howarth.
The panel of experts includes Laura Craik, fashion editor of The Times; Tom Evans, former Scotland Rugby International; Dylan Jones, editor of British GQ; Jeremy Langmead, editor in chief of MrPorter.com; Tony Lewis, founder of spashion.com and Stylist; and Caroline McAteer, director and cofounder of The Sports PR Company.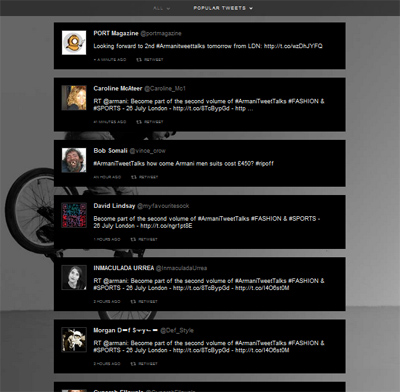 Armani Tweet Wall
The discussion is revolving around sports and fashion, likely to correlate with the Olympics commencing in London this week.
Consumers are encouraged to ask questions with the hashtag #armanitweettalks. They can do this by going to their own Twitter feeds or by visiting the Armani Tweet Wall.
The Tweet Wall, found at http://www.armani.com/tweettalks, asks users to connect to Twitter and then supplies the hashtag right away.
Tweet Talks on Armani.com
By hosting the conversation on Twitter, consumers can participate even if they are not at a computer.
However, by placing the Twitter conversation on the Armani Web site, consumers are more likely to explore the site and possibly buy products after.
"This initiative creates a dialogue between consumers and industry experts and Armani is taking point in facilitating this connection," said Rachel Lewis, Fort Worth, TX-based senior marketing strategist at iProspect. "This will keep the brand top-of-mind for both consumers and fashion thought leaders, increasing the likelihood of interaction between the two. 
"Armani is also capitalizing on the timely interest of London since the Olympics kick off there a day after the Tweet Talk session," she said. "As the world's focal point shifts to the London games, Armani will have a recently established connection to the city."
How tweet
The first Tweet Talks was hosted in Beijing one month ago. This session was also hosted by Mr. Howarth and comprised experts including Angelica Cheung, editor of Vogue China; Hung Huang, Chinese publisher and blogger; street-style photographer Tommy Ton; fashion blogger Susie Lau; fashion journalist Godfrey Deeny; and Yoox founder Federico Marchetti.
Armani is one of the few brands that is hosting talks on Twitter.
For example, to market Global Spa Week, hotel chain Four Seasons hosted daily Twitter chats from brand properties that allowed guests and the public to interact with the brand.
Sessions included aging gracefully, just for men, the art of massage, the need for speed and beyond transformation. Consumers could participate by using the hashtag #fsspa.
The key to this type of marketing is actually listening to the customer after he or she says something to the brand, Mr. Downing said.
However, the effect of this chat will not be seen until after the fact.
"It is hard to tell at this early stage, but if Armani leverages the conversations, listens and engages, it has tremendous opportunity to let consumers innovate its brand," Mr. Downing said. "Personally, I would not expect cash conversions this early, but just look for opportunities to make the brand better.
"Ask for it, suggest it, then apply the criticism and constructive feedback," he said. "That gives power to the Armani consumers and allows the brand to make course corrections and add tremdnous value.
"Listening is key for Tweet Talk, and if you do not, this is an epic fail."
Final Take
Rachel Lamb, associate reporter on Luxury Daily, New York