NEW YORK – Retail associates are the most powerful showrooming tool that a retailer has, especially when they are armed with mobile technology, according to a Macy's Inc. executive who spoke at National Retail Federation's Retail's Big Show 2013.
During the "Showrooming: An Opportunity or a Threat?" session, experts explained the most powerful showrooming techniques and where technology will lead the phenomenon in the future. Retailers should look to increase mobile technology to boost the in-store experience so that consumers keep coming back.
"You should bring technology into the store, instead of having the consumer go home and use their own technology," said Cheryl Berinato, director of consumer insights and strategy at Macy's Inc., New York.
"It is the in-store experience that we want to keep," she said. "If we keep that experience worthwhile, consumers will come back in because of the experience.
"It is all about keeping that brick-and-mortar store current."
Staying relevant 
Retailers need to keep up in terms of their in-store experience to make it relevant for their consumers as mobile devices become more of a part of consumers' lives.
Companies that are making use of their associates by giving them mobile devices can often help save sales and keep a consumer coming back to the store because of technology.
Mobile technology can help associates find products that a consumer is searching for without ever leaving the retail floor.
Also, this technology can save a sale by offering to ship a product to the consumer if it is not available in-store or finding another retail location where the product is available.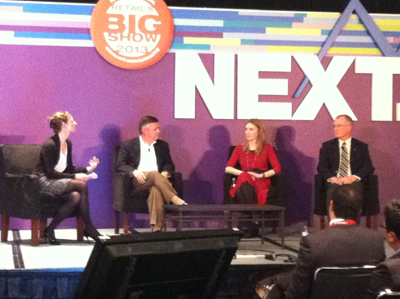 Expert panel
"Our associates are our most powerful tool," Ms. Berinato said. "The goal of some of our training is to help the customer identify what it is they are looking for and then find it.
"Now we can locate products online on [the mobile device] and then ship them off to the customer," she said.
"It is all about the associate making that connection and saying, 'This is what you want, we do not have it here, but I can still help you.'"
Mobile showrooming
Luxury brands and retailers have already started taking advantage of this showroom technology.
For instance, Italian label Gucci turned to mobile to enhance its in-store shopping experience with an application to provide a higher level of service for luxury consumers via employee-handled wireless devices.
The fashion house equipped its store associates at select locations with Apple iPhone 4S devices that contain a mobile point-of-sale program that lets employees process sales, email receipts to customers, access the Gucci Style app and use a translator and currency convertor on the spot. The brand has been gradually implementing the app in select branded stores in the United States, Europe and Asia (see story).
Also, department store Barneys New York gave in-store shoppers a more personalized checkout experience through a partnership with Infinite Peripherals that equipped sales associates with mobile point-of-sale devices at its flagship location.
Barneys is one of the first retailers in the United States to use the Infinea Tab modular system that turns an iPad into a one- or two-dimensional bar code scanner and magnetic stripe reader so that sales associates can checkout customers at any location on the sales floor (see story).
Retailers need to make sure that they are implementing technology in stores in order to keep current with the trend that technology is more ingrained in everyday life.
"Showrooming is just bringing technology in and helping the consumer investigate products and realize that brick-and-mortar stores still have the advantage of human contact," said Jerry O'Brien, director at the Center for Retailing Excellence at the University of Wisconsin-Madison.
"If you do not have a strategy for mobile devices, then I am shocked," he said. "I do not like showrooming as a stand-alone event, so now that we have incorporated this technology, what else can it do?
"Technology is critical, but flexibility is important."
Final take
Erin Shea, editorial assistant on Luxury Daily, New York