NEW YORK - Consumers are looking for new content that gives them their own personalized journey from digital platforms to a store through a definitive call to action, according to a speaker at the National Retail Federation's Retail's Big Show 2013.
During the "The Cultivation of Creativity" session, an expert explained that when consumers step into a store, visit a brand's Web site or social media pages, they are searching for updated information.  Retailers and brands that want to reach out to consumers on these platforms should give consumers a personalized journey from the digital experience to the store.
"Audiences want fresh, real time content when they visit our social media and Web sites," said Bob Chin, manager of digital technology at Benjamin Moore & Co., Montvale, NJ.
"We should be crafting a message and giving it that specific look and feel that makes the audience say, "Wow, this means something to me,'" he said.
Taking the journey
Digital platforms should look to help the consumer create a personalized journey from their home to the store to purchase a product.
However, retailers should realize that each medium functions differently therefore, retailers should choose the most appropriate medium to give them the most impactful message.
For example, Department store chain Saks Fifth Avenue drove post-holiday foot traffic with daily beauty offers through the month of January.
The Beauty Treat Du Jour month-long event gives Saks customers daily extras including complimentary makeovers, deluxe gifts, expert tips, appearances from luxury beauty brands and other services in 25 Saks locations.
The department store chain is posting information and images featuring its special offers to its social media feeds and is offering a daily, online contest through Instagram (see story).
"We want to make this a personalized journey for our customers from what they see in their home to what they get in the stores," Mr. Chin said.
Creative interactions
Besides leading the consumer into the store, digital platforms should look to engage the consumer with the brand.
Creating an interaction with consumers through digital platforms can be a way to create engagement with consumers.
When developing an engaging relationship with consumers, retails should create a multitude of touch points, have a cohesive message on the proper platform and have the message be engagement focused, per Mr. Chin.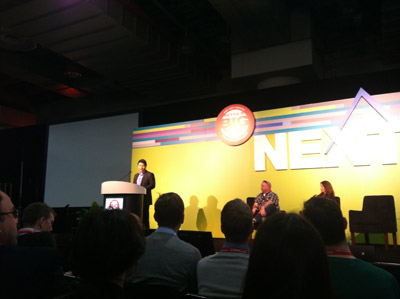 Mr. Chin
"The user experience has to link together, the experience has to tell a story and has to romance the customer," he said.
If the experience is strong enough, then consumers will be driven to purchases.
For instance, department store chain Nordstrom offers personalized mobile shopping experience in its new iPad application in a move that helps the brand distinguish itself on the platform.
The three main engagement functions of the Nordstrom for iPad app are the virtual dressing room, personalized homepage and social sharing (see story).
This can also help retailers and brands create a conversation and receive feedback about their products.
Mr. Chin said that Benjamin Moore & Co. will post a new color of paint through its Facebook and gauge audience reactions before putting it in their stores.
"We put it out there and the consumers know what they want, so they tell us what they want when they view our social media," he said. 

When looking for new ways and technologies to engage consumers, make sure to test the platforms and scrap them immediately if they are not helping the goal.
"Test early, test often and cut the cord if something does not work," Mr. Chin said.
Final take
Erin Shea, editorial assistant on Luxury Daily, New York