A new online marketplace is adding an influencer spin on sales of secondhand luxury styles and other unique items, connecting shoppers to some of the Internet's leading creatives.
Los Angeles-based Basic Space has launched as a Web site marketplace and iOS mobile application, with items curated from nearly 100 verified sellers. All together, these influencers reach more than 50 million social media followers.
"What makes Basic Space unique is that we have some of the most creative and influential individuals as verified sellers," said Jesse Lee, founder and CEO at Basic Space, Los Angeles. "Think of your favorite musician, artist, designer, director and photographer sharing their favorite personal items.
"Some may be luxury fashion and rare collectibles, while others are new, exclusive items made just for us," he said. "Our goal is to build a trusted ecosystem where the best in quality and experience can be expertly curated and delivered, globally."
Savvy sellers
To maintain a sense of authenticity and exclusivity, sellers on Basic Space are selected on an invite-only basis. Among the original influencers working with the platform are Pia Arrobio, Steve Aoki, Brad Holdgrafer, Emily Obert, Sami Miro and Sophia Amoruso.
"Not only does our platform feature invite-only sellers, but the products we feature are hand-selected as well," Mr. Lee said. "There's a story behind every item sold by our sellers, and our customers are fans and followers of the sellers that we feature."
Shoppers can search listings by category or search a seller's inventory.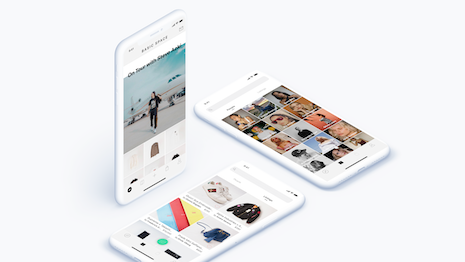 Basic Space is available as an iOS app, with an Android versos in the pipeline. Image courtesy of Basic Space
For instance, Ms. Amoruso's more than 250 listings include Alexander Wang platform boots, priced at $225, and a pink Christian Dior corset dress, priced at $1,360. Similar to other resale sites, product listings include several photographs as well as measurements and a detailed description.
Basic Space also curates collections, such as graphic tees, menswear-inspired pieces and floral items.
Items on the marketplace are not limited to apparel, as the platform also sells art, books, electronics and home furnishings. One of the more unique and seemingly random items for sale is a stack of Post It notes designed by Virgil Abloh for Off-White.
Swedish graffiti artist André Saraiva is one of Basic Space's verified sellers, and his listings include original drawings as well as jackets from a collaboration with Alpha Industries.
Instagram post from Basic Space, which sells books and art in addition to clothing
Basic Space offers free shipping starting at $50, underscoring the site's accessibility and savviness. According to research from CPC Strategy, younger shoppers looking to spend on fashion are attracted to fast, affordable shipping, lower price points and an intuitive user experience (see story).
"Basic Space customers are modern consumers who value curation, sustainability and authenticity," Mr. Lee said. "Our customers always have an eye toward the future and their purchases within our platform are used to express their individuality.
"A recent Basic Space survey identified the top three buying motivators for our shoppers: unique and on-trend products, eco-friendly goods and high-quality brands," he said.
Secondhand sales
Successful marketplaces including The RealReal, Reebonz and TrueFacet have built credibility around the secondhand luxury market.
Luxury consignment platform The RealReal is rumored to be looking into a possible plan to go public. The IPO would follow widespread growth from The RealReal, as it recently dropped its first global campaign and succeeded in a positive round of funding last year (see story).
Meanwhile, Southeast Asian luxury marketplace Reebonz is the latest high-end retailer to tap blockchain technology to make checkout easier for all consumers and heighten transparency.
Authenticity is of utmost concern in the luxury reselling space.
Reebonz has signed a memorandum of understanding with blockchain technology provider VeChain, to instill blockchain from end to end. The retailer is hoping to become more transparent with its supply chain, using the technology to ensure its products are not replicated (see story).
While authenticity is a core pillar of Basic Space, its founder believes it is its relationships with tastemakers and the potential for collaborations that will help the site standout in an increasingly crowded market.
"We had identified a clear gap in the marketplace and wanted to buck the trend of ubiquity of inauthentic influencer and big-brand partnerships," Mr. Lee said. "This is what sets us apart — a true, genuine partnership with our sellers to bring the best goods to our platform and their followers.
"Other pre-owned luxury or secondhand sites are oversaturated with products that aren't selectively identified and/or unvetted sellers who aren't required to hit certain brand and authenticity criteria," he said.