Hearst's Harper's Bazaar is enticing readers to shop directly from the pages of the magazine through a new ecommerce site that will offer apparel and accessories from luxury labels.
Alexander McQueen, Burberry, Marc Jacobs, Proenza Schouler and Valentino are among the brands that will be represented on ShopBazaar.com. The site was created due to the constant demand for the items curated by the editors in each issue and will let consumers buy items directly from brands, the site's launch partner Saks Fifth Avenue or select partner boutiques.
"Our readers will finally be able to access the pieces they are already coveting from the magazine and Bazaar.com," said Joyann King, site director at Harper's Bazaar, New York.
"It is instant gratification at its chicest level and offers a fully integrated experience for our readers," she said.
Credit card action
ShopBazaar.com is in its soft-launch stage. Consumers can currently enter their email address to be on the list to receive an early-access invitation to shop the site.
Brands that will be offered include 3.1 Phillip Lim, Alexander McQueen, Bulgari, Burberry, Diane von Furstenberg, Emilio Pucci, Fendi, Gucci, Helmut Lang, Marc Jacobs, Oscar de la Renta, Prabal Gurung, Proenza Schouler, Ralph Lauren, Saint Laurent Paris, Salvatore Ferragamo and Valentino.
There are a few ways that consumers can shop the site.
They can browse by item type such as New Arrivals, Clothing, Shoes and Bags.
There are pages devoted to each label that display its items available on the site.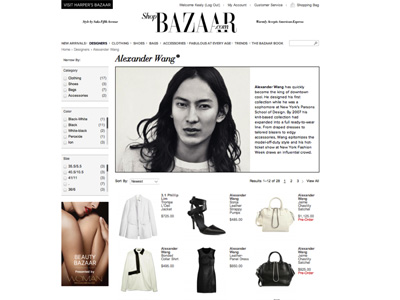 Alexander Wang designer page 
Users will also be able to shop straight from Bazaar editorial that is posted on the homepage of the site as well as in "The Bazaar Book" section.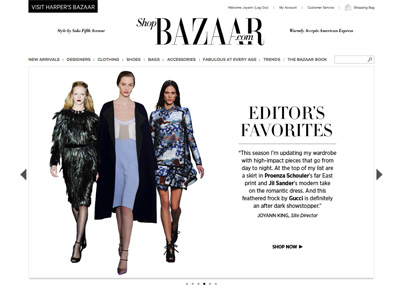 Editor's picks 
One shopping feature that will be a reoccurring section on the site offers the item from the "Wait List" page in the magazine.
The Wait List item in the September issue is a black Alexander Wang bag. ShopBazaar.com secured 100 of the bags exclusively for its users and all of the bags have been reserved.
Wait List feature 
Starting with the October issue, items that are available on ShopBazaar.com will be marked with a "B" icon.
Furthermore, users can view each item on a detailed product page. Once an item is added to the cart, users can see from where the items will be shipped – Saks, select partner boutiques or the label itself.
Product page 
Each item will be packaged with a note from editor in chief Glenda Bailey and a co-branded packing slip.
Trust fund
It is important that luxury marketers push commerce in new ways as the shopping experience evolves.
Harper's Bazaar is likely going off of the idea that its readers have trust in the editors and could be more apt to make a purchase from the pages.
Therefore, it makes sense for publications and retailers alike to create an editorial atmosphere on which consumers can shop.
For example, Barneys New York has been featuring "Because I'm Addicted" blogger Geri Hirsch in its editorial-esque shoppable videos.
The retailer seems to push ecommerce transactions in its videos by hosting an independent voice who its consumers can relate to and trust.
Barneys' latest shoppable video with Ms. Hirsch also featured blogger Erin Falconer and focused on late-night attire (see story).
In addition, marketers including Alexander McQueen, Fendi, Rebecca Taylor and Furla took advantage of watermarked print advertisements that encourage mobile commerce in Condé Nast's W magazine Trends supplement.
Using technology from Digimarc, select marketers are allowing their products shown on print pages to be bought via mobile (see story).
In fact, Bazaar is working to incorporate Digimarc technology into its pages so that readers can purchase select items at ShopBazaar.com.
The publication will also release a ShopBazaar mobile app next month.
"This is the future for media," Ms. King  said. "We are already the taste makers and now we can also be the retailers without sacrificing our authority as the voice of style."
Final Take
Tricia Carr, editorial assistant on Luxury Daily, New York