Brands spanning jewelry, appliances and automakers fill out the August edition of Condé Nast's Architectural Digest, giving the issue a lifestyle theme.
Chanel, Cadillac, Sub-Zero and Clarisonic are just some of the brands that are in this issue and, by advertising, make this issue more of a lifestyle theme than just home appliances. In addition, many of the ads have digital calls to action that bring them from static to more engaging.
"Print marketing is inherently visual and can be used to convey an emotional response for travel and luxury brands," said Courtney Albert, brand strategist at Parker Avery, Atlanta.
"Also, readers are usually more loyal to the print publication they are reading versus the Web site they stumble upon," she said. "This translates into greater credibility and long-term brand recognition."
Ms. Albert is not affiliated with Architectural Digest, but agreed to comment as an industry expert.
Architectural Digest did not respond before press deadline.
The publication's rate base circulation is 800,000. The median household income of its readers is $97,123.
Living the lifestyle
A variety of lifestyle brands pushing different products graced the pages of this month's Architectural Digest.
High-end home furnishing and design brands take up a majority of the advertising.
Ads for brands including Kallista faucets, Downsview Kitchens, Ebanista, Cowtan and Tout and Knoll employ QR codes and digital calls-to-action so that luxury marketers can effectively reach their audience.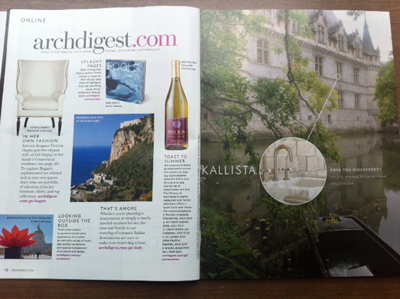 Kallista ad
However, ads for other marketers smooth out the advertising to give the issue a lifestyle feel.
The front-inside-cover ad was for Clarisonic Opal. The electronic face cleansing device took up the two front ads that gave a demonstration to use the tool and where consumers can buy.
The second ad is from Chanel fine jewelry. The brand's black-and-white ads take up two pages and include a full-page model wearing jewelry from the 1932 collection and a close-up image of a ring.
Chanel print ad
Mid-tier automaker Cadillac pushed its new XTS using a two-page spread. It features a couple on the outside of a presumably high-end hotel getting into the car for a night out.
Also, BNY Mellon wealth management is targeting wealthy home owners in Architectural Digest through placement in this issue.
High-end kitchen appliance Sub-Zero is also on the back cover.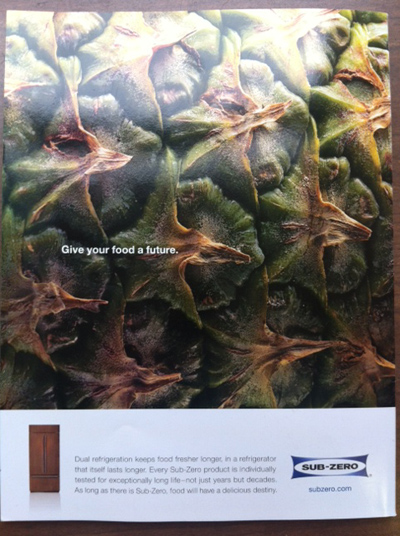 Sub-Zero ad
Baby boomers
A boom in luxury marketers, even in the summer when advertising is typically slow, is indicative of a thriving luxury market.
Indeed, Architectural Digest is not the only publication seeing high-end marketers in its pages.
For example, the wide variety of ads in the summer issues of luxury-focused publications including Harper's Bazaar, Vanity Fair, W, Elle and Vogue spanning apparel, fragrance and high-end jewelry indicate that luxury consumers are ready and willing to spend on big-ticket items (see story).
Also, marketers including David Yurman, Leviev, Louis Vuitton, Christian Dior, NetJets and Hublot are reaching an exclusive audience of super-affluent consumers via the summer issue of The Private Journey, a magazine that targets consumers with an average household income of $9.2 million (see story).
Also, print marketing is usually revered by older consumers who are more likely to have disposable income than younger generations.
Therefore, this type of marketing is a good way to target these consumers.
"Print marketing is the most portable form of media – it exists with or without power or electricity," Ms. Albert said. "Along with its longevity, it is the most visible form of marketing to the average consumer.
"Even though digital is making huge strides, the majority of people are much more familiar with print and paper than digital," she said. "One, because it has been in existence longer and, two, one does not need any technical expertise."
Final Take
Rachel Lamb, associate reporter on Luxury Daily, New York