Universal Whisky Experience and ClubCorp are using experiential and event marketing to push Dalmore's Constellation Collection via a private showcase in Leesburg, VA, at the end of the month.
The Constellation Collection will be featured at a three-course dinner which will be prepared to complement the spirits. Universal Whisky will have exclusive access to an audience with household incomes of approximately $256,000 and will likely position its products at the forefront of their minds.
"The strategy behind the dinners is to introduce a highly-targeted audience to the some of the finest whiskies in the world," said Randy Kazmierski, director of advertising sales at ClubCorp, Dallas, TX.
"Universal Whisky Experience connects whisky brands with spirits drinkers," he said. "The dinners allow Universal Whisky Experience to create an intimate experiential marketing event for very high-end, niche whisky brands."
ClubCorp is a network of more than 150 golf and country clubs, business clubs, sports clubs and alumni clubs nationwide.
Universal Whisky hosts small, intimate dinners that include very rare whisky pourings.
Get in the spirit
The event will be held at River Creek Club Oct. 26 from 6:30-10 p.m. It is $350 per person.
The Dalmore Constellation Collection includes 21 whiskies with an estimated total value of $220,000.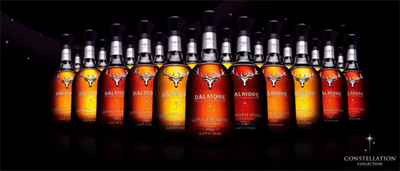 Dalmore Constellation Collection
Each pour has an average value of $4,573 per glass.
To keep the promotions to an exclusive audience, this event is being marketed via email outreach to club members, in-club promotions and newsletters.
"Universal Whisky Experience and ClubCorp look to provide unique experiences for an affluent, well-educated community," Mr. Kazmierski said.
Other luxury brands have taken advantage of the ultra-high-net-worth audience that frequents ClubCorp gatherings.
For example, German automaker BMW used the sponsorship of the BMW ClubCorp Best Ball Challenge as an opportunity to offer test drives and build brand awareness (see story).
The tournament took place June 21-24 at the Firestone Country Club in Akron, OH. BMW vehicles and signage were displayed on the golf course and throughout the country club.
Also, a tent card promoting the BMW test drives was placed on all Firestone lodge rooms and in the Firestone lobby. In addition, there was a full BMW ad on the back cover of the tournament program along with a welcome letter from the brand.
All about the experience
Many luxury spirits brands are using exclusive event marketing to promote their products.
For example, high-end spirits brand G.H.Mumm is tapping affluent consumers' preference for experiential marketing with a new event tactic that will show guests the rituals of Champagne tasting (see story).
Also, Portón Pisco is leaning on experiential and event marketing as primary awareness and brand-building channels to draw awareness in the United States market.
The high-end spirits brand believes that allowing consumers to experience the product will help to portray the luxury image (see story).
"There is a certain amount of education that spirits brands must do to show the differences between their brands and products," Mr. Kazmierski said. "Event marketing and tasting opportunities allow an audience to experience the product and the brand to illustrate the differences.
"At the end of the day, the events are designed to move a brand into the consideration set of spirits consumers," he said.
Final Take
Rachel Lamb, associate reporter on Luxury Daily, New York