Christian Dior, Giorgio Armani, Balenciaga, Salvatore Ferragamo, Valentino, Tod's, Cartier, Mercedes-Benz, Oscar de la Renta and Chanel are targeting the fashion-minded readers of the third issue of Fairchild Fashion Media's Style.com/Print.
Aligning with the brand's digital channel, the editorial content in Style.com/Print gives readers a behind-the-scenes look at the fashion industry through features such as those on Balenciaga creative director Nicolas Ghesquiere and Louis Vuitton's Marc Jacobs and Katie Grand. Style.com bridges the gap between the print and digital publications by offering limited-edition designer handbags that are shown in the magazine and available for purchase online.
"Our goal was to identify the people who defined the spring 2013 season and take you inside their experience of the shows," said Dirk Standen, editor in chief of Style.com/Print, New York.
"Our feature on designer Marc Jacobs and his stylist Katie Grand dissects the intimate human relationship that is at the heart of a huge global brand like Louis Vuitton," he said.
Fairchild Fashion Media, a division of Condé Nast, owns Style.com, Women's Wear Daily, Footwear News, NowManifest, Beauty Inc and M.
Model magazine
Twenty-year-old model Cara Delevingne is shown on the cover of the issue with the phrases "Cara Mia" and "Spring 2013."
Ms. Delevingne was photographed by Matt Irwin for a magazine feature that begins on page 42.
"Our cover star Cara Delevingne was the breakthrough model of the season as well as a tabloid sensation in her native Britain, and our story shows what it is like to be at the center of that kind of whirlwind of attention," Mr. Standen said.
Other key editorial features in the issue includes those on Alexander Wang's model selection, gallery owner Kathy Grayson, Fashion East founder Lulu Kennedy, fashion public relations executive Karla Otto, brand founder Anna Dello Russo and stylist Carlyne Cerf de Dudzeele.
Much of the advertising in issue No. 3. of Style.com/Print is concentrated in the front of book.
Dior, Armani, Balenciaga, Ferragamo, Valentino and Tod's each took out a two-page spread in the front of book.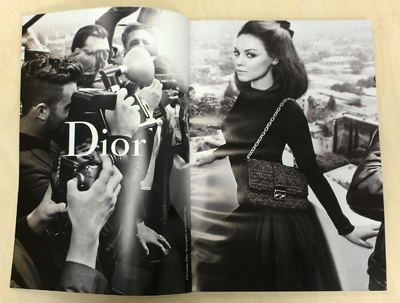 Dior ad 
Ads from Cartier, Mercedes, Versace, Oscar de la Renta, Balman, Net-A-Porter and Diane von Furstenberg follow.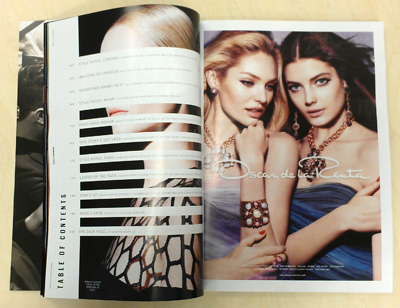 Oscar de la Renta ad 
Rebecca Minkoff and Valentino each took out an ad within the first fashion and beauty features.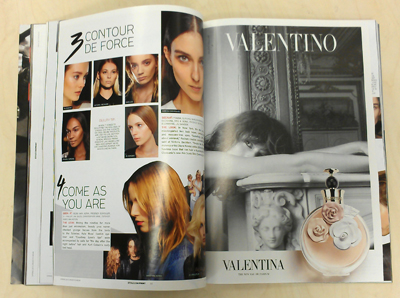 Valentino ad 
Just past the center of the book is the "Instant Get" section. To correspond with each issue, Style.com offers limited-edition handbags that are exclusively available for purchase on its Web site.
This time around, handbags by Valentino, Reed Krakoff and Victoria Beckham are being offered a few months before they are available in stores. There are five of each bag available for purchase on Style.com.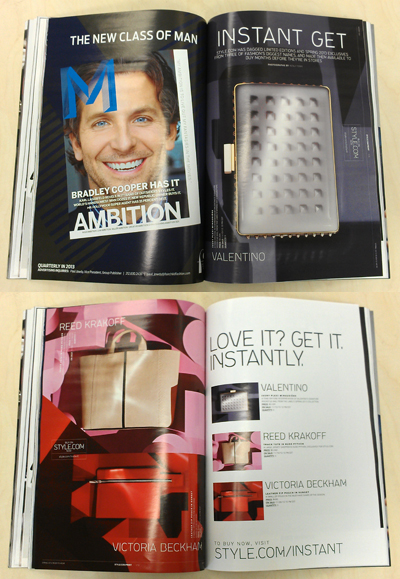 Instant Get section 
Meanwhile, Chanel rounds out the book with an ad on the back cover.
"The advertisers in Issue 3 continue to be predominantly luxury fashion brands including Dior, Armani, Chanel, Balenciaga, Valentino and more," said Matt Rice, associate publisher at Style.com/Print, New York. "Given the nature of the magazine, which provides a collectible distillation of the spring/summer 2013 season, these brands are a natural fit."
New magazine on the block
Luxury brands including Dior, Marc Jacobs, Chanel, Gucci, Mercedes, Lanvin and Burberry were the key advertisers in the first print issue of Style.com/Print out this time last year.
The magazine was created to be timed to fashion shows rather than the calendar year. The first issue corresponded with the spring/summer 2012 season and, similar to the current issue, included a distillation of the shows, trends, parties and mood from New York, London, Milan and Paris (see story).
Next, marketers including Chanel, Yves Saint Laurent, Armani, Gucci, Balenciaga and Cartier kicked off the second issue of Style.com/Print (see story).
"We have continued to expand globally," Mr. Standen said. "We recently launched arabia.style.com, a dual-language Web site focused on the Middle East.
"And we decided to hold the promotional events for Issue 3 of Style.com/Print in London, because we wanted to emphasize that, while we may be based in New York, our outlook is international," he said.
Final Take
Style.com Issue 3 video tour