In collaboration with the Sexy Shoe contest, Fairchild Fashion Media's Footwear News released a special print and digital issue with watermarked pages where consumers can watch exclusive videos from brands such as Jimmy Choo, Brian Atwood and Christian Dior.
Consumers can download the FN Sexy Shoes application and scan select images, gaining access to exclusive content. This is part of a multichannel campaign for the Sexy Shoes contest that FN is running in partnership with Saks Fifth Avenue.
"In year three with the Sexy Shoes program, we wanted things one step further in terms of technology to make it bigger and more engaging," said Danielle McMurray, director of integrated marketing and social projects at Fairchild, New York. "We already had a digital component with the voting site, but this new augmented-reality experience allowed us to be on mobile and tablets, and keep the print content relevant and interactive.
"It also allowed us to provide consumers additional original content they have never seen before from FN and Sexy Shoes," she said. "Videos are what are hot now, and we felt that the behind-the-scenes from the making of the magazine would elevate the sexiness of the program.
"In addition to original videos, we are able to drive consumers to vote directly within the app which is just another addition to our extensive promotional plan."
Fairchild Fashion Media owns FN.
Well-heeled
Footwear designers Jimmy Choo, Brian Atwood and Dior are all using content exclusively found in the watermarked ads.
FN print issue with watermarked ads
Consumers must first download the free FN Sexy Shoes app for Apple and Android devices.
Next, they need to scan the pages that are marked with the app symbol to see the models in the ads come to life.
After the short video, consumers can click to vote on their favorite shoes and buy them through the Saks Web site.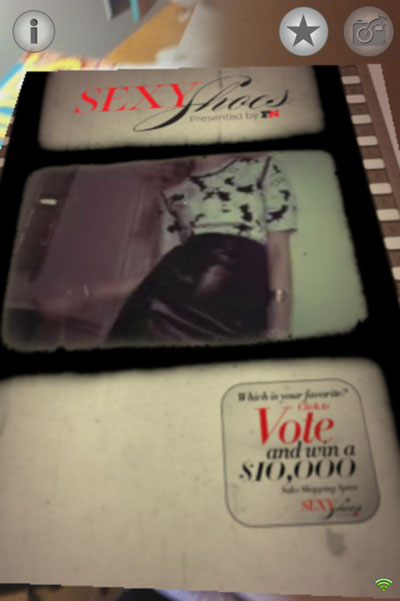 Video that plays while scanning
To add to the hype, brands including Gucci, Valentino and Oscar de la Renta are advertising in the print issue.
The Sexy Shoes contest features 25 designers including Alejandro Ingelmo, Alexandre Birman, Alexander McQueen, Aperlai, B Brian Atwood, Christian Dior, Christian Louboutin, Gucci, Giuseppe Zanotti, Jean-Michel Cazabat, Jerome C. Rousseau, Jimmy Choo, Manolo Blahnik, Miu Miu, Nicholas Kirkwood, Oscar de la Renta, Pierre Hardy, Prada, Roger Vivier, Sergio Rossi, Siergson Morrison, Stuart Weitzman, Tabitha Simmons, Valentino and Yves Saint Laurent.
Consumers can vote for their favorite shoes on the FN Web site and the Saks POV blog. The winner receives a $10,000 gift card to Saks and the runner-up receives a $1,200 gift card (see story).
In addition to mobile components, consumers can vote and buy online and check out the entire collection at Saks Fifth Avenue's flagship location in New York.
Marked up
More and more luxury brands are using watermarked digital ads to increase their print presence.
For example, marketers including Alexander McQueen, Fendi, Rebecca Taylor and Furla took advantage of watermarked print ads that encourage mobile commerce in Condé Nast's W magazine Trends supplement.
Using technology from Digimarc, select marketers are allowing their products shown on print pages to be bought via mobile (see story).
Meanwhile, Starwood Hotels & Resorts incorporated watermarks by Digimarc in print ads that displayed new content and editorial in the April issue of Saveur magazine. The ad revealed content about Starwood's Hawaii properties (see story).
Also, brands including De Beers, Waterford and Clarisonic used watermarked print ads in the May issue of Brides magazine to give brides-to-be access to mobile-optimized content and the opportunity to participate in a contest based on the title's re-launch (see story).
Watermarks are invisible in ads but detectable through a smartphone's camera. This subtle marketing effort could be more appealing to luxury marketers that care about ad aesthetics more than mainstream marketers.
"Consumers and readers today are constantly on-the-go and deferring to their mobile devices for the most up-to-date information," Ms. McMurray said. "We wanted to set our contest apart from what everyone else is doing and give shoe enthusiasts the ability to vote, and enter to win a great prize, in more than one way. 
"And what better way to dothis than to bring printed content to life – providing a visual surprise – and then give them the power to interact with the page in a meaningful way," she said. "We never had this component before, so this is just another way for us to drive more votes."
Final Take
Rachel Lamb, associate reporter on Luxury Daily, New York