Luxury marketers often use contests to increase brand awareness for aspirational consumers who cannot buy into the brand otherwise. However, these efforts could be a waste since true affluent consumers are not likely to participate.
The goals of a contest – such as increased brand awareness to a mass audience and a huge push for a particular product – do not seem to align with the goals of luxury marketers. However, marketers' audiences on social media are likely made up of many aspirational consumers, so carefully-executed contests that stick with the brand image align with the goals of luxury brands strictly on social channels.
"The idea of brand contests is simply to encourage customer engagement," said Pam Danziger, president of Unity Marketing, Stephens, PA. "If you can get a person to interact with your brand – for example, make some kind of commitment to the brand like entering a contest – you are more likely to create a bond that will translate into brand trial, purchase and ultimately loyalty."
"As for contests in the luxury sector, I am not sure that this strategy makes sense, since as a luxury brand, one's potential customer base is narrow and extremely segmented," she said.
No contest
Contests can reach mass audiences and, therefore, are not an ideal tactic for luxury marketers.
"I think contests work well for mass-market brands with a mass audience and mass appeal, but for luxury brands, I am not sure that contests are the best way to meet the target customer and engage him or her," Ms. Danziger said.
Consumers who can afford to purchase luxury goods and services generally do not participate in contests, per Al Ries, chairman of marketing consultancy Ries & Ries, Roswell, GA.
The target audience of luxury brands is high-net-worth consumers who do not need to win something that they can purchase easily.
On the bright side, brand dilution is not at risk since affluent consumers are likely to ignore the effort. Instead, they will interact with brands on their own terms.
But, a luxury brand contest could work if the prize is something that cannot be bought.
U.S. label Michael Kors could have used this approach when it hosted a mobile contest during which users could flaunt their favorite brand watch for the chance to win a limited-edition timepiece.
The prize was one of three numbered New York Limited Edition Runway Watch timepieces (see story).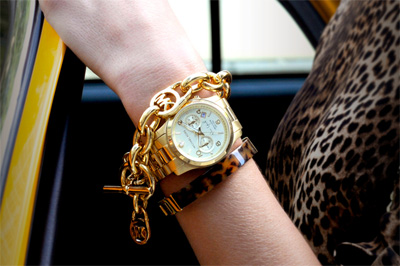 Michael Kors watch contest
"I do not think contests strengthen luxury brands," Mr. Ries said. "On the other hand, they probably do not dilute them much either.
"Prospects are likely to ignore such contests," he said. "Therefore, the best prospects for a particular luxury brand are unlikely to participate in a contest conducted by that brand."
Keep it social
Despite the disadvantages of contests, many luxury marketers are using the tactic on social media. This can be a tool to promote a brand to aspirational consumers, per Jordan Phillips, founder and director of Lure of Luxe LLC, New York.
Aspirational consumers are unlikely to buy into a luxury brand often, but they are important for the long-term survival of a brand.
Contests can be an effective way to reach out to potential brand loyalists on social media. But, above all else, these efforts need to align with the brand image and have a goal of upping engagement.
For instance, many luxury brands are holding contests via the Instagram mobile application. Since marketers rely heavily on imagery to push luxury products, letting consumers participate on a visual digital medium can work.
Four Seasons Hotels & Resorts collaborated with LVMH Moët Hennessy Louis Vuitton's independent lifestyle site Nowness to host a photography contest that encouraged consumers to share off-the-beaten-path venues in their home city.
Consumers who submitted images for the Your Secret Cities contest via Twitter or Sina Weibo, for those in China, were entered to win a $2500 Four Seasons gift card (see story).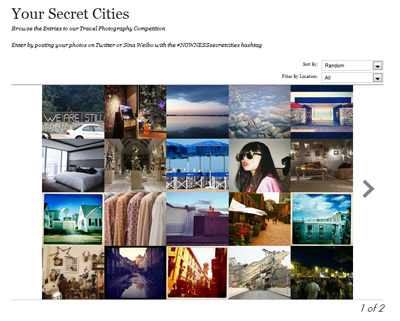 Four Seasons contest 
"In many cases, the people following a particular brand on social media platforms are aspirational, while core clients of the brand are not necessarily in tune with the social media efforts," Ms. Phillips said.
"All luxury brand contests should feel upscale and only undertaken with complementary brand partners in the event that the messaging reaches current clientele," she said.
Italian label Gucci is one luxury marketer that is using contests lately and seems to be choosing particular channels and execution tactics to maintain the brand image.
For example, the label is aiming at young, trendsetting females on the digital space through a campaign with social commerce site Polyvore to raise awareness for its fall/winter Gucci Icon handbags.
Polyvore users can create a style collage on the site for the chance to win one of the label's Jackie handbags. Gucci is likely tapping the site's aspirational feel so that more young will strive to purchase its classic handbags (see story).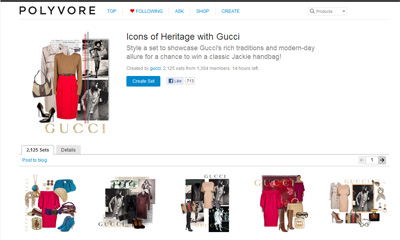 Gucci Polyvore contest 
In addition, Gucci is showing off its handbags through a do-it-yourself contest that requires consumers to download, construct and design their own paper bag.
The "Cut & Craft" campaign showcases the Bamboo, Jackie and Stirrup handbags by giving consumers a paper pattern to create their own version. The label is hosting a contest on a Facebook app to give users the chance to have their bag shown to creative director Frida Giannini and featured as the cover image on Gucci's Timeline (see story).
Social media is a place for aspirational consumers to interact with brands, so contests should be probably be limited to these channels, per Ms. Phillips.
"I believe that luxury marketers should only promote contests through social media channels," Ms. Phillips said. "The goal should be to reach aspirational and potential clients with the contest messaging, and not current clients."
Final Take
Tricia Carr, editorial assistant on Luxury Daily, New York