NEW YORK - A Four Seasons Hotels and Resorts executive at the Luxury Interactive 2012 conference said that the brand is diving headfirst into social media at both the corporate and local levels and as a result, the brand is leveraging its social-based service.
The hotel brand has found that being present on all social media channels is beneficial to its customer service model, the Four Seasons executive said during the "High Tech, High Touch: How Luxury Brands Can Leverage Social Media to Connect with Consumers Both On and Offline" presentation. From the no-holds-barred approach, Four Seasons has seen more than 24 million impressions for a hashtag and more than 12 million total media impressions from one case study – a bridal-focused, multi-platform campaign.
"We sell luxury experiences, and what better platform to use than social media," said Felicia Yukich, global social media marketing manager at Four Seasons Hotels and Resorts, Toronto. "Hospitality brands can embrace social media marketing early on to create relationships with guests on- and offline.
"For a company that hangs its hat on the best services worldwide, but having to deliver those services online as well, social media is what really enabled us to get on this early on," she said.
Social standards
Four Seasons found that social media can be used to shape and enhance positioning and perception, increase sales, lead to conversions, extend the service model, protect the brand reputation, build loyalty and activism and create a personal experience that mirrors the hotel experience, per Ms. Yukich.
The brand's social media strategy comes out of its Toronto headquarters, but each property is integrated.
The goal across all channels is to have a genuine culture, distinctive personality and highly customized service. However, there are different goals for each channel.
For instance, Facebook is an aspirational setting.
On the local level, Four Seasons Hotel Boston created a Facebook application on which the brand looked to attract locals with recipes from the restaurant.
"Every Facebook page is tied together with the brand infused in it," Ms. Yukich said. "It is important to have that local authenticity in each Facebook page."
Meanwhile, the brand has seen instances of engagement on Twitter and Instagram that helped to define the brand experience to individual consumers and in select markets.
"More and more, our properties are trying to reward people for sharing these experiences [via social media]," Ms. Yukich said. "Creating that advocacy and loyalty can increase engagement by 200-300 percent at times."
For example, Four Seasons raised awareness for the reopening of its Toronto property at a new location by holding a contest via the Instagram mobile app for the chance to win a $1,000 Four Seasons gift card.
The #UncoverToronto contest was hosted by the hotel brand's Tumblr blog Four Seasons Fotog. Four Seasons looked capture what its home city means to past and prospective guests while leading up to the hotel's opening next month (see story).
Campaign post on Four Seasons Magazine 
Four Seasons linked to booking through a page on its online magazine so that it could trigger bookings through the campaign.
Also, the brand uses Twitter to respond to customer service inquiries.
A Twitter user once posted that he was on his way to stay at Four Seasons Hotel Silicon Valley at East Palo Alto. The local Twitter account responded by offering assistance and booking a reservation at on-site restaurant Quattro.
When the guest arrived, the hotel had placed a personalized handwritten note in his room and an in-room amenity in response to another Twitter post.
Furthermore, the guest was in fact a writer for the iStrategy blog and posted about his positive experience.
In addition, a Twitter user had posted about poor service he was receiving during breakfast at a Four Seasons hotel. The brand was able to streamline the tweet to the property and catered to his needs.
The user responded that he was satisfied with the subsequent service.
Campaign focus
Four Seasons has enacted two programs recently to tap their social media best practices and offer a brand experience across multiple social media channels.
In May, the brand began its campaign to position itself as an expert on luxury wedding planning via Facebook, Twitter, Pinterest, a brand magazine, on-property services, Four Seasons bridal FS experts and real Four Seasons wedding stories,
The Weddings magazine debuted with a tablet magazine app, a glossy print edition distributed at 86 Four Seasons locations and an online magazine at http://fourseasonsmagazine.com/weddings.
Four Seasons established bridal Twitter and Pinterest accounts dedicated to sharing expert tips from the hotel's staff and stories from real Four Seasons brides (see story).
Four Seasons Bridal Twitter page 
From this campaign, the brand saw more than 24 million impressions for its #LuxBride hashtag as well as more than 12 million total media impressions.
Additionally, Four Seasons Hotels and Resorts is targeting couples in its fourth-quarter multichannel campaign after the response from an international brand survey indicated that the hotel company's guests are seeking more adults-only travel.
The brand is enticing bookings from affluent couples through adult-oriented packages at many of its properties as well as a social media push on Facebook, Twitter, Instagram and its online magazine. Though couples-only getaways have been around for quite some time, Four Seasons' "Ignite the Spark" campaign seems to rekindle the trend with a 360-degree approach (see story).
For the first time, Four Seasons spread this initiative via more than 80 of its hotels worldwide with the same Facebook app appearing on each page.
The goal was to have one global voice spread via the corporate and local Facebook pages, per Ms. Yukich.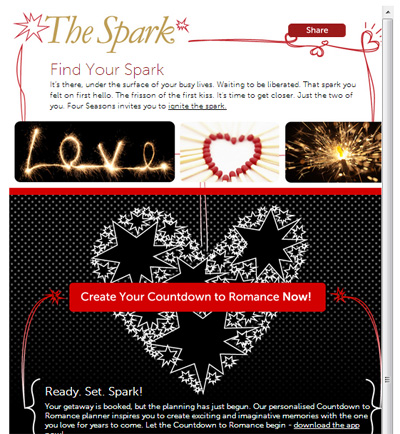 Countdown to Romance Facebook app 
On the app, couples can create their own vacation countdown and get reminders on their Facebook Timeline that are tailored to the destination and the couple's interests.
"It really is about having goals and a strategy and measuring social media," Ms. Yukich  said. "You cannot just have one social media channel, and you must have different goals for different social media."
"Try social commerce – what is traffic and conversion looking like?" she said. "Social guest service is also an area where we have very specific goals – what type of social insights are there that we can imply and infuse into global CRM strategy?
"Not one of them is more important than the other."
Final Take
Tricia Carr, editorial assistant on Luxury Daily, New York