Italian fashion house Gucci is celebrating the 60th anniversary of its signature horsebit loafers through a cross-channel campaign that includes store window displays, print advertisements, a Facebook application and a social video.
Gucci's marketing efforts for the 1953 horsebit loafer collection span email, Web, social media and in-store marketing. The label seems to be pushing sales as well as brand awareness among a large group of consumers through the Facebook app that includes a style quiz and blogger testimonial.
"The strategy was to reintroduce a signature Gucci product to a different demographic on Facebook," said Lauren Klostermann, head of fashion and industry at Blue Moon Works, Denver, CO.
"It is easy to think of these shoes as your grandfather's shoes rather than something a younger age group could own and love," she said. "The blogger integration drives the connection to a younger audience."
Ms. Klostermann is not affiliated with Gucci, but agreed to comment as an industry expert.
Gucci declined comment.
A very good year
The 1953 horsebit loafer collection marks 60 years since the Italian house added the hardware to classic loafers.

The new line gives a "fresh point of view" to men's and women's loafers, per Gucci.  Women's shoes range from $495-$840, while men's styles range from $495-$1650.
The label is pushing the collection in-store through window displays at its boutiques.
The corresponding digital promotions come together on a Facebook app where consumers can read about the collection, view the social video, take the "What Loafer Are You?" quiz and browse a blogger style gallery.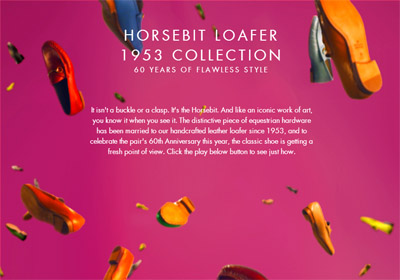 Facebook app 
The social video, which Gucci is sharing on all of its digital properties, shows the legs of dancers who are wearing shoes from the 1953 horsebit loafer collection. They dance in imperfect harmony to a rock-and-roll song.
1953 horsebit loafer video
Next is the style quiz. Consumers can answer questions such as "What music gets you moving?" and "Which look from our spring '13 collection best expresses your personal style?" to find the pair of shoes from the collection that best suits them.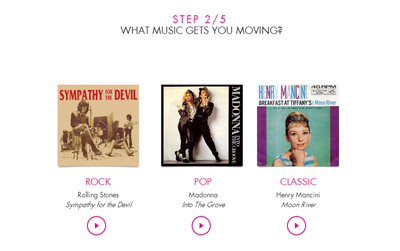 Quiz
The last part of the app is the "In Their Shoes" feature that shows how well-known style bloggers wear their 1953 horsebit loafers. Consumers can click on the thumbnail of each personality to view an image and comment.
Shea Marie of the Peace Love Shea blog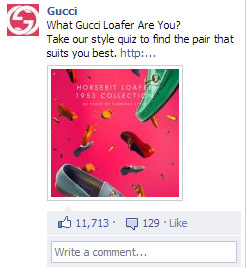 Other social media efforts include Facebook ads, the #Gucci1953HorsebitLoafer hashtag and a Pinterest board.
Gucci also sent an email campaign that described the collection and encouraged recipients to view the video and follow the Twitter hashtag.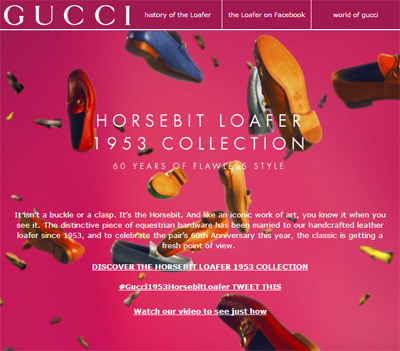 Email 
The homepage of Gucci's desktop and mobile sites are dedicated to the collection as well.
Gucci is looking to drive sales by linking consumers to where they can purchase the loafers through all of its digital efforts, but will also likely propel engagement.
"[Gucci's] current Facebook audience of over 10 million 'likes' is likely to engage with the content as it has an interactive element," Ms. Klostermann said. "Also, the blogger partnerships will help drive engagement from their blog audience as long as they are also mentioning the partnership on their blog.
"What will be interesting to see is how much this campaign will actually convert into sales," she said. "Once you take the quiz, it's difficult to find the same shoe on the site to purchase."
Keeping its eye on the app
Gucci's Facebook apps often engage consumers by adding interactivity to current campaigns.
At this time, the label is also leveraging its new Guilty Black scent through a Facebook app that includes multiple features to immerse Facebook followers into the world of Gucci fragrances.
Consumers can browse a video featuring actors Chris Evans and Rachel Evan Wood, information about the fragrances, campaign images and a fragrance locator (see story).
Previously, Gucci boosted awareness for its Icon handbags through a do-it-yourself contest hosted on a Facebook app.
The contest required consumers to download, construct and design their own paper bag. The campaign showcased the Bamboo, Jackie and Stirrup bags (see story).
Gucci's latest Facebook app adds to the cross-channel efforts that push the 1953 horsebit loafer collection with features such as the style quiz and blogger images.
"Within the app [Gucci] is trying every type of digital engagement strategy - video, quiz, blogger reviews and photos and finally, email sign-up," Ms. Klostermann said. "It has a Wordpress microsite feel, but is nicely integrated into Facebook.
"Gucci is definitely the king of custom Facebook apps and of their current ones, the horsebit loafer app is one of the most interesting," she said.
"From an engagement perspective, the parts the user can interact with are all at the bottom of the page, so it will require someone who's willing to scroll to see the content."
Final Take
Tricia Carr, editorial assistant on Luxury Daily, New York