Hugo Boss is bringing the focus of its Berlin runway show to the soundtrack, models and low-ticket items in a comprehensive digital push that promotes brand content via Facebook, Twitter, Pinterest, Instragram, the label's blog and email.
The digital campaign to raise awareness for its spring/summer collection debut is culminating today and tomorrow, when the brand will give its consumers a free download of the show's exclusive soundtrack by musicians Nina Kraviz & Kasper Bjørke as well as show coverage on its Web site, social media channels and mobile site. The label is also hosting a Pinterest contest to showcase lower priced summer items, an Instagram campaign that gives a day-to-day look at the musical artists creating the show soundtrack and a model interview series on its blog.
"This is a strong cross-channel approach to social marketing, with programs spanning Facebook, Pinterest, YouTube and Twitter," said Kevin Tate, chief marketing officer of ShopIgniter, Portland, OR. "Furthermore, the brand is not trying to do everything on every channel.
"Instead, it is focusing on the content and participation types that best suit each network, and this is key to executing an effective, and cost effective, integrated social marketing program," he said. "Hugo Boss is also engaging fans around both their people and their products in a very authentic way.
"Even spending a few minutes with this content, one is left with a strong sense for Hugo Boss' beliefs and personality as a brand as well as its style, and by employing both these angles, they are likely to appeal to a larger segment of their social audience."
Hugo Boss was not available for comment before press deadline.
The show must go on
Today, the Hugo Rocks Berlin runway show presents its Hugo Collection spring/summer 2013 line to a soundtrack by the label's track artists Ms. Kraviz and Mr. Bjørke at Berlin Fashion Week.
The label began its social push for the show June 25 by letting its fans know about the upcoming free music download, behind-the-scenes content and Pinterest contest.
One component of the digital campaign is a free download of the music featured in the fashion show. It will be available for consumers on the Hugo Boss blog after the runway show ends.
Another component is the Pinterest contest where users must "re-pin" an item that they wish to own from the label's "Repin & Win" board, which will be updated throughout the campaign with new images of the brand's accessories. The winners of each item will be announced July 20.
This is the first global sweepstakes that the brand has hosted on Pinterest, per Hugo Boss.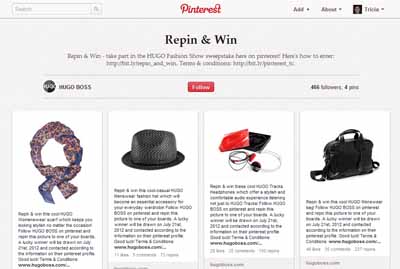 Pinterest contest board 
Furthermore, the label is promoting its track artists via an all-access Instagram campaign that shows images of Ms. Kraviz and Mr. Bjørke preparing for the runway show. Users can follow the images with the hashtags #byKasper and #byNina.
Hugo Boss Instagram page 
"Miss Hugo Boss," the brand's spokesperson who gives behind-the-scenes access, is presenting all parts of the campaign on the label's blog and updating its Facebook, Twitter and Google+ accounts with the happenings of the runway show and campaign.
For example, one of the themes of the blog and social media posts is model interviews.
The label is showing photos of each model above a scanned copy of a questionnaire that he or she has filled out. The questionnaire is in the model's handwriting.
Images and blog posts by the musical artists are also being presented on the blog.
Hugo Boss is updating consumers before and after the runway show with emails to its list.
There will also be Facebook ads and sponsored tweets to raise awareness among social media users who are not yet fans of the brand.
The runway show will not be streaming live, but Miss Hugo Boss will cover the show on social media. All content is optimized for the Hugo Boss mobile site.
The label will post a video of the show and interviews from the red carpet on its blog and YouTube channel July 6.
Doing something right
Hugo Boss just finished up its largest digital campaign that included augmented reality, print, Web, mobile and out-of-home components called New Dimension Beijing. It centered on the runway show for its Black collection that live-streamed in 3D.
Similar to its Hugo Rocks Berlin runway show campaign, consumers were given access to content wherever they were through multiple touch points in different media including online, social media and mobile content (see story).
The focus on music is not a new concept as Burberry has been pushing its brand-selected artists for quite some time, but it will help Hugo Boss connect with its social media fans.
"I think the strategy is to use music to emotionally connect users to the show and the brand long after the event is over," said Hope Distant, group associate director of client and media strategy at Morpheus Media, New York. "It is a great way to have the experience live longer since each time users play the songs, it will take them right back to the event.
"The opportunity to engage users post show is a nice touch and has the potential of extending the brand experience," he said.
Hugo Boss will probably attract connected consumers who are not in the industry or attending fashion week, but will scroll through the content on their computers and mobile devices, per ShopIgniter's Mr. Tate.
"Social amplification of events depends so much on anticipation," Mr. Tate said. "By creating this excitement before the event, the brand stands to have much greater momentum before it ever hits the runway.
"This is an important difference from traditional marketing, where brands were often looking for the big bang surprise ad or stunt," he said.
"With social audiences, letting them share in the run-up to the event is a great way to ensure they will participate in and amplify it when it arrives, and it feels more authentic than a stunt."
However, the brand will need to push hard on other channels in order to get its Pinterest campaign off the ground, per Christine Kirk, CEO of Social Muse Communications, Los Angeles.
"Pinterest contests have notoriously exhibited low engagement, but it will be interesting to see how many people participate," Ms. Kirk said. "Fashion is the most popular category on Pinterest so Hugo Boss is a good fit, however, it will be interesting to see how the audience responds.
"Unless the prize is something major – a large sum of cash, a new Hugo Boss wardrobe or a weekend getaway at a resort – people do not care as much for a small freebie as they do for simply compelling content," she said.
"Truthfully, I think the Pinterest audience is more likely to re-pin behind-the-scenes photos from the fashion show, than anything having to do with a contest."
Final Take
Tricia Carr, editorial assistant on Luxury Daily, New York