Location-based mobile ads allow luxury marketers to deliver a highly-personalized, geo-targeted experience for consumers, effectively giving them a high-end environment that correlates with the luxury brand image.
Marketers including Tiffany & Co., Lexus, Vertu and Nordstrom have all used location-based mobile ads in applications or on mobile sites to deliver relevant, targeted information to affluent consumers in a specific area. In addition to aligning with the luxury image, high-end brands benefit from these ads because they can get consumers on-the-go and on the marketers' own terms.
"There is an inherent expectation of quality, a high level of service and guaranteed experience with luxury brands," said Mark Elfenbein, chief business development officer of Mood Media, Los Angeles. "Luxury customers demand a better experience, and location-based mobile ads, carefully designed and executed, are consistent with those expectations.
"It is also important to recognize that many luxury buyers expect a personal, VIP experience, and there are powerful associations with a high-end experience when interacting with technology," he said. "Well-designed mobile ads can support that experience, creating a virtual personal shopper that creates a specialized experience for the user and helps to rationalize the buying decision."
Location, location, location
Location-based ads can be beneficial for luxury brands for a variety of different reasons.
For instance, luxury marketers can target a specific geographic location around a store, or just generally target an affluent neighborhood or shopping mall, according to Marcus Startzel, general manager for North America at Millennial Media, Baltimore, MD.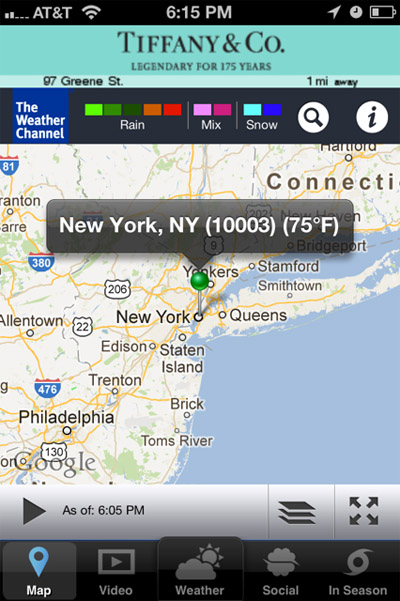 Tiffany uses location-based ads to drive to its new store
"Being able to use location is one of mobile's key differentiators when compared to other advertising mediums," Mr. Startzel said. "We are seeing many luxury brands shift spend away from more traditional channels like print or radio and bring those dollars into mobile.
"The ability to target specific real-world audiences is a key reason for this, and location is often a vital component that goes into building these audiences," he said.
Many luxury brands are using location-based ads in major metropolitan areas, where a majority of affluent consumers live and work.
Meanwhile, conversion rates are high when users get a personalized, location-based experience.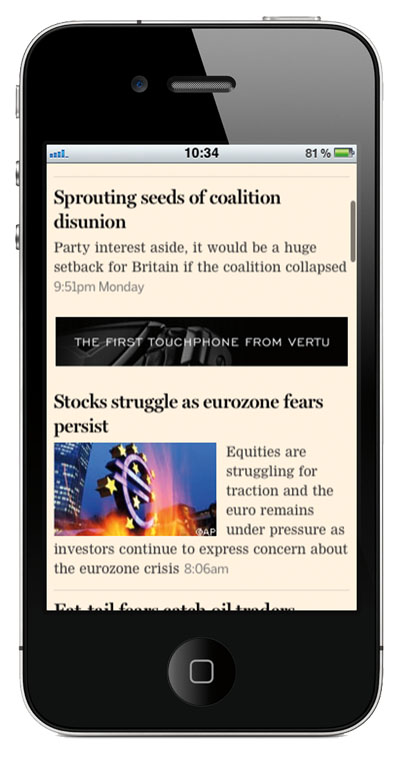 Vertu banner ads
Consumers who get an ad in-the-moment could be intrigued enough to walk into a store or buy on an optimized site.
"In a lower volume, higher-margin market, luxury marketers can interact directly with casual browsers and quickly turn them into buyers," Mood Media's Mr. Elfenbein said. "It is that extra push when a shopper is looking at a high-priced item.
"It gets back to creating that personal, VIP experience and the associations with cutting-edge technology," he said. "The appropriate mobile ad can give a luxury market another valuable touchpoint where one can engage the buyer and provide information that can direct the experience toward a purchase.
"It can deepen the experience and relationship with the potential buyer."
Furthermore, mobile ads also have an indirect benefit for luxury brands.
High-end merchants are viewed as trendsetters and businesses which lead the pack in customer service and consumer amenities, per Mr. Elfenbein.
"Many times, they set the bar on what is hot and exclusive, and location-based ads fit into that niche nicely," Mr. Elfenbein said.
Banner act
Many luxury brands are using location-based ads, and for different reasons.
For example, jeweler Tiffany & Co. is looking to direct affluent New Yorkers to its new SoHo property through geo-targeted banner ads on the Weather Channel mobile app.
Consumers checking out the map section on the app can see the banner ad on the top of the page. The app allows consumers to call the store and gives directions to the property (see story).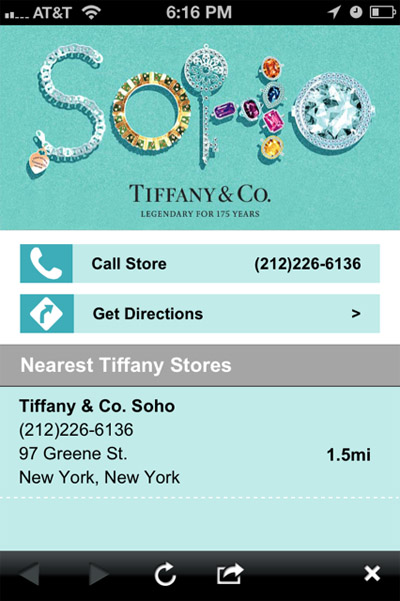 Tiffany banner ad
Also, luxury smartphone retailer Vertu used location-based ads in mobile apps such as Conde Nast's Vogue and Net-A-Porter to market its Constellation device.
The ads used video and were meant to drive consumers to Vertu boutiques. The brand tried to target a high-end female consumer (see story).
Furthermore, department store chain Nordstrom aimed to increase in-store traffic with location-based mobile banner ads in apps such as Pandora.
The retailer held a lingerie event in its stores and the banner ad offers a locator with directions. Nordstrom chose Internet and mobile radio service Pandora likely for its high traffic (see story).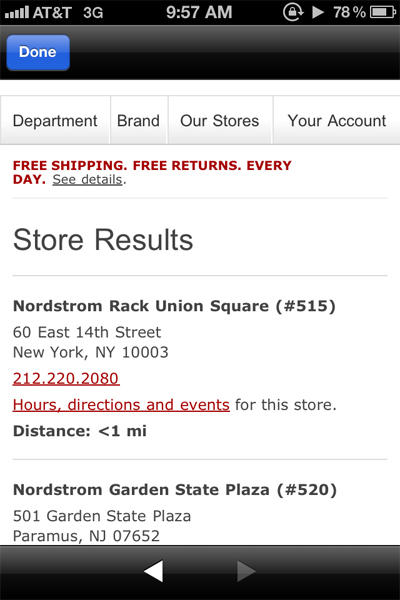 Nordstrom's banner ad found nearby stores based on locations
However, not all marketers are the same. Brands need to figure out what they wish to achieve before they jump into a banner ad strategy.
"Like any other product which has your name on it, make sure that you understand how end-consumers behave and think around location-based ads," Mr. Elfenbein said.
"Just as importantly for luxury retailers, make sure that your location-based ads are executed with the same style and discretion under which your products and brand operate," he said.
Final Take
Rachel Lamb, associate reporter on Luxury Daily, New York