Saks Fifth Avenue is partnering with Fairchild Fashion Media's Footwear News for a Sexy Shoes contest spanning online, in-store and print channels that features shoe designers including Christian Louboutin, Gucci, Manolo Blahnik and Jimmy Choo.
Consumers can vote for their favorite shoes on the FN Web site and the Saks POV blog. The campaign is complemented by sponsorships from Jimmy Choo, Gucci, Valentino, Sigerson Morrison and Oscar de la Renta, which will likely build the shoe designers' awareness during the contest.
"The idea behind it was to bring together the authority of FN with Saks' world-class shoe salon, 10022-SHOE," said Marc Berger, vice president and publisher of FN, New York. "Women love Sexy Shoes, so this contest allows their voices to be heard.
"For Fairchild Fashion Media, Sexy Shoes validates FN as a leading voice in the designer shoe world," he said. "It also gives FN the ability to partner with designer shoe brands via sponsorships of the Sexy Shoes multi-platform program."
Well-heeled
Consumers can vote on shoes from 25 designers including Alejandro Ingelmo, Alexandre Birman, Alexander McQueen, Aperlai, B Brian Atwood, Christian Dior, Christian Louboutin, Gucci, Giuseppe Zanotti, Jean-Michel Cazabat, Jerome C. Rousseau, Jimmy Choo, Manolo Blahnik, Miu Miu, Nicholas Kirkwood, Oscar de la Renta, Pierre Hardy, Prada, Roger Vivier, Sergio Rossi, Siergson Morrison, Stuart Weitzman, Tabitha Simmons, Valentino and Yves Saint Laurent.
The Sexy Shoes competition is hosted in the 10022-SHOE boutique in Saks' flagship store on Fifth Avenue in New York. Consumers can check out the entire collection at the store.
Meanwhile, consumers can vote on the FN site and Saks POV blog. When consumers pick their favorite shoe, they can opt to share their choice on Facebook.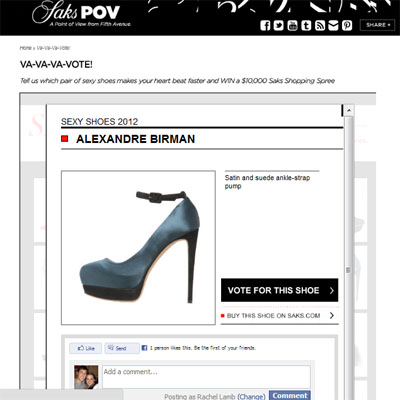 Voting
Select shoes are available on the Saks Web site and all are available at the 10022-SHOE boutique. The contest will drive traffic to the Saks Web site as well as drive interested New Yorkers into the shoe boutique to see the entries in person.
Voters will be entered to win a $10,000 gift card to Saks. Also, the second prize is a $1,200 gift card. The voting period is through Oct. 11.
To complement the contest, FN released a special publication that features ads from footwear brands.
This year, FN partnered with Aurasma technology to digitally unlock augmented reality content. Consumers need to download the FN Sexy Shoes app available for the iPhone, iPad and Android to see the content.
After unlocking, consumers can vote for their favorite shoes and enter to win. The entire digital issue is also available here.
"As shoes are becoming more innovative and artistic, it is important that Saks and FN crowdsource current, in-demand trends," said Dalia Strum, president of Dalia Inc., New York. "The data becomes more relevant, because Saks is reaching out to its current clientele who appreciate that Saks values their opinion.
"Saks is able to strategize in advance on which items have more potential in the footwear vertical, especially when it comes to converting to sales," she said.
No contest
Many luxury brands are partnering with publications for contests that bolster their appeal and drive in-store and online traffic.
For example, Four Seasons Hotels and Resorts collaborated with LVMH Moët Hennessy Louis Vuitton's independent lifestyle site Nowness to host a photography contest that encouraged consumers to share off-the-beaten-path venues in their home city.
Consumers who submitted images for the Your Secret Cities contest via Twitter or Sina Weibo, for those in China, were entered to win a $2500 Four Seasons gift card. Nowness kicked off the contest with editorial content that showcased hidden places in Shanghai chosen by Elle China senior fashion editor and street-style blogger Leaf Greener (see story).
Also, Bottega Veneta, Condé Nast's Vogue and Red Digital Camera partnered to host a contest for undiscovered photographers to award a prize package that included the opportunity to work on a special project with the Italian fashion house.
Bottega Veneta let its Facebook fans judge the contest (see story).
Allowing consumers to vote on the contest will help them feel as if they are a larger part of the brands. Also, hosting the contest on a multichannel level will increase traffic to Saks' online and in-store outlets.
"The ultimate goal is to celebrate the world's best fall shoes and get the consumer's take on what they think is a really sexy shoe," said Michael Atmore, editorial director of FN, New York.
"The contest draws attention to Saks' revamped and expanded shoe department and all of the great talent on display there this fall," he said.
Final Take
Rachel Lamb, associate reporter on Luxury Daily, New York