L'Oréal Luxe is aiming to increase consumers' connections to its brands by allowing digital agency Firstborn to marshal its marketing strategies as its new agency of record.
Firstborn was selected since the agency aptly fits L'Oréal Luxe's recently restructured direct-to-consumer arm. The agency will help L'Oréal Luxe improve its overall consumer content and digital strategies.
"We will be working with L'Oreal Luxe to enhance their digital strategy – approaching things holistically and as a system, looking not only at ecommerce but also at developing new mobile and in-store experiences that truly create a fluid experience for the consumer," said Dan LaCivita, president of Firstborn, NY.
"This isn't about making mass changes in brand direction for L'Oreal Luxe's brands, it is about adding an experiential component for the consumer, giving them a chance to make a deeper connection with these brands which already have such an impact in people's daily lives," he said.
"We are building off of this connection, and giving consumer's a way to get even closer with the brands they love."
L'Oréal Luxe group includes Lancôme, Giorgio Armani, Yves Saint Laurent, Kiehl's, Ralph Lauren, Viktor & Rolf and Stella McCartney.
Reassembly line
L'Oréal plans to strengthen its ability to reach consumers that digitally follow various of its luxury companies.
A revamped focus on consumer data and developing appropriate consumer content is a driving force behind the new acquisition.
Firstborn, which works with Google, will expend resources on shaping the digital e-commerce strategy for multiple luxury brands.
Following this umbrella maneuver, the company will narrow in on individual brands to customize content and better marry mobile advertising to in-store activity.
Additionally, the mobile in-store shopping experience will receive attention.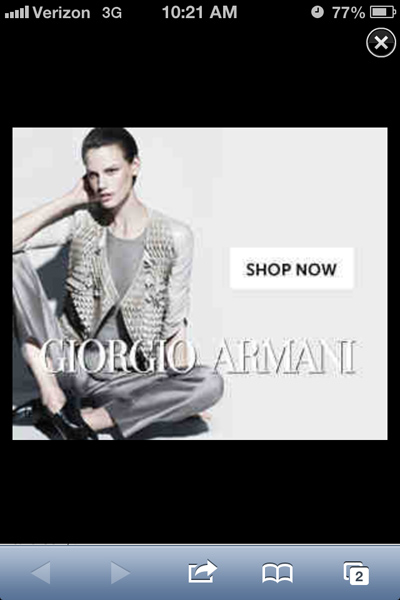 Giorgio Armani mobile ad
Interpublic Group's RGA, who previously worked with L'Oréal's digital strategy, will cede to Firstborn but will continue to work with L'Oréal in some regards.
Media duties will continue to be handled by Moxie Interactive, per L'Oréal.
"L'Oreal consumers are looking for something that replicates their in-store experience of touch and smell," said Ed Chater of Somoglobal, New York.
"If they can bring that experience to life via mobile, they'll be on the cutting edge of women's luxury brands," he said.
Innovation in the meantime
Innovating in response to rapidly changing consumer dynamics should be at the top of every luxury brand's agenda.
Although drastic innovations are not necessary, refreshing consumer interfaces with fresh perspectives is instrumental to staying abreast of volatile swings in the market.
L'Oréal Luxe's decision to bring in Firstborn shows its commitment to staying relevant.
Other luxury companies have experienced success by insisting on subtle reinventions.
U.S. fashion house Michael Kors has experienced rapid growth in sales due to innovations around product value, positioning in both the apparel and accessories categories, store openings in key markets and word of mouth (see story).
Each company requires a unique take on digital strategies, so Firstborn may need to look outside familiar templates.
"The key component to Firstborn's success will be to see how they address L'Oréal's mobile challenges," Mr. Chater said.
"They need to provide a technology solution to help manage the complexity of the muti faceted digital world," he said. "Design is no longer enough on its own, consideration of technology is key to make sure solutions can scale."
Regardless of the complexities, Firstborn seems ready to embrace L'Oréal's digital horizon.
"The digital landscape changes so quickly, and consumers are equally as quick to adopt these changes and then want more," Mr. LaCivita said.
"What is great about L'Oréal Luxe is they are ready to come to market with some truly unique digital experiences that others in the category have yet to attempt," he said.
"They are thinking ahead of the curve to bring their customers something truly unique."
Final Take
Joe McCarthy, editorial assistant on Luxury Daily, New York