German automaker Mercedes-Benz has pulled ahead of competitors including BMW and Audi in terms of brand perception from Aug. 1-Sept. 7, according to a study by YouGov BrandIndex.
Based on affluent car buyers who will make a purchase in the next 12 months, Mercedes topped No. 2-ranked BMW, Infiniti at No. 3, Lexus at No. 4 and Audi at No. 5. The study shows that Mercedes' marketing played a major role in brand perception.
"In this case, when pitting five of the top international luxury car brands, some campaigns had better legs than others and connected with its intended audience better," said Drew Kerr, spokesperson for YouGov BrandIndex, New York.
"Mercedes was already at the top of the perception pack in mid-August, but really picked it up to break from the pack during the second half of August," he said.
This study was based on results from U.S. adults 18 years and older with an annual salary of $120,000 or more, and who plan to make their next auto purchase in the next 12 months.
Ahead of the curve
Mercedes' momentum during the past few months was what helped boost it to the top.
One major ploy was the mbrace telematics platform ad, which broke during the U.S. Open. Mercedes pushed the mbrace2 connectivity system, now standard in its 2013 model range, via a television commercial that premiered during the tournament and a digital and social media campaign (see story).
Mbrace2 telematics commercial
Another big plus for Mercedes was its Fashion Week sponsorship, which undoubtedly drew huge awareness among many different types of consumers.
According to the study, another plus was its "Through and Through" ad for the new C-Class.
"Mercedes benefited the most from having its ads sandwiched around the high-profile Fashion Week sponsorship right after Labor Day," Mr. Kerr said. "It was a well-orchestrated maneuver to leapfrog from one promotional height to the next, and the rise in consumer perception reflected that."
Meanwhile, almost all brands grew in perception from the past month.
Lexus, which jumped from No. 5 to No. 4, likely grew appeal because of its multichannel, aggressive campaign for its new ES model. It spanned television, print, digital and outdoor ads (see story).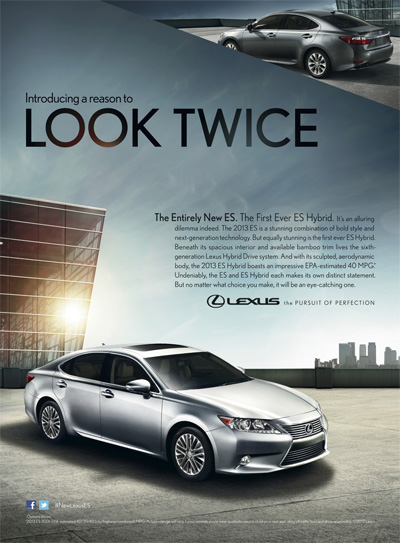 Lexus ES print campaign
Also, BMW boosted CRM through an effort that donated money to national parks (see story) and an Olympics sponsorship (see story).
Competitive edge
Audi and Mercedes led luxury automakers with identical impression scores starting Aug. 1. However, Mercedes pulled ahead in perception.
On the other hand, Audi was bumped down in early August and stayed there throughout the remainder of the research period.
Even though Audi dropped, it still has a very high brand perception, according to the study.
"Comparatively, Audi's S8 'Suspect' ad looks like a great 30-second heist movie with the car almost as an afterthought, while other manufacturers are more in your face," Mr. Kerr said. "Perhaps viewers were confused, as it looked almost like a little 'Bourne' movie."
Audi "Suspect" commercial
However, Audi will certainly be in the consumer's face in the upcoming months.
For example, the automaker just leveraged its second-time sponsorship of the 64th Primetime Emmy Awards through collaboration with fashion label Derek Lam (see story).
Also, Audi's perception will likely be boosted through continued Super Bowl ads next year.
"When it comes to luxury car perception, how effective the marketing is, how well it is understood, along with the product itself, are major factors," Mr. Kerr said.
Final Take
Rachel Lamb, associate reporter on Luxury Daily, New York