Department store chain Neiman Marcus and Italian fashion house Giorgio Armani are two of the partners in Vanity Fair's first International Best-Dressed Challenge that lets readers be contenders for a new category on the Condé Nast-owned publication's 2013 best-dressed List.
Vanity Fair is letting consumers submit images of themselves to be considered for the new award category on its 73-year old International Best-Dressed List via Instagram, Twitter, Trendabl and its Web site. Brand partners for this initiative Giorgio Armani, Neiman Marcus and Clinique have ads on the International Best-Dressed Challenge Web site and are incorporated in public events and online activities.
"Vanity Fair is an upscale magazine with an intellectual take on fashion, so it is a great fit in general for brands such as Armani and Neiman Marcus," said Jordan Phillips, founder and director of Lure of Luxe LLC, New York. "This promotion in particular is a lucrative opportunity for luxury fashion brands - who wouldn't want to be on the Vanity Fair International Best-Dressed List?
"It is a really eye-catching promotion that certainly cuts through the clutter on social media and in email marketing campaigns," she said.
"As long as marketers choose media outlets wisely and leverage ad buys through online and social channels, luxury brand media partnerships can still be quite effective."
Ms. Phillips is not affiliated with these brands, but agreed to comment as an industry expert.
Neiman Marcus and Armani did not respond before press deadline. Vanity Fair could not comment before press deadline.
Challenge accepted
This year's Vanity Fair International Best-Dressed List will include the two winners from the International Best-Dressed Challenge.
At this time, readers can enter stylish photographs of themselves and friends via Instagram, Twitter and Trendabl with the hashtag #vfbestdressed or upload images to the challenge Web site at http://www.vanityfair.com/best-dressed-challenge. Submissions must be made by June 30.
Each week Vanity Fair editors curate a group of images from the reader submissions and feature them in a slideshow on the challenge site. A monthly award is given to the reader in the image that receives the most "likes" on the site.
Vanity Fair partnered with Armani, Neiman Marcus and Clinique to present the new award category.
Each partner brand is present on the challenge site through banner ads and ads within the reader voting gallery.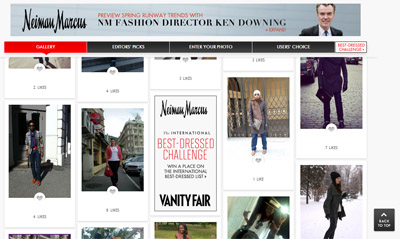 Gallery ad 
The ads transition between the three brands so that Armani, Neiman Marcus or Clinique is the only brand shown on the site at one time.
The Armani banner ad states, "Dressing the best," and displays its logo and a shop now button. A click-through on the ad takes users to the Giorgio Armani section of the label's ecommerce site.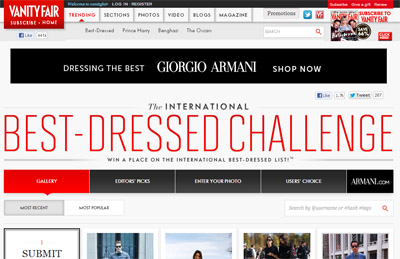 Armani ad 
Meanwhile, Neiman Marcus created an online shopping guide with picks from Vanity Fair special correspondent and International Best-Dressed List Hall of Fame member Amy Fine Collins that it is pushing via its site ads and an email campaign.
The department store chain's banner ad is expandable. It shows a video from its "A Day in the Life of Ken" video series that follows fashion director Ken Downing to Fashion Weeks in four cities worldwide.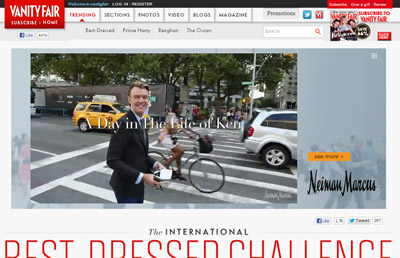 Neiman Marcus ad 
The ads link to the shopping guide that features apparel, handbags, jewelry and shoes from brands such as Versace, Alexander McQueen, Valentino, Lanvin, Reed Krakoff, Alexander Wang, Carolina Herrera, Fendi, Manolo Blahnik, Ralph Lauren, Michael Kors, Stella McCartney and Jean Paul Gaultier.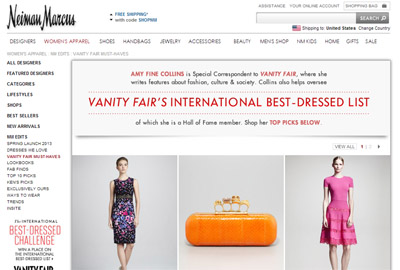 Online shopping guide 
The email campaign sent Jan. 29 pushed the shopping guide with a GIF image that flashed between different products.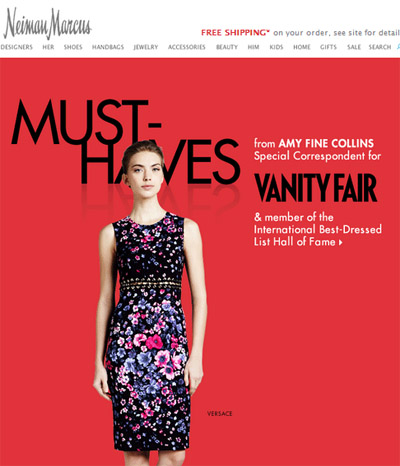 Email 
"The Vanity Fair Best-Dressed Challenge is really interesting," said Leane Brenes, creative director at Brenes Co., New York. "It's a cross-platform that mixes editorial, retail and brands, making for an engaging and entertaining shopping experience.
"Anytime a brand, especially a luxury brand, can drive their audience to generate on-brand content it's a big win," she said. "The interactive, visual and interconnecting platform creates a formula to deepen engagement and ultimately drive purchase."
Media partner
Condé Nast has previously partnered with luxury retailers.

For example, department store chain Nordstrom partnered with Condé Nast's GQ to promote a selection of men's items curated by the magazine's editors while encouraging ecommerce transactions via print and digital efforts.
Nordstrom and GQ offer items called GQ Selects that are available for purchase on a special section of the retailer's ecommerce site. The magazine is featuring the items in-book while Nordstrom is raising awareness for the partnership via in-store events and email (see story).
In addition, department store chain Bloomingdale's looked to draw affluent males to retail locations this past fall with pop-up shops created in partnership with BMW Motorcycles and Condé Nast's GQ.
The retailer presented men's merchandise in limited-edition "Power On" pop-up shops that contained gadgets and tech gear for men chosen by Bloomingdale's Fashion Office as well as "GQ Picks" chosen by the magazine's editors (see story).
Media partnerships that push transactions and lifestyle seem to be a win for luxury retailers.
"For marketers such as Armani and Neiman Marcus, Vanity Fair is a perfect fit because they can reach their target audience from a different vantage point," Ms. Brenes said. "Magazines at one time were thought of a book, but the trend over the years has shifted and magazines are much more – they are brands.
"When a fashion brand or retailer partners with a magazine, it becomes a bigger place to enrich the brand experience, by co-branding and sharing brand equity the audiences builds," she said.
Final Take
Tricia Carr, editorial assistant on Luxury Daily, New York